'RHOA': A New Housewife Is Reportedly Filming With the Cast for Season 13
Porsha Williams' joke about there being too many housewives this season of RHOA may be a fact. With the exits of Nene Leakes and Eva Marcille, friends of the show are getting promotions to full-time housewives. There are also several new additions. The latest addition is Atlanta socialite, Falynn Guobadia.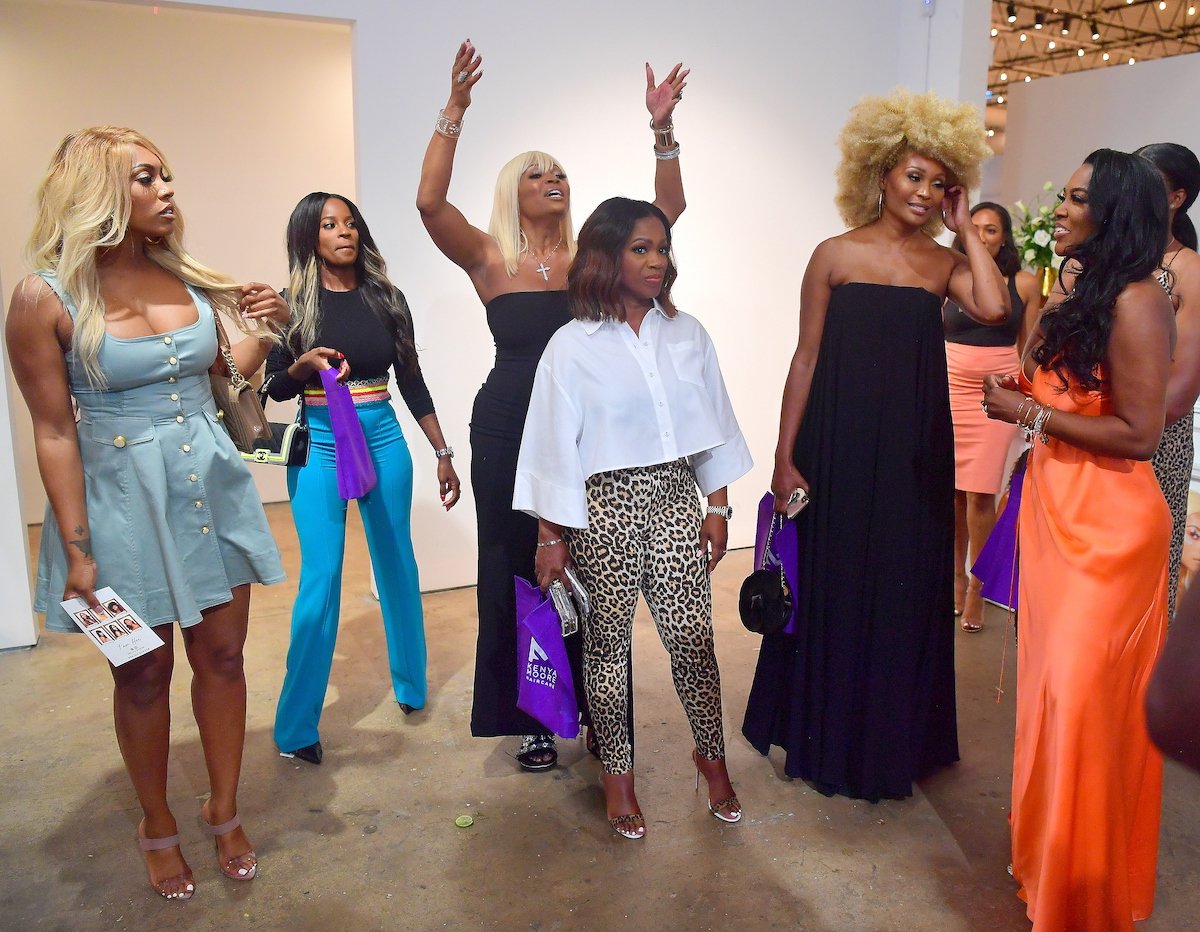 Who is Falynn Guobadia?
Falynn is married to wealthy businessman, Simon Guobadia. The couple have been married for a little over a year, celebrating their one year anniversary in July 2020.
According to a report in the Atlanta Journal-Constitution, Simon owned a popular Midtown restaurant in Atlanta, Simon's Restaurant. Unfortunately, the restaurant did not survive the coronavirus pandemic.
The report also reveals that Simon's previous businesses include a popular Buckhead Bottle Bar and a series of barbershops. 
Despite losing one business, money appears to be no object in the Guobadia household. Love B. Scott reports that the Guobadia's jet-set around the world first-class style and even use Simon's private jet often. Their social media accounts show their flashy lifestyle of designer clothes and luxury cars. 
Falynn is spending much of her time with Porsha Williams and Shamea Morton. It's unclear what her role on the show is but Love B. Scott claims Falynn is requesting a significant payday for her time filming. Per Love B. Scott, she's also attending this season's cast trip, an indication that her role may be major this season.
Other cast additions for the upcoming season of 'RHOA'
Falynn's addition makes sense as it aligns with the producers' goal of connecting to a younger audience this season. While several OG's are returning, all new additions are in their 30s. 
Actor Drew Sidora has been vetted for years for the show. She even filmed with the crew in the past but the scenes never made the final cut. The wife and mother of three has an impressive resume, appearing on shows like The Game. Her most notable role is as T-Boz in the TLC VH1 biopic.
Along with Sidora is YouTube sensation, LaToya Ali, who is close friends with Kandi Burruss. Ali is in the process of a divorce, which is taking a toll on her filming schedule as her estranged husband is reportedly refusing to participe in the process. The rumor mill says her husband's resistance has impacted her role on the show and she's now in a friend to the show role.
RHOA viewers are already familiar with Yovanna Mompliasair, who caused much trouble in season 13 regarding snake gate. Mompliasair began as Leakes' friend but now claims Leakes used her as a mole within the circle. She's now a full-time housewife.
Nene Leakes confirms her departure from 'RHOA'
Rumors have been buzzing for months that Leakes would not be returning to the show. In an emotional YouTube video, she says her exit comes after failed and tough negotiation meetings with the network.
This wouldn't be Leakes' first time leaving the show. She did not appear on season 8 entirely and returned as a friend to the show in season 9. Leakes says she's forever grateful for the RHOA platform.