'RHOA' Battle of the Supermodels: Who Had the Most Successful Modeling Career, Cynthia Bailey or Eva Marcille?
Fans have watched Real Housewives of Atlanta stars Cynthia Marcille and Eva Marcille have playful banter about which of the two are more relevant in the modeling world. During Season 11 of the show, they battled it out on a make-believe runway during a talent show competition between the cast. The friend circle voted and declared that Bailey had the best walk. Since then, Bailey and Marcille have grown to respect one another's contributions to modeling and have developed a big/little sister relationship. That hasn't stopped fans from wondering which of the two had more success as a model.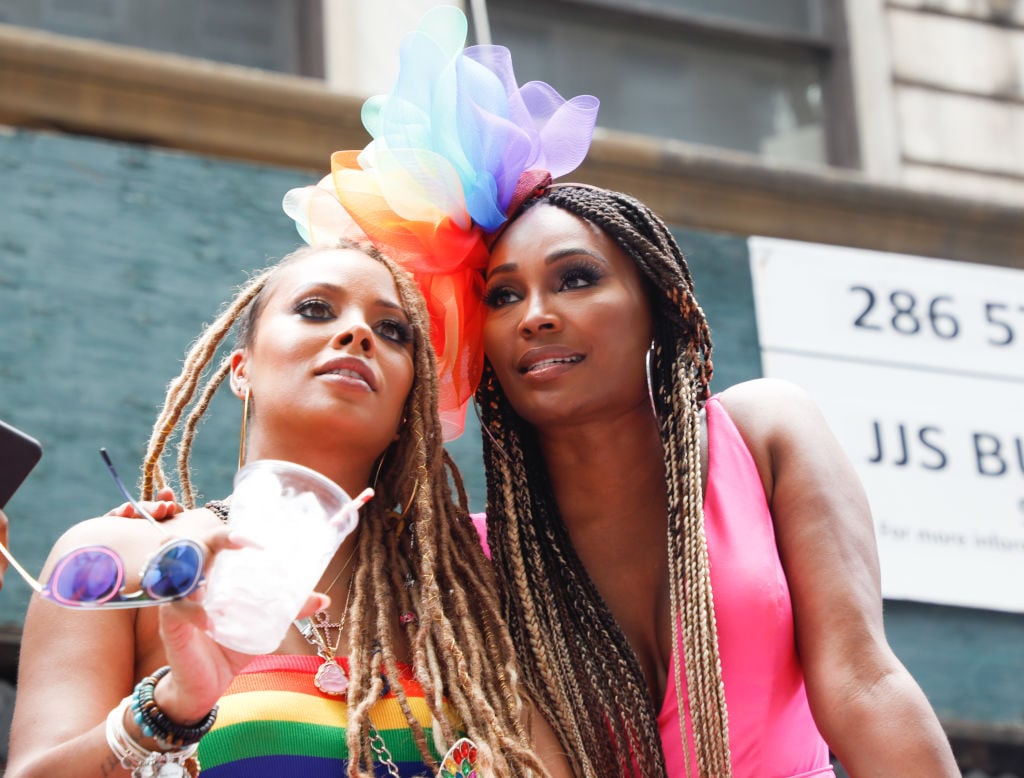 Cynthia Bailey's modeling career
The Alabama native left home at the age of 18 to pursue her supermodel dreams and never looked back. In 1985, Bailey migrated to New York City and was immediately signed to an agency. Modeling scouts believed her look was more suited for the international stage and she was sent to Europe where she worked as a runway model in Paris and Milan for over a year.
Her work overseas made her more marketable in the US and she began working in print campaigns, modeling for beauty and fashion brands. Some of her notable works included Maybelline, Oil of Olay, and Target. Bailey also appeared in magazine spreads in Vogue, Glamour, Elle and Vanity Fair. She appeared on two Essence covers – the first in 1995 and the second in 1997. Susan L. Taylor, the former editor-in-chief of Essence, once described the high cheekboned beauty as one of her favorite models to work with.
After having her daughter Noelle and moving to Atlanta, Bailey knew it was time to leave the modeling world behind. With a little push from her husband at the time, she opened The Bailey Agency School of Fashion where she works with hopefuls of all ages through a series of modeling, acting and business workshops. Some of the Bailey Agency students have gone on to work in shows for New York Fashion Week and appear in national advertising campaigns.
Eva Marcille modeling career
By the time Marcille decided to enter the modeling world, the industry had changed rapidly. While Bailey was forced to leave her small town and hit the pavement for gigs in New York, Marcille's big break came when she competed in the Tyra Banks produced reality competition series, America's Next Top Model. After a rigorous competition and modeling boot camp, Marcille was chosen as the cycle 3 winner in 2003.
Being crowned the winner of ANTM, Marcille's prize included a modeling contract with Ford Models, a magazine spread in Elle and a contract with CoverGirl Cosmetics. Marcille was shorter in height than most models so her runway work was limited. Instead, she focused primarily on print, landing covers on Brides Noir, Women's Health and Fitness, IONA, and Essence. She also appeared in campaigns DKNY, Samsung, and Red by Marc Ecko. Marcille worked a lot in the urban modeling world as well, landing the cover of KING Magazine and participating in fashion campaigns for rapper Nelly's clothing line, Apple Bottoms.
Marcille ended her business relationship with managers Benny Medina and Tyra Banks in 2006 and spoke openly about her desire to become an actress. To help with the transition, she dropped her last name "Pigford" from her brand and began going by her first and middle names only as a way to rebrand herself. Her strategy worked and she starred on the Tyler Perry television series, House of Payne, for several years. She also joined the cast of The Young & the Restless, which earned her two NAACP Image Award nominations, along with a variety of other film and television credits. 
Who had more success as a model, Cynthia Bailey or Eva Marcille?
Both Bailey and Marcille achieved great success in modeling. Bailey had a more traditional modeling career with becoming an international runway figure and landing major spreads with the top fashion magazines and beauty brands. Marcille used her short frame to her advantage by working more in print and understanding the urban modeling market would be more open to her look and figure. 
According to Celebrity Net Worth, Marcille has higher earnings with $4 million. This could be attributed to Marcille being younger in age with the ability to book modeling gigs more regularly and the fact that she has expanded her brand to include acting and sustain recurring roles. She is now building an empire outside of modeling and acting through her home decor line. The Eva Marcille Home Collection offers comforters, pillows and bedding sets.  
Cynthia Bailey is rumored to earn $300,000 annually from her RHOA contract. Her net worth is estimated to be $500,000 per Celebrity Net Worth. At 52, Bailey remains a standout beauty and is booked for modeling jobs from time to time. Instead of acting, she has focused her attention on her modeling agency and building her beauty empire. She has a line of accessories that include sunglasses and handbags and she recently tapped into the spirit world by opening a wine lounge and event space in Atlanta that she named The Bailey Wine Cellar. With Bailey's expanding businesses, she'll be sure to earn more over time. 
Keep up with both Cynthia Bailey and Eva Marcille on Real Housewives of Atlanta every Sunday at 8 PM on Bravo.