'RHOA': Cynthia Bailey Asks Kenya Moore Why She's the 'Shade Assassin'
Kenya Moore is a shady queen on The Real Housewives of Atlanta. The former beauty queen sometimes shades unknowingly as it's been interpreted by fans throughout season 12. Moore is known as the "shade assassin" and during an interview, fellow housewife Cynthia Bailey asked her about her shadiness.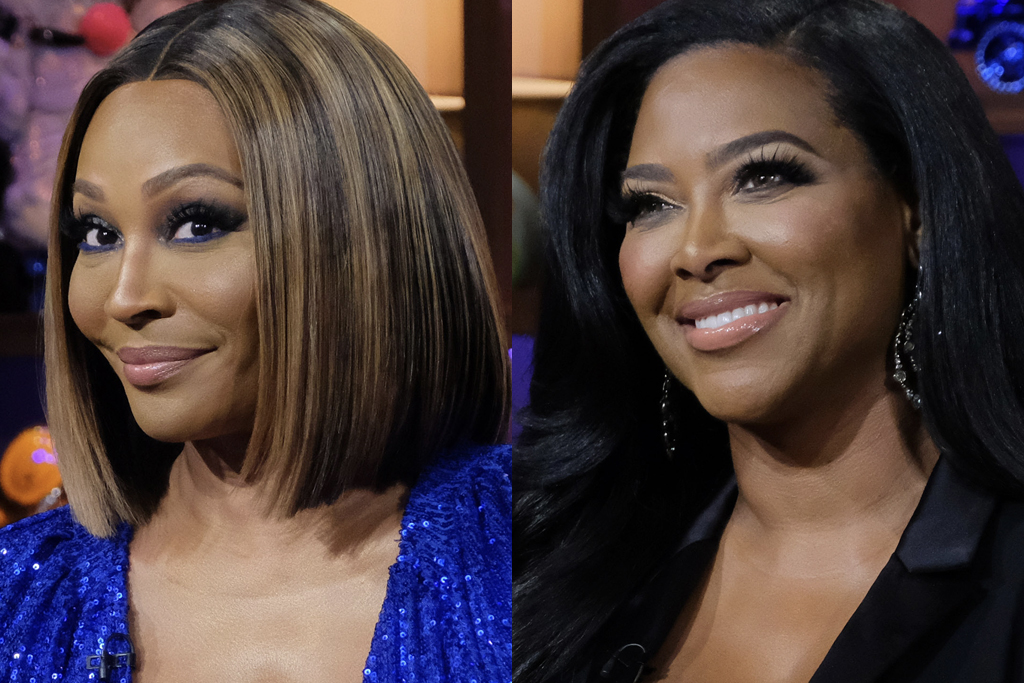 Has Kenya Moore always been shady?
Moore was a guest on Out Loud with Claudia Jordan that also featured Mike Hill, Bailey's fiancé. During a recent airing, Bailey dropped in and asked her friend if she's always been shady.
"I will have to say [that] anyone who knew me from L.A. they knew that I'm a sweetheart, right Claudia?" Moore answered.
Jordan intervened and said, "Kenya has always been shady, even shady to me in the beginning of our friendship."
Moore laughed it off while Jordan added, "Don't let her lie to you. Kenya is shady as hell. She does it with a smile."
"She's my girl, she's my friend," Bailey added. "Half of the sh** I have to deal with at the reunion is with her a**."
Moore explained herself saying that she is not trying to be shady all the time.
"Sometimes I definitely mean it as shade on this show and sometimes I think I'm a naturally shady person but not in a bad way," Moore explained.
Was Kenya Moore lying?
Moore had many shady moments on RHOA with many involving her friend Bailey. The former almost ruined a marriage proposal for the latter and she also try to expose she didn't know much about wine. However, another questionable act came during an event Porsha Williams organized. The event was to take on issues that mothers have experienced in their road to motherhood.
When Williams' friend Shamea Morton began to talk about her experience, Moore interjected to add to the story.
"I remember you texted me," Moore said at the table about Morton. "You were like, 'I think my water broke.' And I said, 'you need me to come to the hospital?' I don't know where Porsha was… I think Porsha was doing something else, working that day."
Mentioning Williams and suggesting she was not there for her during a dire moment, didn't sit well with fans. Many interpreted as Moore throwing shade at Williams. The former Miss USA took to Twitter to clarify the misunderstanding.
"She called me, so that's a question for Shamea," Moore tweeted back at a fan. "I have nothing to do with their relationship, clearly, they love each other. To infer that means, 'I don't care for her,' that's such a reach sweetie. Thanks for your input."
Shamea Morton denies calling Kenya Moore
Morton and Williams talked off-camera and the former denied calling Moore when her water broke.
"I was like, 'damn, why would Shamea call her?' So I'm really feelin' a little way, but I kept my [straight] face," Williams told Leakes during an episode of RHOA. "Later on, Shamea walked up to me, pissed. She said, 'I did not call that girl when my water broke."
Moore then shared her text conversation with Morton which only exposed the former. The texts reveal that Moore initiated a conversation with Morton first. During that moment, Morton is seemingly already with her doctor getting checked out on what ended up only being discharge, not her water breaking. The conversation occurred in September and Morton would not give birth until the end of November.