'RHOA': Cynthia Bailey Reveals the Best Piece of Marriage Advice She Got From Kyle Richards During 'RHUGT'
Cynthia Bailey said Kyle Richards gave her value marriage advice, which she took to heart. She also wishes she would have moved on faster after Richards questioned the game she wanted to play on 'RHUGT.'
Despite butting heads on The Real Housewives Ultimate Girls Trip, Cynthia Bailey from The Real Housewives of Atlanta said Kyle Richards gave her the best piece of marriage advice that she continues to use to this day.
Bailey also wishes she would have moved on quicker from the feud she had with Richards, adding that she learned on the trip how to try to move forward after a spat.
Cynthia Bailey reveals Kyle Richards' advice to a happy marriage
Richards told Bailey to socialize with other married couples. "You know, her and Mauricio have been together for, years for a very long time. They have a beautiful family together," Bailey said on the Behind the Velvet Rope with David Yontef podcast. "And one of the great pieces of advice that I took from her, I actually apply it to my relationship with Mike [Hill]."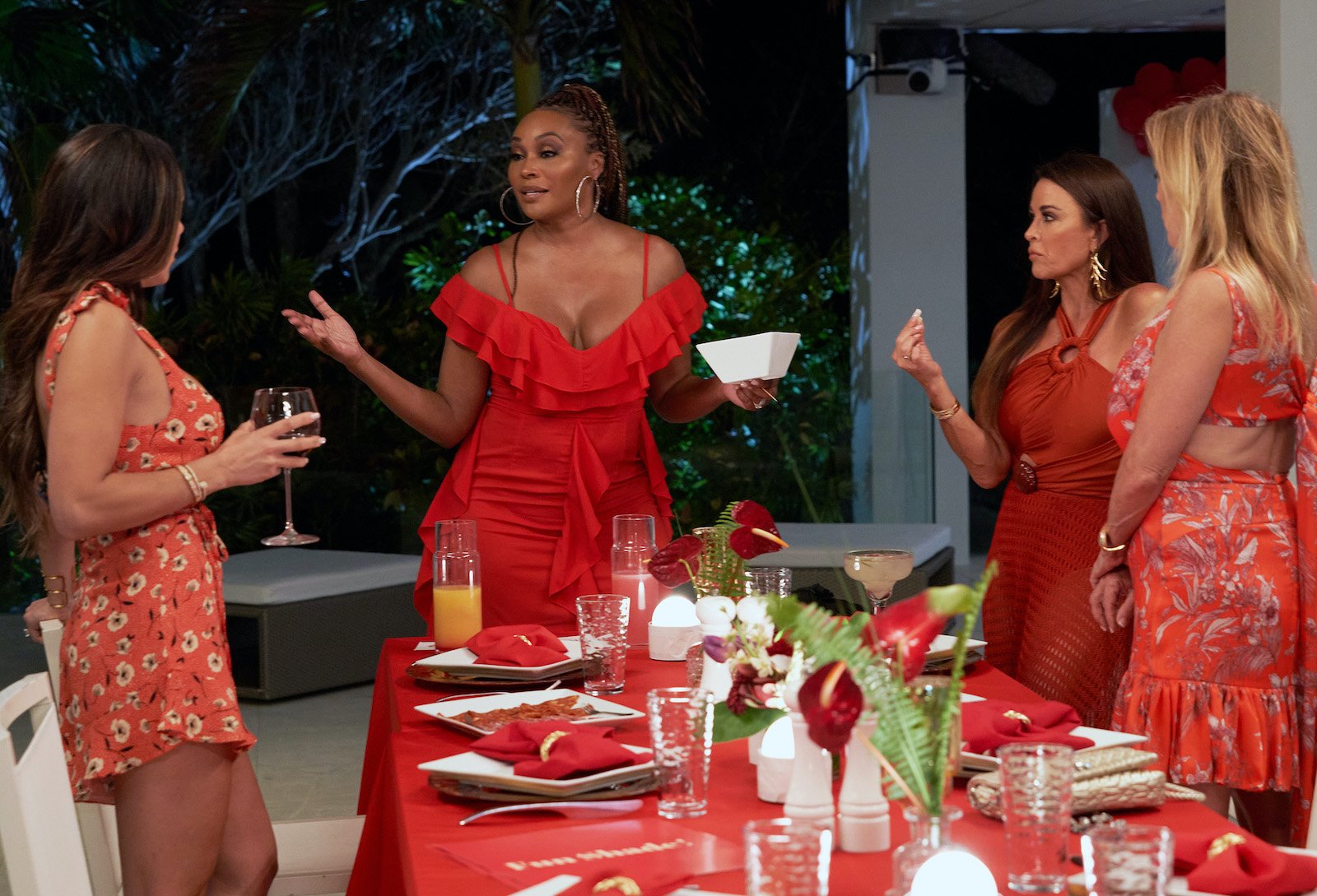 "She told me one of the biggest secrets to her success with her husband is they don't hang out with single people. They only hang out with other married couples," she continued. "That's their social circle. And as simple as that sounds, I was like, wow, I never thought about that. And now since she shared that with me, I shared it with Mike and we do couples dates and nights all the time."
Cynthia Bailey finds the marriage advice is helpful
"Now we really have focused on hanging out with more people that are actually in relationships. And it's great because we learn a lot from other relationships," she added.
"You know, Mike and I have only been married for a year," Bailey reflected. "We've been together for like four or five years now, but only married one year. And it's just great and educational at this point to just see how other couples make it work, especially if they'd been together for a really long time." 
"So I am so grateful for that advice from Kyle because it's really working for us. We have a great time and we literally walk away from dinners and lunches like, OK, so we're not that bad. Because they're messy. We feel better about ourselves."
She added that as a married couple if they are always hanging out with their single male and female friends, it could cause trouble down the line. "If you're not secure in the relationship. And if you guys aren't solid, you know what I'm saying? It's kind of going down a slippery slope."  
She also wishes she and Kyle Richards moved on faster from their 'RHUGT' feud
Richards questioned Bailey's "Bailey-Que" game during their vacation getaway. The women had to answer questions like "who is the prettiest" and Richards expressed that she was uncomfortable with the questions. This annoyed Bailey and she said she hung onto the grudge for a while.
"Kyle Richards was the only one from Beverly Hills," Bailey said. "She definitely seemed like she would say what she had to say and just let it go. That's one of the things that I actually learned from the trip is to maybe not hold on to things as I did. Because when Kyle and I had a moment, I just couldn't let it go."
"She was like, are we good? Are we good? Are we good? I was like, yeah, we're good," Bailey said. "Yeah, whatever, move around. And looking back, I would have had so much more fun had I just let it go. Just like once she apologized for the third time, at least let it go [laughs]."
She added, "It was like, I cannot let it go. And then at that point it just was like, I had to try to figure out how to get out of that because it just affected my whole trip after that point."