'RHOA:' Fans Believe Former Enemies Phaedra Parks and Kenya Moore Are Now Friends
RHOA cast members have had some of the most epic showdowns, but none have been quite as messy as the feud between Phaedra Parks and Kenya Moore. The two battled for five seasons over accusations of Moore flirting with Parks' husband. But from their recent conversations on social media, it looks like the two have finally made peace.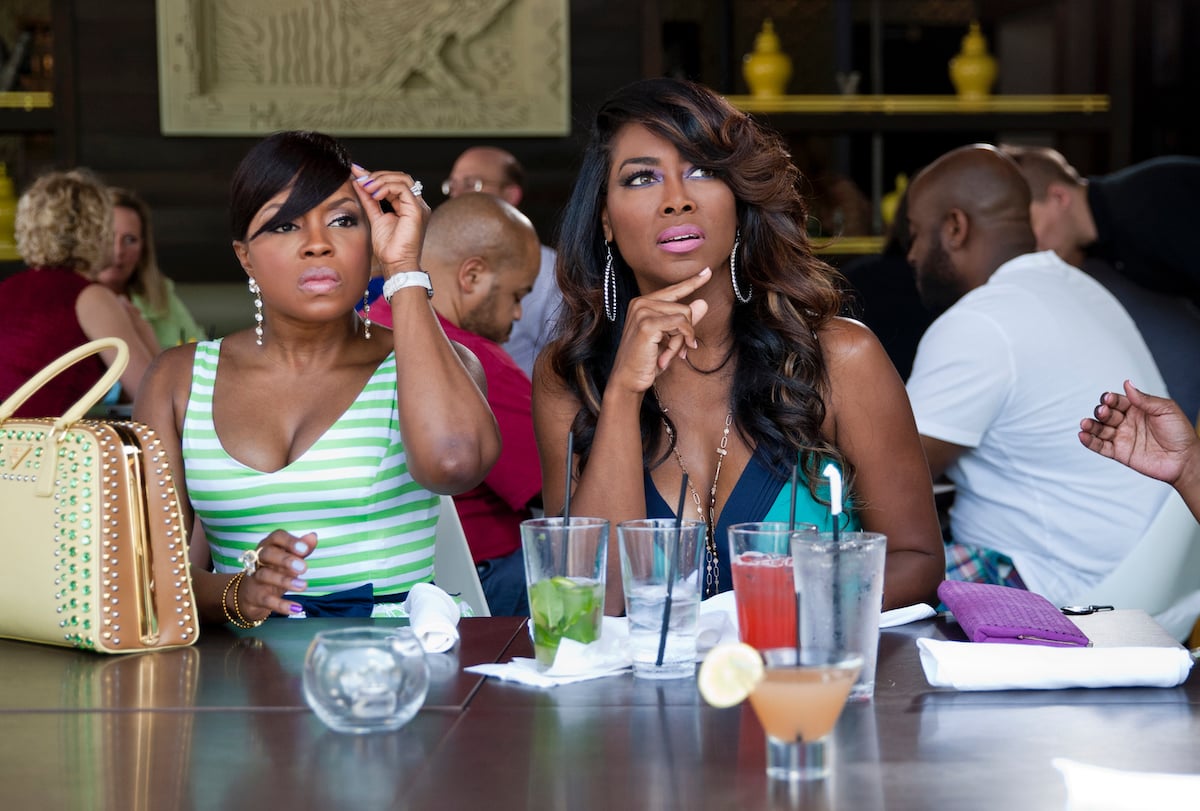 Moore and Parks' road to a potential reunion has been long and arduous. With rumors that Parks may be making a return to the show soon, it'll be good to see the two on good terms.
Why Phaedra Parks and Kenya Moore began feuding
Moore joined the show in Season 5 and she and Parks were initially friendly – so much so that Parks asked Moore to assist her in producing a workout DVD.
Things became tense between the two when Parks decided to take an offer from another production company, making Moore feel slighted. In return, Moore produced her own workout video, sparking competition between the two.
Parks also became upset with Moore when Moore began flirting with Park's then-husband, Apollo Nida. During the season 5 reunion special, Moore shocked the cast when she accused Nida of texting her. Nida shot back, alleging Moore propositioned him for an affair, which Moore denied.  
RELATED: 'RHOA:' Phaedra Parks Reportedly In Talks To Return; Kandi Burruss Said To Be Furious
Moore and Parks' relationship never truly got back on track as a result. Despite Moore apologizing for having any one-on-one conversations with Nida, Parks did not feel as if she could trust Moore. The two made peace when Nida admitted he lied about Moore propositioning him, but the reunion did not last long.
By the end of season 9, Parks became upset with Moore following Moore throwing her and Cynthia Bailey a divorce party. She accused Moore of making light of her divorce and having a hand in the issues between she and Nida to begin with.   
Phaedra Parks and Kenya Moore are currently following one another on Instagram
Parks was fired from the show following the season nine reunion after the revelation that she was responsible for spreading a salacious and damaging rumor about Kandi Burruss. During the reunion, Moore slammed Parks for her involvement in the rumor, calling Parks a hypocrite for years of Parks degrading Moore for her alleged attraction to Nida.
Despite Moore and Parks seemingly having no contact since Parks left the show, their recent interaction on Instagram shows they may have hashed things out.
Parks shared an old clip from Moore's iconic argument with Porsha Williams in season 5 in which Moore spewed her famous "Gone with the wind fabulous" line. The video was used in reference to U.S. citizens waiting for the election results.
RELATED: 'The Real Housewives of Atlanta': Why Is Phaedra Parks No Longer Part of The Bravo Franchise?
Parks tagged Moore and Williams in the video with the caption, "The internet is still unmatched."
Moore liked and commented on the post, writing, "YAAAAAASSSSSSSSSSS." Parks responded to Moore's comment by writing "unmatched" as a nod to Moore's iconic scene.
Fans are taking the interaction as a sign that the two are finally on friendly terms. It's also speculated the two have been spending time together as it's rumored that Parks is returning to the show in a friend role.