Why 'RHOA' Fans Say Nene Leakes, Eva Marcille Reunion Face-Off Is Better Online
Nene Leakes and the rest of the cast of The Real Housewives of Atlanta are getting ready to film their season 12 reunion. Things will be a little different this year due to the coronavirus pandemic as it will all be virtual. Andy Cohen confirmed that the peaches will face off online and not be all in the same room as it's traditionally done.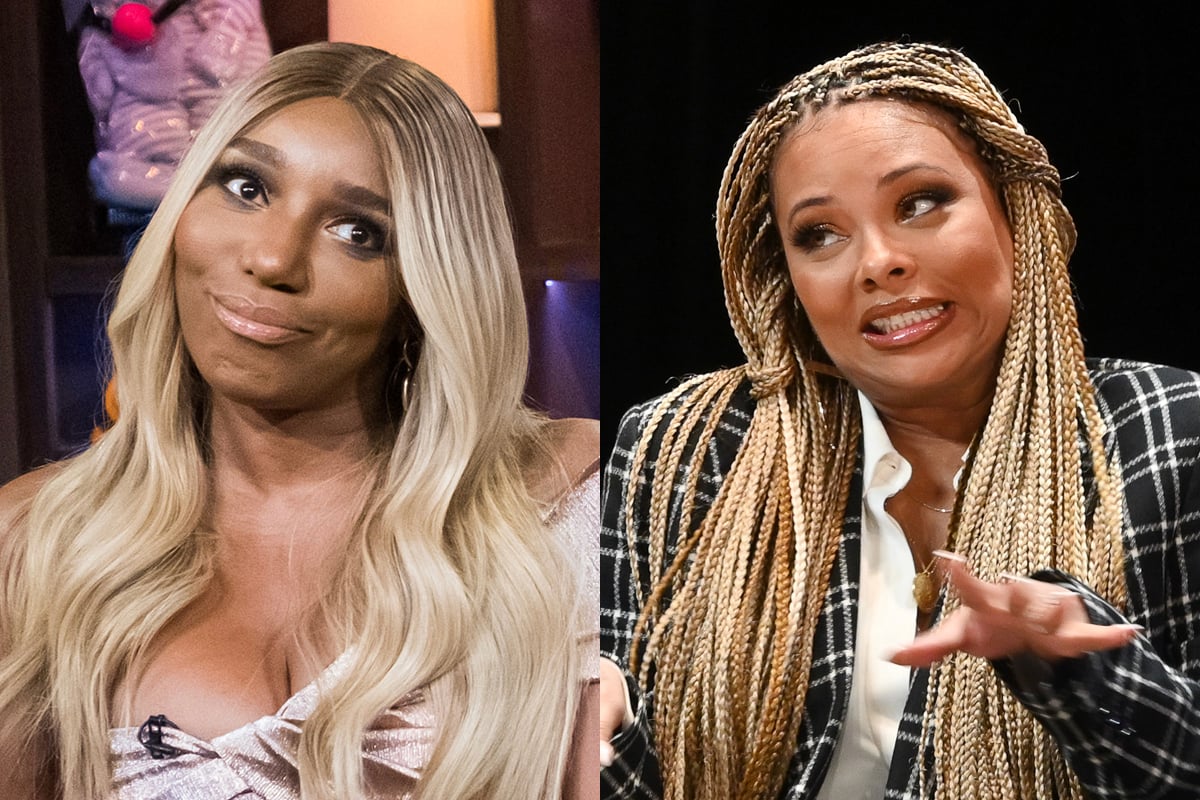 Why is the 'RHOA' reunion going to be virtual?
Cohen broke the news about the plans for the RHOA reunion on his SiriusXM show.
"We are going to be shooting the Housewives of Atlanta Reunion virtually," Cohen confirmed on Andy Cohen Live. "This is obviously not how we prefer to do it, but life is not how we prefer it right now."
Although the SiriusXM host loves to visit the girls in Atlanta, this year it's not a possibility to keep everyone safe.
"We want to be in the same room, but we cannot risk the health and safety of the Housewives or the incredible crew in Georgia," he added. "[RHOA] is regarded by many as the Super Bowl of reunion shows, and it is truly one of my favorite reunions to shoot, I look forward to it, and the fact of the matter is it's either we do it this way or there's no Super Bowl this year."
Cohen also said that production decided not to wait out the coronavirus as they want to wrap season 12 and be ready for the next season as soon as possible.
"If we wait for this pandemic to be over for when we all are in the same room, it's gonna delay everything," Cohen continued. "We need to move forward, we need to live in reality right now, and the reality is if we're going to do this, we're going to do this right now."
Nene Leakes and Eva Marcille won't face off in person
One feud that's been hot in the last couple of weeks is one that Leakes initiated. She called out Eva Marcille for not bringing much to the show.
"I don't feel like Eva brings that much to the cast," Leakes told Entertainment Tonight. "I'm just being honest. It's really like, when you look at a show like, everybody — like the whole cast — is away, and you don't miss the person at all, it's sort of like, we didn't even know you were here, you know? And all season, doing a lot of scenes from FaceTime, that's been the last couple of seasons … So, If I had to change, I would change her."
It didn't take long before Marcille fired back after being singled out by Leakes. In an Instagram Live video, she called Leakes "ratchet."
"I'm a 35-year-old woman with my family and beautiful husband," Marcille said on Instagram Live. "As far as my relevance on the show, I choose not to… every single day be ratchet, there is already enough ratchet, i.e. her, on the show. Why do you need two? I do me, and represent the other part of Black women that are smart … well-spoken. That's who I represent. So, if I'm that boring, you spent time in your interview talking about me because your storyline is the fact that you have no storyline."
Why fans think virtual reunion will be better
There's a silver lining to the RHOA reunion switch and fans called it out on social media. Many believe that Marcille downplays her shadiness when confronted in person. They note that the former model is stronger behind a screen. Therefore, Marcille will be extra harsh with Leakes during the online reunion.
"Since [the] RHOA reunion is going to be online, y'all better believe Eva is going to be SHADDDDYYYY since she's in the comfort of her home," a fan noted.
"Since the reunion gonna be online, at least we know Eva would be able to keep the same energy. You know she switches when they're face-to-face," a viewer added.
"Eva has selective amnesia, she says a lot of things then she will say she forgot. They need to roll the tape at the reunion," another Twitter user said.
The Real Housewives of Atlanta airs Sunday nights at 8 p.m. ET on Bravo.