'RHOA' Fans Slam Kenya Moore For Not Owning Up to Some Major Plastic Surgery
'RHOA' fans slammed Kenya Moore after she shared a throwback photo on Instagram that clearly questions her claims about plastic surgery.
Real Housewives of Atlanta fans have had enough of Kenya Moore's plastic surgery denial. The RHOA star sparked another round of criticisms on social media after acting like her body is all-natural, and fans are once again speaking out. While viewers were quick to call out Moore for lying about plastic surgery, she wasn't afraid to fire back with some heated comments of her own.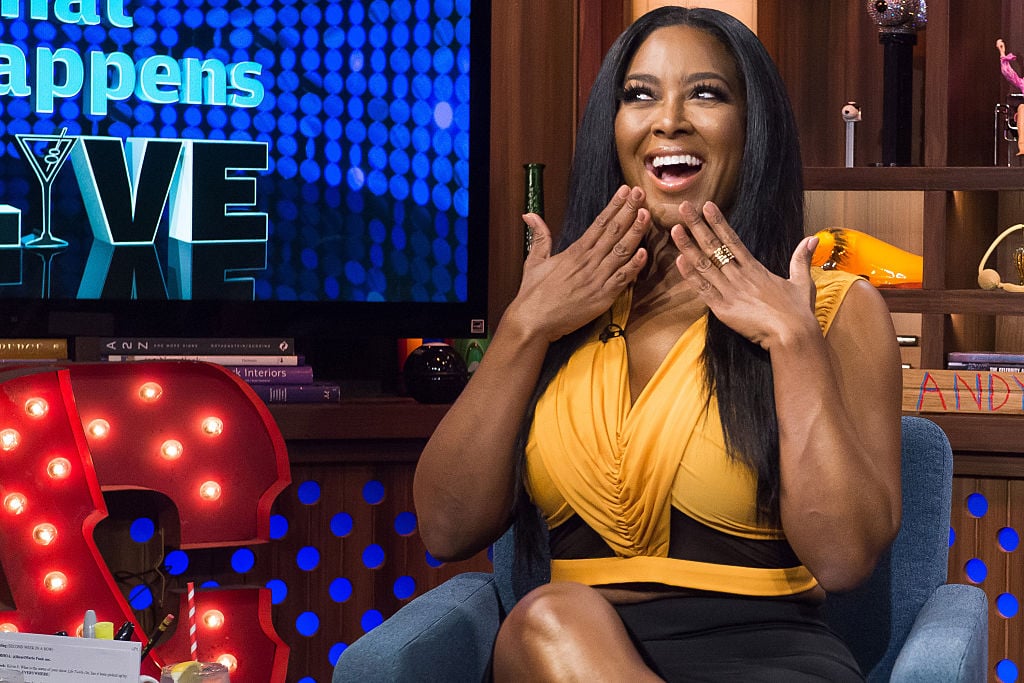 Kenya Moore's throwback photo reveals major changes
Taking to Instagram, Moore recently shared a throwback photo of a fake ID she created when she was a minor. The RHOA star had a good laugh with the light-hearted post and poked fun at the middle name she chose for herself.
"#TBT the time I got 1) a fake ID at 15 2) I made up my middle name to the name I wanted to be born with and it's nearly the same as #solange knowles  #awholemess even back then (the address and ss are made up, I redacted just in case it's real to someone)," Moore wrote.
Fans enjoyed seeing a pic of a younger Kenya Moore, but they also noticed that she has undergone some major changes over the years.
In particular, the photo clearly shows Moore's eyes as being dark brown. Even the eye color on the ID says "brown." As RHOA fans pointed out, Moore has always maintained that her hazel eyes are natural, but the image seems to contradict that.
Moore's nose in the fake ID also looks completely different from its current state. This led some fans to speculate that Moore had a rhinoplasty before appearing on Bravo's hit show, accusations she has vehemently denied.
Moore slams fan for questioning her looks
This is hardly the first time fans have criticized Moore for not owning up to plastic surgery. In 2019, Moore found herself in the hot seat after she shared a sponsored post promoting a supplement company called Body Complex RX.
"@bodycompleterx can help with your body… It can't help you with your face though."
After a fan noted that Kenya Moore forgot to add "#plasticsurgery" in her post, the RHOA immediately fired back, writing, "
Viewers were taken aback by Moore's insult, especially considering it was on a sponsored post. Needless to say, it did not stop fans from speculating about what else Moore has had done.
This includes work on her backside. Fans shared images of Moore's derriere from 1993 and compared it to a more recent photo taken in 2012. The differences are pretty clear, despite Moore's denial that she had anything done.
Unfortunately, this not the only thing Moore has openly lied about.
Did Kenya Moore lie about her hair?
Throughout all of her years on RHOA, Moore has insisted that her hair is the real deal. But during a January episode of Watch What Happens Live with Andy Cohen, Moore's RHOA co-star, Tanya Sam, revealed that she wears wigs on the regular.
Sam claims that Kenya Moore texted her following the cast outing to Canada and asked her to grab something she left in their hotel room. According to OK Magazine, Sam discovered that Moore had left behind a wig.
"After yall left, she sent me a text message saying, 'hey girl I left something at the hotel.' And I opened it up and it was a phone charger and a wig," Sam shared. "I have the wig here."
Following the revelation, Porsha Williams pointed out how Moore is always bragging about her natural hair. Based on Sam's claims, it is clear that Moore is lying about wearing wigs, which only adds another layer to her faux look.
While Kenya Moore is clearly in denial, she did openly discuss going under the knife following the birth of her first child.
Moore opens up about breast reduction
After giving birth to her first daughter, Brooklyn Daly, in 2018, Moore spent the better part of a year getting her body back into top shape. Although she has achieved impressive results, the RHOA star admitted last summer that she is thinking about getting a breast reduction.
Taking to social media, Moore asked her followers is they think she should have her breasts downsized. Most fans seemed to agree that a reduction was not a good idea, though Kenya Moore still sounded open to the possibility.
Moore has been a part of the RHOA since season 5, though she took a brief break in season 11 after tying the knot with Marc Daly. Sadly, Moore and Daly's marriage fell apart last year and the two are currently in the middle of finalizing their divorce.
Moore has not commented on the most recent reports surrounding her plastic surgery history.
Fans, meanwhile, can watch Kenya Moore in action when new episodes of the Real Housewives of Atlanta air Sunday nights on Bravo.