'RHOA:' Kandi Burruss Addresses Infamous Sex Dungeon Rumors Amid Speculation She's Involved in Tiny and T.I.'s Sexual Abuse Scandal
Kandi Burruss is no stranger to rumors, including sexual abuse allegations on 'RHOA.' As a result, Burruss says she's supporting Tiny and T.I. amid their sexual abuse and misconduct allegations.
Kandi Burruss is speaking out in support of Tiny and T.I. amid allegations that the couple have sexually abused women. Burruss refuses to speak on the allegations specifically but says she can empathize with them as she was once accused of sexual misconduct on RHOA. The allegations were proven to be false during an emotional reunion special.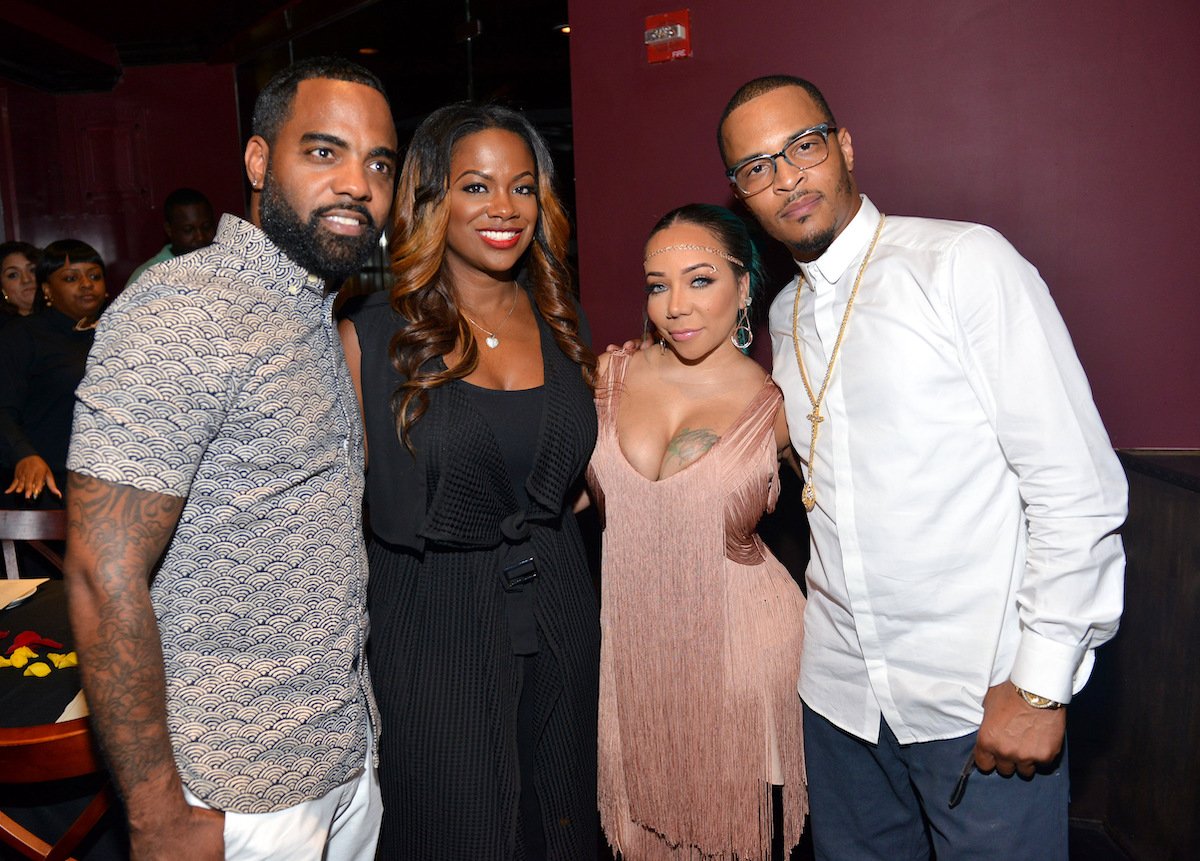 Porsha Williams accuses Kandi Burruss of having a sex dungeon and wanting to date rape her
During season 9 of RHOA, the friendship between Burruss and Phaedra Parks began to unravel. For whatever reason, Williams aligned herself with Parks and her relationship also began to deteriorate with Burruss.
During a heated lunch with Williams and Burruss, Williams alleged that someone told her that Burruss and her husband Todd Tucker wanted to drug her and rape her. She also claimed that Burruss had a sex dungeon in her home. Burruss denied all of the allegations.
Related: 'RHOA:' Phaedra Parks Reportedly In Talks To Return; Kandi Burruss Said To Be Furious
Burruss also shot back at Williams, revealing to the group that she and Williams once made out in a night club and that Williams propositioned her. Despite the chaos, Burruss has admitted to having threesomes with other women, including in her marriage to Tucker. She explained in a recent episode of RHOA that she has the other party sign an NDA.
It was revealed at the season 9 reunion that Parks was the one who spread the rumors about Burruss. Williams apologized and has since made amends with Burruss. Parks was fired from the show as a result.
Sexual abuse and misconduct allegations arise about Tiny and T.I.
Burruss and Tiny grew up together and are part of the R&B group Xscape. They remain close friends and even vacation together. 
T.I. and Tiny are currently in the midst of their own sexual abuse and misconduct scandal. Women are coming forward against the couple alleging that they've been drugged and forced to participate in sexual acts with the couple. 
Some women admit to previously having consensual sex with Tiny and T.I. Tiny is alleged to work as T.I.'s madame and is said to be the main aggressor. Both Tiny and T.I. deny the allegations against them.
Several women have hired Lisa Bloom to represent them in their cases against Tiny and T.I.
Kandi Burruss says she wants society to not rush to judgment in believing damaging rumors
Burruss recently appeared on Watch What Happens Live and was asked by Andy Cohen what she makes of the allegations against Tiny and T.I. While Burruss refrained from speaking too much on what's being alleged about her friends, she did take a moment to address her belief that spectators are quick to believe anything they hear, specifically regarding sexual assault in today's climate.
"This society has become a 'You're guilty until proven innocent' instead of 'You're innocent until proven guilty' and I do not like that," she said. 
Burruss also admitted that due to the sex-dungeon scandal on RHOA, people are aligning her with the scandal, which she does not find fair.
Related: Rob Kardashian's Claims About T.I., Tiny, and Blac Chyna Resurface Amid Sexual Abuse Allegations
"Because of the things that were even said on our show before, people always try to wrap me up in any rumor that happens right now," she claimed. "I don't like when people start rumors on folk and I would like for society to stop being so quick to make people guilty without really taking the time to get real evidence or anything."
Furthermore, Burruss noted that she's never witnessed any of the behavior that Tiny specifically is being alleged of. She also hinted at her support of the couple, saying she considers them family. 
RHOA airs every Sunday on Bravo at 8 pm EST.