'RHOA': Kandi Burruss Says Bethenny Frankel Wanted to Collaborate on Music
There's a reason Andy Cohen considers Kandi Burruss to be the most business-savvy Housewife. The Real Housewives of Atlanta star's business profile extends beyond entertainment. Burruss owns restaurants, cosmetics and fashion brands, and even an adult toy line. But music will always be her first love.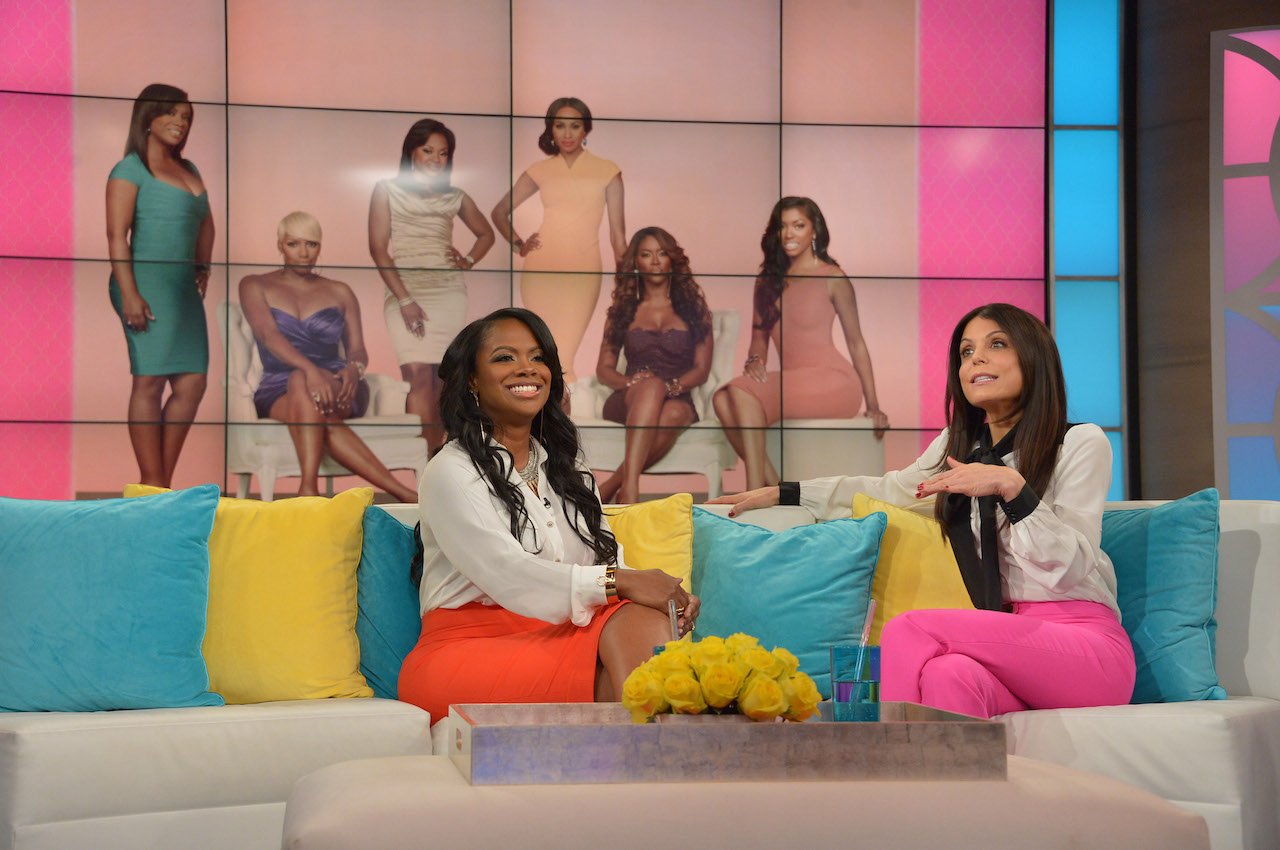 She's penned hits for some of the biggest names in music, even some fellow Housewives. In a recent interview, Burruss revealed that RHONY alum Bethenny Frankel wanted to collaborate on music with her.
Kandi Burruss reveals Bethenny Frankel wanted to work on music with her
Prior to RHOA, Burruss was known for her music career. She burst onto the scene in the early 90s as part of the R&B quartet, Xscape. The group released three platinum full-length studio albums.
RELATED: 'RHOA:' Kandi Burruss's Success Is Being Studied in Colleges
After the group split, Burruss turned her focus to writing and producing. She has writing credits on hits for Whitney Houston, Destiny's Child, Alicia Keys and more. One of the biggest hits she helped to write was the Grammy-award winning "No Scrubs" for TLC. Transitioning to Housewives, it only made sense that her co-stars would want her to create the same success for them.
During a recent appearance on Watch What Happens Live With Andy Cohen, Burruss was asked if any housewives on other franchises asked her to work on any music for them. "Multiple Housewives," she responded. "But one that you would probably be surprised would be [The Real Housewives of New York City alum] Bethenny [Frankel]. She reached out to me to work with her on a song. This was a long time ago. I can't even remember what she was trying to use it for."
She previously collaborated with a friend to the show
Despite the number of Housewives who have released music on their respective franchises, Burruss has only worked with two. She also worked with RHOA friend to the show, Miss Lawrence Washington, on his single "Closet Freak."
"No! Actually, I did do something with Demetria," she said, speaking of Season 7 friend of the show, Demetria McKinney. The two collaborated on the 2015 track, "Unnecessary Trouble." The video shoot and premiere was filmed for season 8 of the show. At the time, Burruss was pregnant with her second child, with her baby bump heavily concealed in the music video.
RELATED: 'RHOA': Why Kandi Burruss' New Atlanta Steakhouse Was Temporarily Shutdown
The song was promoted as a modernized version of the 1998 Brandy and Monica duet "The Boy Is Mine." In the song, Burruss and McKinney argue over Burruss revealing details to McKinney about her man cheating on her. Burruss sings: "And I ain't telling you shit about your man no more / I don't care if I see him out with 'bout three or four hoes / I don't mind if you don't girl, I'm gon' let it go / This is unnecessary trouble, trouble, trouble…"
While that experience was good for her, due to previous issues working with friends, Burruss vowed to never work with any of her co-stars or Bravolebrities again. "But everybody else, I was just like, 'I don't want the drama,'" she said.
Her relationship with Kim Zolciak ended due to business issues regarding music they worked on
The reason Burruss has sworn off working with friends is due to her infamous fallout with Zolciak. Burruss joined RHOA in season 2 and became instant friends with Zolciak. Their friendship spawned musical magic when Burruss wrote and produced Zolciak's 2009 hit pop single, "Tardy For The Party." But after Burruss said Zolciak didn't want to split the profits evenly, she sued Zolciak for copyright infringement.
ESSENCE reports that per Burruss' court filing, she accused Zolciak of marketing and selling the "infringing single in various formats (e.g., compact disc, downloadable audio track, DVD, etc.) and through various websites, all without Plaintiffs' license, consent or authorization."
RELATED: How The Notorious B.I.G. Offended Kandi Burruss and Her Group Members