RHOA: Kandi Burruss Breaks Down How To Land a Spinoff After Nene Leakes Shades Her
Real Housewives of Atlanta stars Kandi Burruss and Nene Leakes have never been the best of friends but for the past two seasons, they've maintained a healthy and cordial relationship. Unfortunately, their oftentimes contentious relationship has resurfaced after Leakes began to feel that Burruss talked negatively about her in interviews.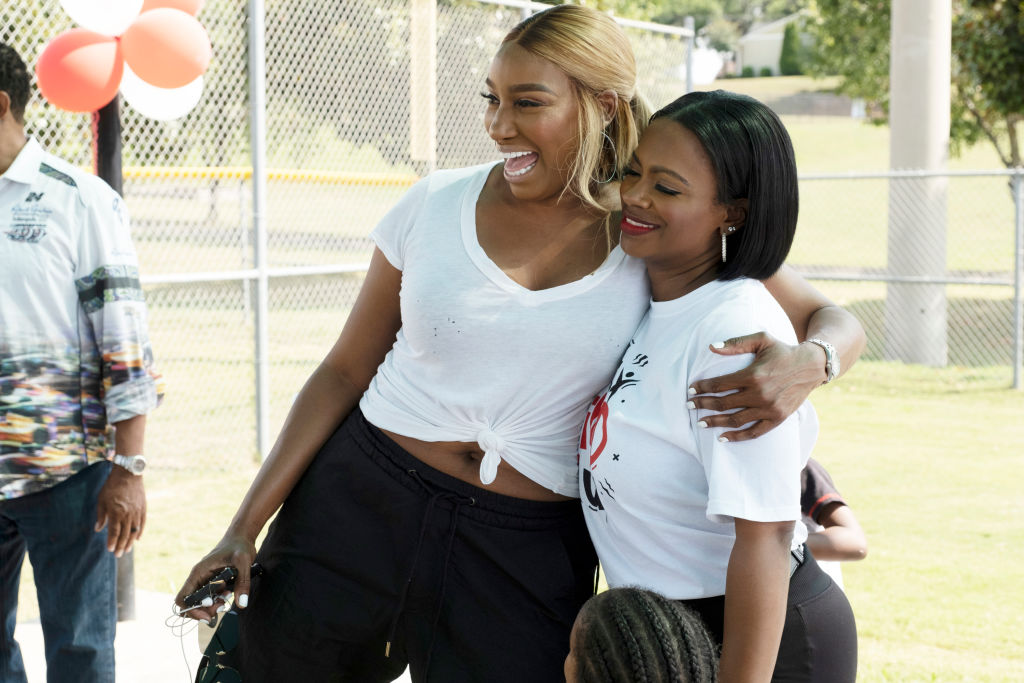 In a new Instagram live, Leakes insinuated that Burruss is the only castmember of Atlanta to have several different spinoffs, while also admitting that she believes its due to her co-star playing a hand at blocking her opportunities. Now, Buruss is defending herself against Leakes and insists that her spinoffs are due to her own work.
Kandi Burruss lands new spinoff about her Atlanta restaurant 
Viewers of RHOA watched Burruss and her husband, Todd Tucker, work to open their first restaurant. Old Lady Gang was opened in Atlanta, Georgia in 2016 and was inspired by the soul food recipes of Burruss's mother and aunts. Within four years, the restaurant expanded and now has three locations.
The Jasmine Brand first reported in 2019 that a spinoff about the restaurant was in the early stages of production. The outlet noted that the show would feature Burruss, Tucker, and the restaurant staff. The Atlanta Journal Consitution reported earlier this month that the show has officially moved to production. The show will follow the model of former Real Housewives of Beverly Hills star Lisa Vanderpump, and her restaurant spinoff series, Vanderpump Rules.
Buruss has had several successful spinoffs since joining RHOA in the second season. In addition to her 2014 wedding special, she had a musical competition series The Kandi Factory, a three-part special with her group in 2018 with Xscape: Just Kickin' It, and her family vacation special, Kandi's Ski Trip.
Nene Leakes insinuates that Kandi Burruss blocks her spinoff opportunities – Burruss responds
In an Instagram video, Nene Leakes insinuated that Burruss blocked her opportunities for landing her own show. Leakes answered a fan who questioned whether or not she would ever have her own spinoff. She began by saying that she's never been offered one, while one of her castmates has had several.
"I don't know why only one person off our show gets to do her own show every season after we go off air," Leakes said. "To me it looks shady for one person – season after season after season – gets a show, and it certainly isn't by choice. It is definitely a reason why someone would be trying to hold you back from not doing something. Somebody is afraid that you will be bigger than they are." 
Burruss dispelled Leakes's claims, explaining that she pitched her first spinoff after her first season on RHOA.
"That [The Kandi Factory] was something that I actually pitched to the network. I took the initiative on my own to pitch them two ideas – I pitched two," she explained in unseen footage to a RHOA producer while filming her confessional. "I pitched The Kandi Factory and I pitched Kandi Koated Nights." 
Kandi Koated Nights was a late-night talk show about love, sex, and relationships that Buruss had prior to being cast on RHOA. The network greenlit The Kandi Factory but passed on Kandi Koated Nights – which Burruss continued to produce on her own through online platforms until it was officially picked up by Bravo. 
Burruss encourages all Bravolebrities to pitch their own projects – especially because she believes network executives do not always see the potential in its stars until they have an idea brought to them. 
Kandi Burruss explains how she landed her own spinoffs and why they were successful
Burruss also explained that a reality series is successful because of an ensemble cast and not just one person. Because Buruss has a lot of businesses that she runs and fiery personalities in her life, her spinoffs work. 
"Just because someone may think, 'Kandi you're boring, or Nene is more fascinating than you' – it's an entire situation. You may think I'm boring but you don't think Mama Joyce [my mom] is boring, you don't think Aunt Bertha is boring, you don't think Don Juan is boring, you don't think Carmon is boring. Everybody around you has to be willing to participate and on our show, there's a lot of people who don't share."

Speak On It
Another important note that Burruss made is that all housewives have a clause that if they participate in another show, their storylines cannot overlap with what's shown on RHOA. 
"If you have something that can live outside of housewives than that's fine but if it's something that producers want to see during housewives, it won't work," she said.
Overall, Burruss says that her spinoffs have been strategic in the storylines and when they aired. For example, her wedding was filmed when RHOA was not in production and was an extension of the show, not something that would overlap. 
Whatever method she uses, it works. Burruss has had the highest-rated spinoffs out of any housewife in any franchise.