'RHOA:' Kandi Burruss Denies Defending Kenya Moore
Kenya Moore may be considered a villain to some of her Real Housewives of Atlanta co-stars but she has the solid friendships of Kandi Burruss and Cynthia Bailey to get her through. But some viewers believe Burruss enables some of Moore's bad behavior and have spoken about their disappointment in Burruss on social media. Burruss addressed the criticism in a recent YouTube video.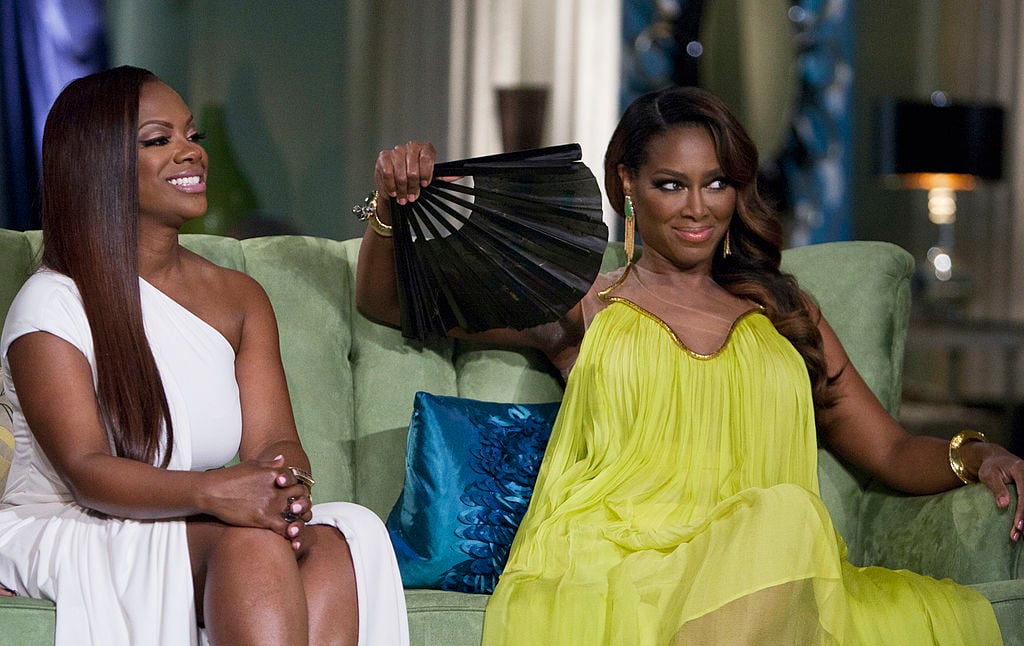 Fans criticize Kandi Burruss for defending Kenya Moore
Out of all of the women on the cast of RHOA, Moore is the closest to Cynthia Bailey and Burruss. She's leaned on them heavily this season as the drama in her relationship with her now estranged husband Marc Daly has unfolded. While many would believe that being there for a friend in their time of need is admirable, fans have been critical of Burruss's support of Moore.
Moore has caught a lot of flack for some of her antics on this season, specifically with her drama surrounding Tanya Sam and Nene Leakes. Burruss typically remains neutral while encouraging Moore to try and get along with the group as a collective. Fans have voiced their opinions Burruss online, believing her to be passive in terms of how she deals with Moore. 
They've also taken the issue of what they perceive to be Burruss failing to confront her other co-stars for their shady behavior but remain silent with Moore or create excuses for her. Viewers have called Burruss out for the double standard.
"I'm all for sticking up for your friend and having their back…but the way Kandi goes so hard for Kenya all of a sudden, I don't think Kenya would have the same energy for her," one wrote on Twitter.
"Kandi's now Kenya's bodyguard, translator, therapist, etc. Is she getting paid for all of this caping," another asked. 
"I think it's funny how Kandi don't wanna share Kenya business but share everyone else," another added.
Kandi Burruss denies that she defends Kenya Moore
Burruss has heard the criticism of viewers and is now speaking out and giving her side of the story. She took to her weekly YouTube show Speak On It where she typically recaps RHOA. For starters, she doesn't agree that she defends Moore and points to Moore's strong personality and being able to stand up for herself. 
"Let me just say this. Kenya does not need anyone to take up for her!" she said. "For one, she is clearly capable of speaking up for herself and standing up for herself, and the other thing, she don't really give a damn what nobody think anyway. She don't care if y'all go in on her all day, therefore, she does not need me to take up for her. I'm not taking up for her."
Burruss also says that the backlash against her is unfair, especially because she has not been present during many of Moore's interactions or arguments with other castmembers. Burruss also reminded viewers that she has confronted Moore about things she feels were out of character or wrong, naming Moore almost ruining Bailey's engagement surprise as an example. 
"Whenever I see something or whatever, I clearly have told her. With the Cynthia situation, when I felt like she messed up the proposal, you clearly saw that I called her out and I was pissed off with her about it and I said something to her about it," she said.
Overall, Burruss believes that fans are unfairly directing their frustrations towards her instead of to Moore. Regardless, she promises to remain a good and supportive friend to Moore.