'RHOA': Kenya Moore Banned Marc Daly From Their Home After That Explosive Fight That Led To Their Split
Real Housewives of Atlanta star Kenya Moore has had enough of her estranged husband, Marc Daly. The pair separated last fall following an explosive fight. Their ups and downs have been well documented on the show, and a trailer for an upcoming episode reveals that Moore banned Daly from her house while they were working out a custody arrangement for their daughter, Brooklyn.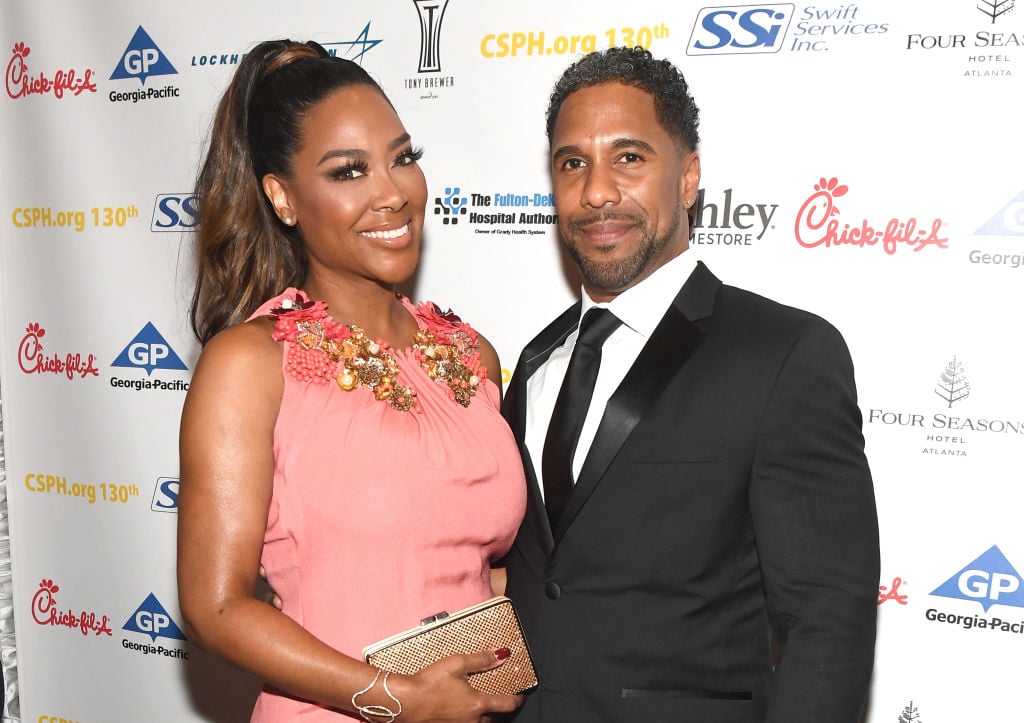 Kenya Moore and Marc Daly call it quits
Moore and Daly tied the knot in a secret ceremony two years ago. After welcoming a daughter, the couple called it quits in September, and their marital issues have been a major part of the storyline in season 12 of RHOA.
Most recently, Moore and Daly butted heads over a charity dinner he hosted for Miss USA. Daly was in charge of organizing the event, though Moore worked a lot of magic to help pull it off.
In a recent episode of RHOA, Kenya Moore's bestie, Cynthia Bailey, blasted Daly for not recognizing his wife's contribution. According to Hollywood Life, the event would not have been a success without Moore, yet Daly failed to mention her during his speech.
"I'm not saying that he intentionally set out to not thank her, I just thought it was just really in poor taste that he didn't," Bailey shared. "I've seen all sides to Marc. I've seen Marc where he's amazing … and then I've seen other sides where I don't get it. He's not that nice."
Ignoring his wife's help is bad enough, but things got really heated following an explosive fight that led to Daly and Moore's split.
Moore banned Daly from their home
A preview trailer for an upcoming episode of RHOA shows how bad things got between Daly and Moore. According to All About The Tea, Moore confessed that she banned Daly from her house as the couple tried to figure out a custody arrangement.
"I just don't know how to even make the visitation work. Yes, he can see her whenever he comes here," Moore explains in the clip. "No, I don't want him to stay here."
Kenya Moore and Daly split right after the charity dinner. It sounds like their epic fight is why Moore banned Daly from their house, but we should learn more about what happened in the coming installment.
In the meantime, RHOA star NeNe Leakes recently dished on Moore's relationship drama. Leakes slammed Moore for her previous behavior and believes that her romance with Daly was never going to work out.
"…what goes around, comes around, and Kenya had this coming. She has interfered with other girls on this show's relationships," Leakes stated.
Leakes' comments come on the heels of Daly's confession that he was very unhappy in his marriage, which is not that surprising given his behavior this season.
Marc Daly admits he hates being married
A few weeks ago, fans were offered a look at what Daly really thought about his marriage to Kenya Moore. During a scene for RHOA, Daly told some of his wife's co-stars that he "hated" married life and was going to "end it."
"No, I hate it. Everybody knows I hate it. End it," he stated.
Moore was not present when Daly made the comments. Shortly after the episode aired, Moore removed her married name from her Instagram account. She still refers to herself as a "wife" on the platform, something that she will likely change after the divorce is final.
Although things clearly did not work out with Daly, Kenya Moore has been optimistic about fixing their marriage. But in light of everything that has happened since their split, the odds of that happening are pretty slim.
Luckily, what is unfolding on the show was filmed several months ago and things between Moore and Daly have quieted down considerably.
Where do things currently stand between Kenya Moore and Marc Daly?
Despite how their marriage ended, Moore and Daly are working together to raise their daughter in a healthy environment. Their relationship has been very rocky since the split, but a source claims that they are communicating much better now.
"Kenya and Marc are really working hard to co-parent," the source dished. "She's allowing him to see Brooklyn a lot which he has been doing. They're trying to work on their relationship, not necessarily for the sake of getting back together, but for the sake of co-parenting and Brooklyn."
The source added that Moore and Daly are unlikely to rekindle their romance. Considering everything they have been through the past few months, we cannot blame them.
While it sounds like both parties are moving on, the RHOA star is encouraging Daly to do his part to raise their daughter. They might not see eye-to-eye on most things, but it is good that they are both focusing on the well-being of their child.
Moore and Daly tied the knot in a secret ceremony in 2017. They welcomed their daughter the following year and broke things up in the fall of 2019. Kenya Moore has not commented on the latest rumors surrounding her failed marriage.