'RHOA': Kenya Moore Drops Bombshell on Porsha Williams and Twitter Exposes How 'Messy' She Is
Kenya Moore never misses an opportunity to throw shade on 'RHOA.' Twitter is now calling Moore out for her side dig at Porsha WIlliams.
Kenya Moore from The Real Housewives of Atlanta has expressed why she. is always painted as the villain on the show. She feels that the hate she gets has no substance and it's unfair. However, on Episode 20 of Season 12, fans were able to witness how the former beauty queen operates. After seeing what Moore did to Porsha Williams, Twitter erupted exposing how "messy" the former is.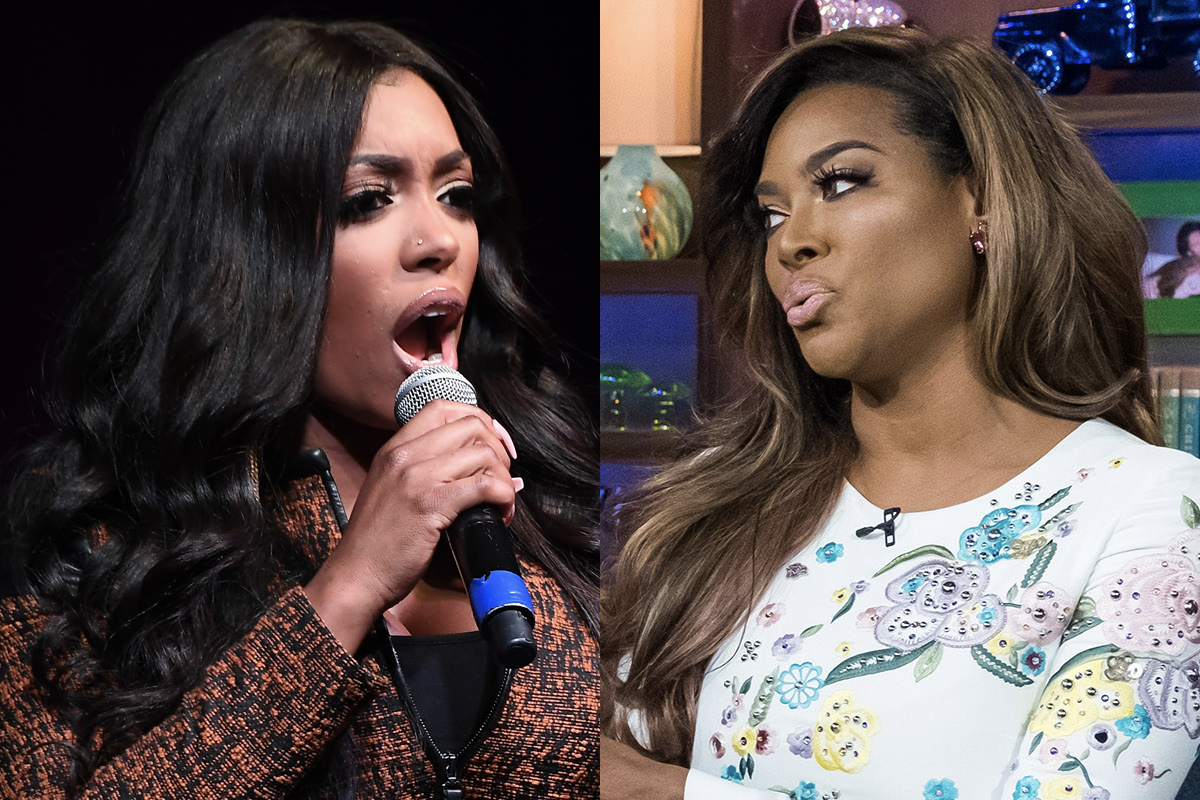 What did Kenya Moore do to Porsha Williams?
On Sunday night's episode of RHOA, Williams invited her fellow co-stars to a March of Dimes event. The Bravo star wanted to share her difficult experience becoming a mother. It was a touching moment that gave Williams depth to her journey on the show.
In attendance was also Shamea Morton, Williams' close friend, and Moore. The latter dropped a bombshell at the event saying that Morton called her after her water broke during her pregnancy. She claimed none of her closest friends were there for her during the moment of emergency.
Williams was taken aback as she was not aware that Moore and Morton had a close relationship. She didn't know that Moore was on top of the list to call during the uncertain moment.
Twitter reacts to the shade
It didn't take long before fans figured that Moore was shading Williams, making it seem she wasn't there for her friend Morton during her pregnancy. Fans took to Twitter to expose Moore of her sneaky ways.
"Kenya is so messy, she is trying to make this story about Porsha not being a good friend," a fan wrote. Once again trying to mess with a genuine bonding moment."
"Why doesn't Kenya just leave Porsha alone? If she doesn't like Porsha, she must not speak to her like she did with Marlo and Nene. She never wanted to fix things with her," a viewer added.
"While watching RHOA, Kenya throwing that shade at Porsha's event about Shamea texting her when her water broke was just evil," a Twitter user commented. "[Moore] deserves any and all the negative events that fall in her lap."
"I can't with Kenya's shade, talking about how Shamea texted her and said, 'I don't know where Porsha was, I think Porsha was doing something else, working that day,'" another fan quoted.
"Kenya, that was not the time for you to insert yourself in Shamea's story. Do you always got to sh** on a feel-good moment? That sucks for Porsha. Shamea [is] wrong. I would be hurt," another viewer said.
Marlo Hampton says Kenya Moore is 'evil'
This was not the first event that Moore tried to ruin. Earlier in the season she interrupted Marlo Hampton's event by bringing in marching band promoting her own hair care products.
"We were having a good time, it was like a sisterhood," Hampton told Entertainment Tonight. "I was launching my wig line that I paid a lot of money and invested into this venue and just pulling it together, and for you to just come in there and just bring such a dark cloud? I just feel like, how can you do that? That's just awful."
Hampton believes that Moore is "evil" because she provokes people a lot on the show.
"Is Kenya good for the show? Absolutely," Hampton told Hampton told ET. "Does Kenya go too far? Absolutely. She just needs somebody in corporate to sit and talk to her and say … how to balance it, because then it'll end up how it was a couple episodes when she just, she provokes people. She's provoked people several times. And it's not — don't do that. People have too much real stuff going on in their lives for you to be evil like that."
The Real Housewives of Atlanta airs Sunday nights at 8 p.m. ET on Bravo.