'RHOA': Kenya Moore, Eva Marcille React to Nene Leakes Campaign to Bring Kim Zolciak, Phaedra Parks Back
Kenya Moore and Eva Marcille from The Real Housewives of Atlanta have one enemy in common: Nene Leakes. The latter has been campaigning for the return of Kim Zolciak-Biermann and Phaedra Parks during different interviews. When the first two made an appearance on Watch What Happens Live, Andy Cohen couldn't resist asking them what their thoughts were.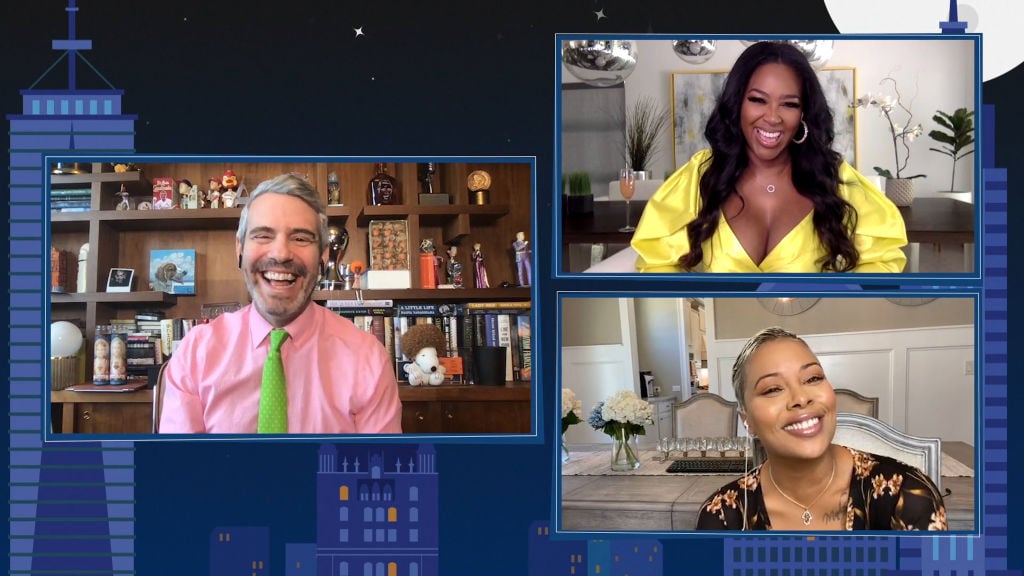 What did Nene Leakes say?
Leakes has been shady with Moore and Marcille ahead of the RHOA Season 12 reunion. In a recent interview, the "tastiest peach" said that although they had a great cast, Marcille was not pulling her weight.
"We have a great cast right now except for one person, I think," Leakes told Entertainment Tonight. "I think only one person on this cast doesn't seem to have carried any weight this season. And I think that's very obvious who that person is, and I don't think they actually sit in the cast that well."
Marcille had been pregnant for most of season 12 and skipped various events.
"I don't feel like Eva brings that much to the cast," Leakes added. "I'm just being honest. It's really like, when you look at a show like, everybody — like the whole cast — is away, and you don't miss the person at all, it's sort of like, we didn't even know you were here, you know? And all season, doing a lot of scenes from FaceTime, that's been the last couple of seasons … So, If I had to change, I would change her."
Nene Leakes pushes for two legendary 'Housewives'
During the same interview, Leakes said she would love for Zolciak-Biermann to return to RHOA. However, the Glee alum knows that the blonde bombshell is too busy with her own spin-off series that she might not have time to do Housewives.
Another former RHOA star that Leakes is pushing to come back is Parks. The lawyer left after she started a rumor that Kandi Burruss wanted to take advantage of Porsha Williams. Leakes feels that Parks has unfinished business and deserves an opportunity to clear her name.
"I would like to see her come on as, like, a friend of the show," Leakes explained. "Play around for a couple of episodes, because I still think there's unfinished business there. I think it is unfair for the rest of the cast to face people who they have issues with and then she doesn't get to face who she has an issue with. So, the one time she had a real issue with somebody, all of a sudden, they have to be off the show? So, I don't think that part is fair, and I think it's OK for me to speak my opinion about that, Kandi, and I will continue to do so."
What do Kenya Moore and Eva Marcille have to say?
Cohen took the opportunity to ask Moore and Marcille how they felt about Leakes pushing for Zolciak-Biermann and Parks to return.
"I'm so confused," Marcille said on WWHL. "I have not been around as long as a lot of these girls on Housewives, what I do know about Nene and Kim, was that the first season I came on they were enemies. They were finding roaches in each other's house. Nene went on this huge rampage despising this woman. The moment she doesn't get along with her 'co-workers,' now she wants her back."
Moore had less to say on the topic saying, "Yeah. I don't waste the energy on her."
When Cohen asks that Parks was also a name that Leakes has mentioned, Moore said, "I just don't put any energy into things she says or does. She's just an idiot to me, very low-brow, and has zero class, and no brain at all."
The Real Housewives of Atlanta airs Sunday nights at 8 p.m. ET on Bravo.