'RHOA': Kenya Moore Fires Back at Porsha Williams, Asks Her To Be 'Real'
Kenya Moore and Porsha Williams from The Real Housewives of Atlanta are feuding on social media. The peaches are calling each other out for not supporting one another during these trying times. After Moore implied Williams was only using her BLM activism for the show, the latter kicked off. Now, Moore is firing back with more claims and asking Williams to be "real."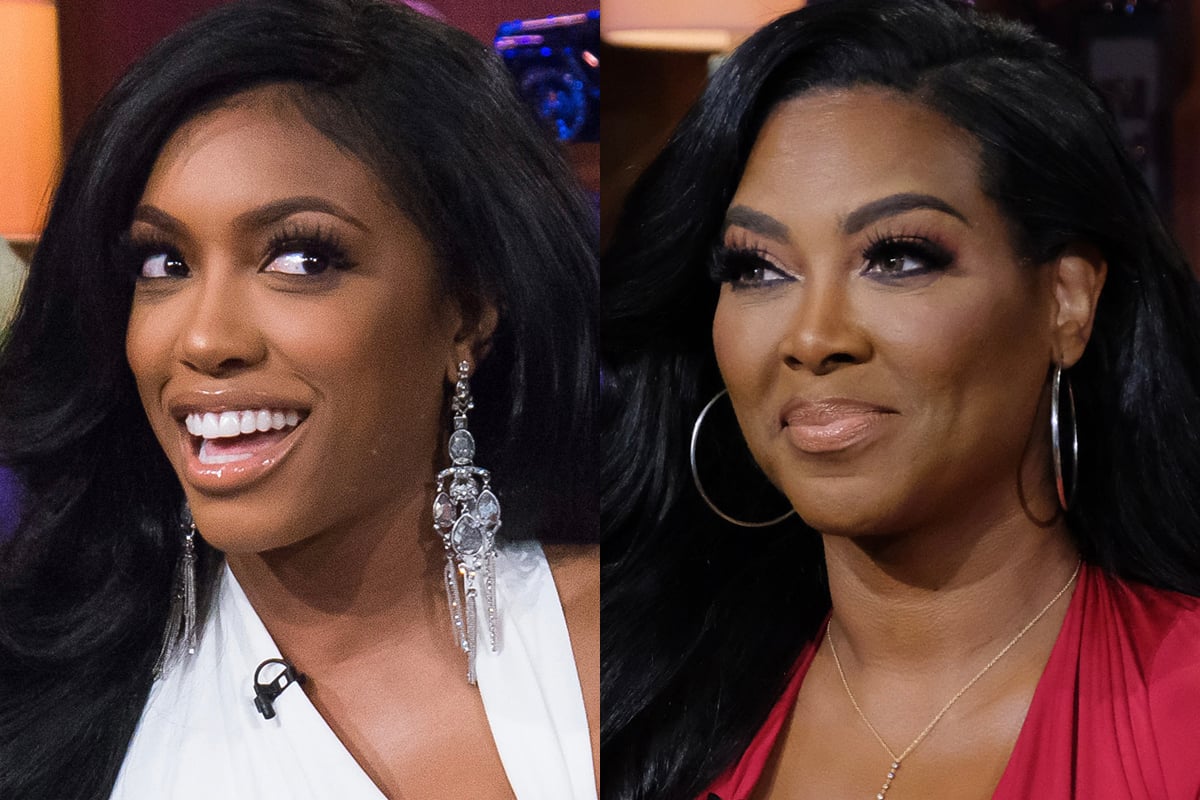 What set Porsha Williams off?
Williams has used her platform for good since the Black Lives Matter movement took over America. The RHOA star has raised awareness of social injustices and has even gotten arrested fighting for the cause. Her work has not gone unnoticed from her Bravo co-stars and Cynthia Bailey recently praised her efforts.
"We are living in crazy [and] uncertain times so it is always good to check in with your girls [and] also make yourself available for them to check in on you," Bailey posted. "Super proud of all the work Porsha has been doing on the front line for the BLM movement. We are all in this together. Let's keep the conversation going in the name of justice."
RELATED: 'RHOA': Porsha Williams Blasts Eva Marcille for 'Ageist' Attacks at Reunion
It was in the comments section where things got a little interesting. Although the majority of the replies were positive there were a few that criticized Williams. There was one particular person that had an issue with the Dish Nation personality and said she was "clout chasing."
"Porsha is clout chasing. This girl is doing all this for show," the troll replied on Instagram. "Glad it is positive but trust it is for show."
The same person went on to write another comment where they said Williams "didn't even know what the Underground Railroad was but now she's a civil rights leader. She needed to clean up her image and needed a storyline. Sorry but not buying it."
One housewife that saw these comments was the former Miss USA beauty queen. Moore replied to the troll with the side-eyes emoji, implying that she second their thoughts.
Porsha Williams reads Kenya Moore
Williams noticed the negative comment after Moore zeroed in on it. The peach was undoubtedly not happy with Moore raising awareness of these comments and instead asked her to be supportive.
"[Kenya Moore], you should be ashamed of yourself trying to bring attention to this disgusting troll," Williams replied, in a screenshot captured by The Peach Report Daily. "You actually felt compelled to respond to this lie? You want people to pay attention to this mess? Shame on you."
RELATED: 'RHOA': Porsha Williams Exposes Kenya Moore's Lie About Shamea Morton
"You knew people and blogs would follow this," she continued. "You should be supporting me as a fellow black woman trying so hard to change this world and instead you're the least supportive person ever. If you're going to spend time bringing awareness to anything, try something positive in life… oops I forgot misery loves company."
Kenya Moore claps back
As an outspoken woman, Moore did not stay silent after Williams replied. The aspiring actress clapped back and exposed Williams asking her to be "real."
"Over [side-eyes emoji], really?" Moore started. "I support you and I support the movement and will follow REAL leaders, not storylines."
RELATED: 'RHOA' Star Porsha Williams Arrested Fighting for Justice for Breonna Taylor
"So be REAL on and of camera," the RHOA star continued. "REAL change starts with YOU. Let's be REAL apologetic to Eva Marcille who has been a REAL activist before she ever heard of you. Let's be REAL that you said [you] would beat her a** after BLM and Kandi behind her back with #thegirloverthere after she privately shared big change [at] Bravo for us ALL."
Moore goes on to say that she's been supportive of Williams and her daughter in front of the camera and behind the scenes as well.
All this drama is expected to play out on the new season of RHOA, which Bravo has yet to confirm when it will be back on the air.