'RHOA': Why Kenya Moore Says Marlo Hampton Will Never Get a Peach
Kenya Moore loves to stir drama on The Real Housewives of Atlanta. The former beauty queen knows how to throw shade and Marlo Hampton is usually at the receiving end. Although they used to be friends, over the years they fell out and it's mostly in part because Hampton is close to NeNe Leakes — Moore's biggest nemesis. With Leakes being mostly absent from season 12, Moore has tried to claim her crown.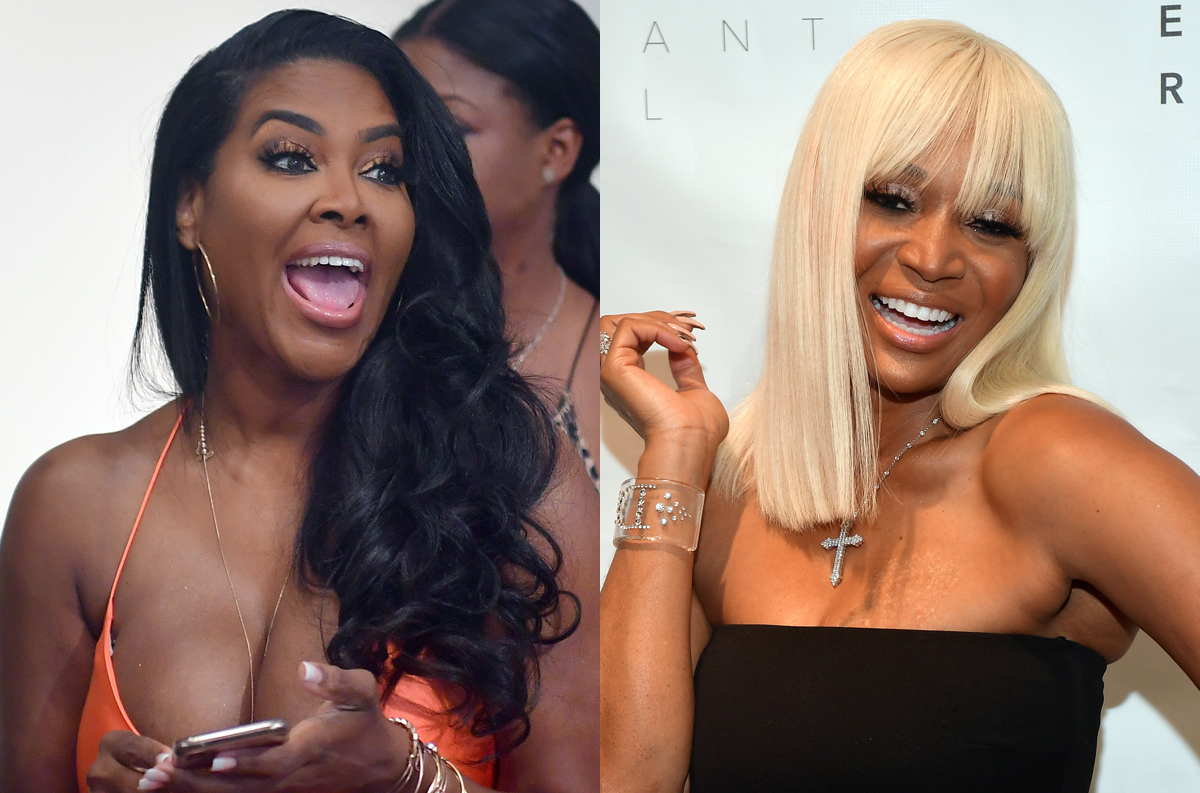 This season viewers saw when Moore interrupted an event hosted by Hampton with a marching band. One thing that she has over Hampton is a peach, which she got back after taking a season off. Although Hampton has gotten in the mix of drama, Bravo has not extended her a full-time option and Moore thinks she knows why.
"Marlo will never get a peach in my opinion," Moore told Entertainment Tonight. "Listen, she has a horrible criminal past … so, that's just not Bravo's brand. And if she's been on the show for all of these years, doing the same thing, why would you want to make her a Housewife? I mean, you've gotten her as a friend of the show for 10 years, why make her a Housewife now? It just, to me, it's just not good business."
Moore does believe that Tanya Sam deserves a peach and be upgraded to a housewife.
"I do think that Tanya deserves a peach," Moore said of the RHOA "friend." "I think that she's interesting, she's a little quirky and I think that she has a dark side."
Marlo Hampton got a peach from Wendy Williams
Hampton maybe not getting an official peach to join the RHOA cast, but Wendy Williams gave her an honorary peach. The TV host had Hampton as a guest and handed her a peach as she believes she deserves one.
"I feel that I deserve a peach for you all," Hampton said on The Wendy Williams Show. "I want you all and my fans to really see my life and just really get to see who Marlo is because there's so much more than when you see me come on for two seconds to just stir up some drama."
Despite not being an official housewife, Hampton appreciates being featured on RHOA over the years.
"I just feel also, on the other hand, I'm good where I'm at," she added. "I do feel that God puts you where he wants you to be at."
Andy Cohen weighs in on Marlo Hampton's peach
Andy Cohen is the father of all the Housewives and has a vote on who gets to be part of the cast on each franchise. When he appeared on Kandi Burruss's YouTube show, Cohen answered the pressing question.
"I think it's preliminary to say that she's never gonna get a peach," the Bravo personality said. "I was telling Marlo [at] Gay Pride. She was on our float. The night before I was at this gay hip-hop party. And I was leaving very late and these guys were outside and they were like, 'Give Marlo a peach!' It was so awesome!"
The Watch What Happens Live host also said that Hampton is taken care of even though she is not a full-time RHOA star.
"It's not that I don't love her, but she's all over the show — that's why I think sometimes people get hung up on semantics," Cohen added. "And the Housewives is not indentured servitude. It is not something that, you know- people volunteer to do it. … So trust and believe that people are being taken care of in one way or another. … She has a great attitude. I feel like everything's cool."
The Real Housewives of Atlanta airs Sunday nights at 8 p.m. ET on Bravo.