'RHOA': Kenya Moore on Exposing Porsha Williams' Alleged Threesome – 'She's Slut Shamed All of Us'
Kenya Moore is not giving in to criticism of her handling of stripper-gate on RHOA. Per Moore, the cast should have been mindful of cameras and their co-stars when they allegedly opted to have a nightcap with the hired stripper at Cynthia Bailey's bachelorette party. Moore also shoots down claims that she slut-shamed Porsha Williams, citing Williams' own alleged moments of slut-shaming her castmates.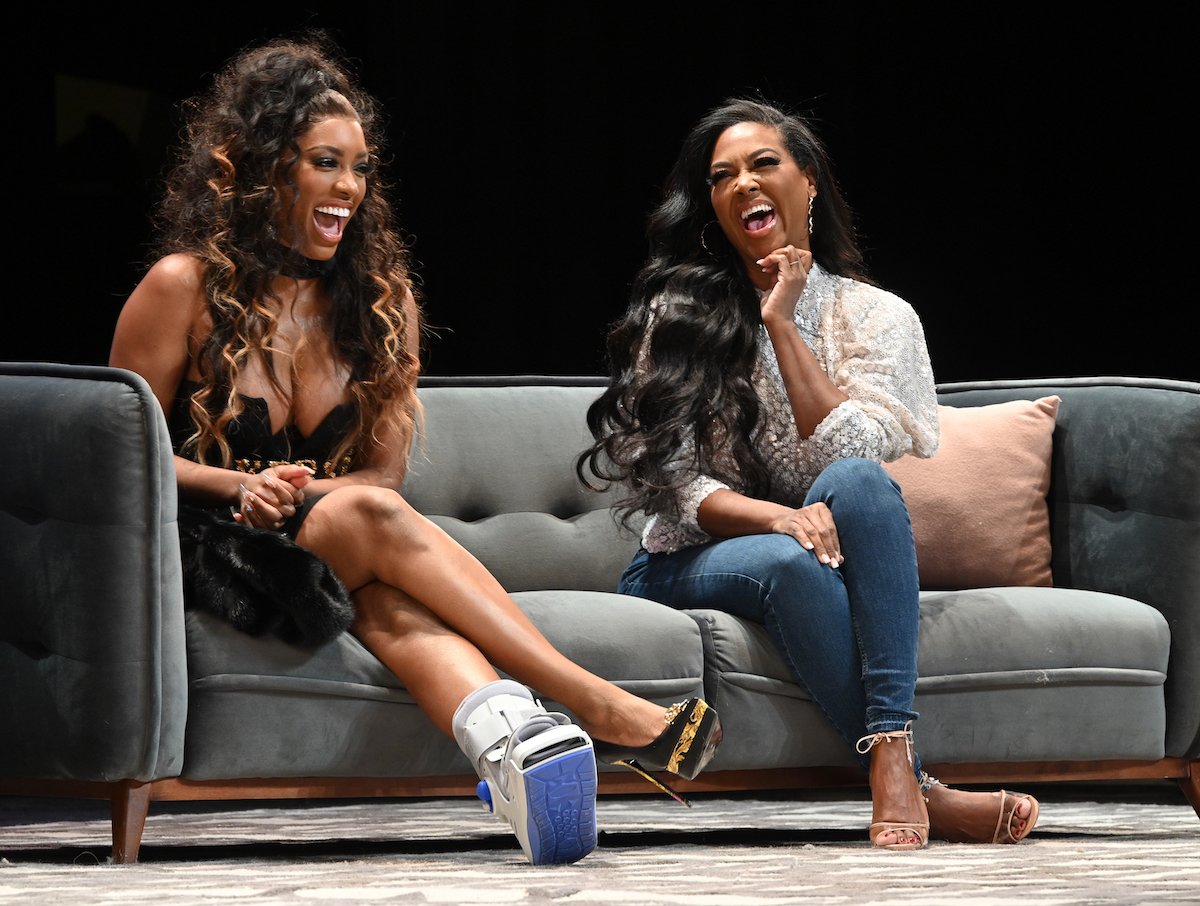 Kenya Moore alleges Porsha Williams had a threesome after Cynthia Bailey's bachelorette party
Kandi Burruss threw Bailey a dungeon-themed bachelorette party. The night featured whips, chains, sex swings, and an infamous stripper named B.O.L.O. known for his larger-than-life nether regions. 
Much of the party was captured on-screen. But, at some point during the night, the camera crew left at the behest of the ladies with the cast complaining they could not enjoy B.O.L.O.'s full show or have uninhibited fun with the cameras present.
Related: 'RHOA': Tanya Sam Stops Filming Over Sex Scandal With Porsha Williams and a Stripper
The morning after, Moore began revealing things she says took place when production left. Per Moore, she heard various "sex noises" and "moans" between the stripper, B.O.L.O., and two of the women. Home video footage corroborated some of Moore's claims and production showed B.O.L.O. did not leave the home until after 7 am.
Moore alleges Williams as one of the voices she heard in a private room with B.O.L.O. Tanya Sam claimed she was also in Williams' room in an attempt to prove Williams was not doing anything sexual. But Sam inserting herself only implicated her as well.
Sam has denied any involvement and ceased filming after the bachelorette weekend. Of her potential involvement, Williams told Entertainment Tonight, "To me, it was a good time," she said. "It was what it was. I don't really understand why it had to turn so negative. Maybe we'll kiki about it at the reunion. I'm still ready to have fun!"
Kenya Moore alleges Porsha Williams has a history of slut-shaming her co-stars
Many of Moore's co-stars and fans of the show were not happy with her investigation of "stripper-gate." Moore has been accused of slut-shaming her co-stars for whatever they chose to do behind closed doors. Williams has said that Moore is constantly after her and using this alleged incident to try and damage her reputation.
In a recent sit down with Burruss on Burruss' YouTube show Speak On It, Moore shoots down claims that she's slut-shamed Williams. In fact, Moore says Williams is the one notorious for doing the slut-shaming.
Related: 'RHOA': Kenya Moore on Porsha Williams' Alleged Threesome This Season – 'Don't Lie About It'
"You need to look at those people that I'm talking about because they have slut-shamed all of us and they have also talked about people being lesbians too," Moore says.
Moore continued: "I believe it was season 5 and Porsha said something about Nene and Cynthia being lesbians and she kind of made a face about it? And, let's not talk about the sermon she did where she was talking about whores and gays and everyone in between needed salvation…she also tried to say I was sleeping with some one-eyed married African man that I was not…she also talked about Claudia Jordan and I sleeping with people and not getting any money for it…"
Kenya Moore says her co-stars should have been mindful of their surroundings
Moore says that Williams and anyone else who potentially participated in any sex action with B.O.L.O. should not have done so in a house that the other cast were also staying in.
"I had the right to say it because we are working and we are in a cast house that we are all sharing and there are no secrets when you're in a cast house," she said. "I understand it was your [Burruss'] party, I understand all of those terms but I didn't see any NDA come across my desk, so I'm talking."
RHOA airs every Sunday on Bravo at 8 pm EST.