'RHOA': Kenya Moore on Porsha Williams' Alleged Threesome This Season – 'Don't Lie About It'
Season 13 of RHOA is just getting started but the drama is expected to be unprecedented. Aside from a wedding, marital drama, COVID-19, and Porsha Williams' civil rights activism, an alleged threesome involving Williams will be a major focus of the season. Williams won't confirm or deny if anything took place, but Kenya Moore says the truth will be revealed.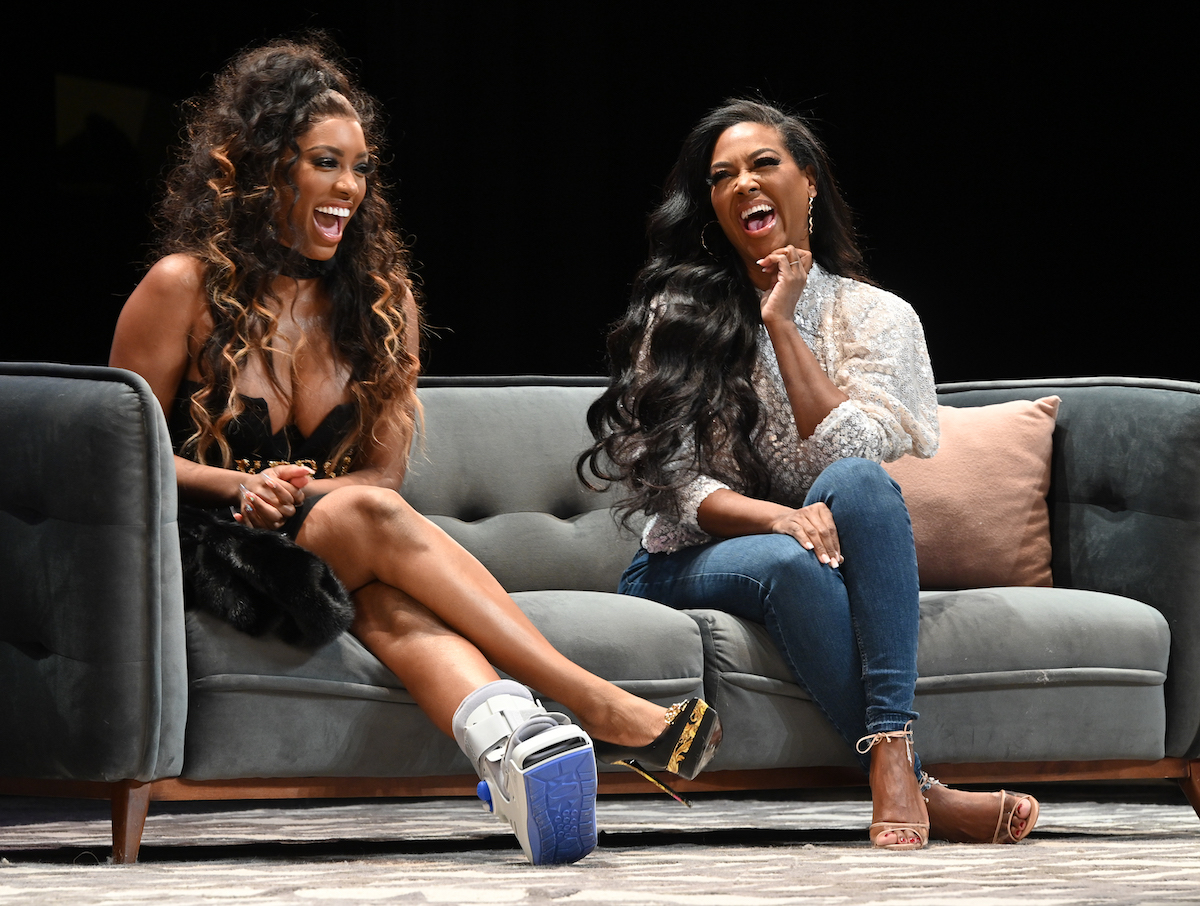 Porsha Williams addresses rumors of an alleged threesome between her and Tanya Sam during the filming of season 13
Reports began ro surface in October 2020 that two housewives were caught in a sexual escapade with a male stripper following Cynthia Bailey's wild bachelorette party. According to Page Six, several attendees began making out with each other in the living room of the rental house they were staying in before transitioning to a private bedroom.
"There were multiple people that had girl-on-girl," a source claims. The source also alleges that fellatio was involved between the women and that the alcohol was in heavy rotation the evening of the party.
Related: 'RHOA:' Tanya Sam Does Not Want To Be a Full-Time Housewife
It was alleged that the two housewives involved were Williams and Sam. Sam immediately took to social media to deny her involvement. The trailer shows an emotional Sam speaking with Williams about the rumors and how they are negatively impacting her.
During a recent chat with Entertainment Tonight, Williams played coy, refusing to confirm or deny her involvement in the hookup.
"To me, it was a good time," she said. "It was what it was. I don't really understand why it had to turn so negative. Maybe we'll kiki about it at the reunion. I'm still ready to have fun!"
Sam has reportedly quit the series as a result of the threesome chatter and rumors of her fiance cheating on her. Moore confirmed that Sam has not filmed since the news of the scandal broke.
Kenya Moore says Porsha Williams should be honest about her alleged threesome since it's allegedly caught on camera
In the trailer for season 13, it's Moore who brings the rumor of Williams and Sam's alleged hookup. "I heard sex noises," Moore says to the group during a sit-down dinner to the shock of her co-stars.
During a recent interview with Access Hollywood, Moore says she just wants Williams to be truthful about what happened.
"This is what I say: No one is trying to slut-shame anyone," she said. "No one is trying to say you can't do it. You're a single person, you can do whatever the hell you want to do. Just don't lie about it."
Related: 'RHOA': Tanya Sam Finally Breaks Silence on Rumors She Hooked up With Porsha Williams and a Stripper
She continued: "Don't do it at work if you don't want anybody to know," she added. "If you are in a bedroom in a shared house with the rest of the cast, you should not be doing something that you don't want people to know on national TV. And you shouldn't be bringing down other people trying to cover for you either that you claim are your friends. Do what you gotta do but do it at home."
Moore also threw a few jabs at Williams, insinuating that she's less than prudish.
"At the end of the day, people love a ho, you know what I mean?" she said. "People like hos! They're funny, they're outspoken, they live life on the edge. People like a ho. Just be the ho! It's not a bad job, don't you think? I mean, people love a ho!"
RHOA airs every Sunday on Bravo at 8 pm EST.