'RHOA': Kenya Moore Regrets Her Inappropriate Interactions With Phaedra Parks' Ex-Husband, Apollo Nida
Kenya Moore's fallout with Phaedra Parks during 'RHOA' involved allegations that Moore and Apollo Nida had inappropriate contact. Moore now regrets her actions.
The feud between Kenya Moore and Phaedra Parks will be remembered as one of the longest and nastiest battles in RHOA history. The two once had a budding friendship that ended over a disagreement regarding a workout DVD. Their feud was heightened when Moore was accused of behaving inappropriately with her husband, Apollo Nida. Moore now regrets her actions.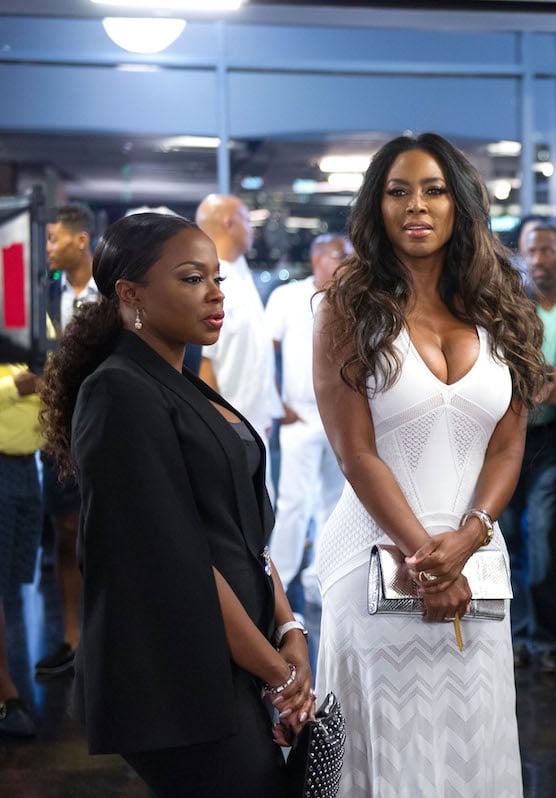 Kenya Moore was accused of flirting with Phaedra Parks' husband, Apollo Nida
Moore and Parks initially hit it off. Things went left over a business venture gone bad. Their estrangement went from bad to worse when Parks accused Moore of flirting with her husband.
During the season 5 reunion, Moore accused Nida of texting her. He shot back, alleging Moore propositioned him for sex while they were both in LA. Moore denied such ever took place.
Moore and Parks' relationship never fully recovered. Despite Moore apologizing for having any one-on-one conversations with Nida, Parks felt Moore was untrustworthy.
They agreed to forgive one another but it was short-lived. Parks became upset with Moore when Moore threw her and Cynthia Bailey a divorce party. Per Parks, Moore was making light of a painful split.
Apollo Nida later apologized to Kenya Moore
Nida stuck to his story for years but amid a pending eight-year prison sentence for fraud, Nida came clean to his co-star's about Moore never propositioning him. He offered Moore an apology during a 2014 episode.
"I apologize to you – it was a lie," he admitted, per the Daily Mail. Moore specifically asked him about his version of events of her seeing him in LA, to which Moore replied, "Kenya, you've never seen me in LA."
Related: Former 'RHOA' Husbands Apollo Nida and Peter Thomas Discuss Show and Marc Daly
Per Nida, he wanted to right his wrongs before heading off to prison. "I genuinely want to apologize because I need that for my sanity. I know where I'm going and I need my slate to be clear with everybody,' he told Moore.
Moore accepted Nida's apology, saying she felt vindicated by his admission.
Kenya Moore regrets her interactions with Apollo Nida
Parks was fired from the show at the end of season 9 and she and Moore had minimal interaction with one another after. But in the winter of 2020, the two shared pleasantries on social media. 
Parks shared an old clip from Moore's iconic argument with Porsha Williams, in which Moore spewed her famous "Gone with the wind fabulous" line. Parks tagged Moore and Williams in the video with the caption, "The internet is still unmatched."
Moore responded by liking and commenting on the post, writing and commented on the post, writing, "YAAAAAASSSSSSSSSSS." 
In a recent interview with Wendy Williams, Moore admitted though she and Parks don't necessarily have a friendship, she's happy the two can be cordial. Furthermore, she expressed regret about how she handled things with Parks and Nida.
"I think I could have just distanced myself from Apollo altogether, not been so chummy-chummy, especially when it bothered his wife," she said. It's rumored that Parks may make a return to RHOA soon.