'RHOA': Kenya Moore Reveals Her Celebrity Girl Crush
Kenya Moore is putting the idea to rest that she has a crush on her co-star LaToya Ali. Though the two formed a friendship and have been flirty throughout the current season, Moore says Ali's recent actions have been a turn-off. But in a new interview, Moore reveals which celebrity she says is her prototype.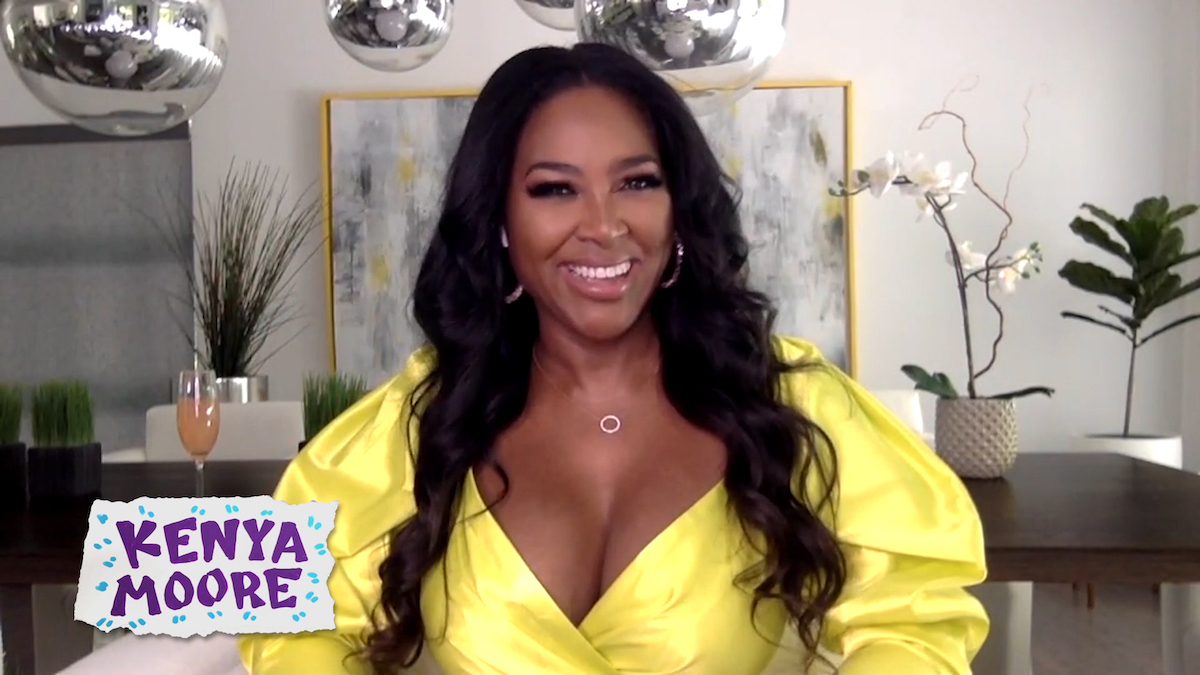 Fans believe Kenya Moore is crushing on her co-star, LaToya Ali
Ali and Moore hit it off instantly when Ali began interacting with the housewives. During a recent appearance on Kandi Burruss' YouTube series Speak On It, Moore explained that she and Ali actually met at a party Burruss threw for her husband.
Moore struck up a friendship with her new co-star over their shared experiences. Per Moore, they related on a personal level with both going through divorces, raising children, and trying to rebuild their lives. At a time where Moore was visibly depressed over the status of her marriage, Moore says Ali was a light, constantly making her laugh.
But as the season is progressing, their friendship appears to be unraveling. Moore became upset with Ali over her allegedly kissing Porsha Williams and Drew Sidora during Cynthia Bailey's bachelorette party. She admits to Ali in a later scene that she has a small crush on her and felt left out and shocked by her behavior.
Related: 'RHOA': Kenya Moore Alleges Porsha Williams Made out With Drew Sidora
Ali's loyalty to Moore is also now in question. In the beginning, the cast accused Ali of being in an alliance with Moore. But after the bachelorette party fiasco, Ali became bothered by Moore's investigation over what co-stars allegedly had a threesome with the hired stripper.
Ali reveals to her other co-stars that she felt Moore broke girl code by spilling the beans. She also shares personal business of Moore's regarding Moore's divorce proceedings. Previews for upcoming episodes show Moore and Ali arguing over Ali telling Moore's business and concerns about Ali's loyalty.
Kenya Moore explains why LaToya Ali is no longer her girl crush
Despite Moore admitting in an episode of RHOA that she has a crush on Ali, things have changed. For starters, Moore wants viewers to know that her crush on Ali was completely innocent and not an indication that she's sexually fluid in any way.
"I flirt and play with LaToya but it's not that serious," Moore says. "I think she's cute and it was fun…if it were serious, I would have talked about it."
Related: 'RHOA': Kenya Moore on Exposing Porsha Williams' Alleged Threesome – 'She's Slut Shamed All of Us'
She tells Burruss during their chat that Ali's behavior at the bachelorette party was a complete turn-off.
"At that point, I had been seeing a lot of…things turn me off very quickly…I like a lady to be a lady," Moore declares. "Let me discover all of those things. I don't want it in my face…I guess I'm like a guy like that."
The former Miss USA reveals her three celebrity girl crushes
Despite Moore identifying as a cis-gendered straight woman, that doesn't mean that she can't admire the beauty of another woman…as made clear with her initial attraction to Ali. But now that she's been turned off by Ali, she's revealed who she'd consider having a fling with.
Moore told Burruss, "That's easy, that's like a Beyoncé, Rihanna," she gushed. When Burruss told Moore the two she listed are every girl's choice, Moore offered up another.
"Justine Skye…she's a beautiful girl, she's pretty," Moore said. "I don't want her, but I'm just saying that is a prototype. She's a beautiful browned-skinned girl, she's natural and I like that natural thing going."
RHOA airs every Sunday on Bravo at 8 pm EST.