'RHOA': Kenya Moore Slams Nene Leakes, Calls Her a 'Snake'
Kenya Moore from The Real Housewives of Atlanta continues to feud with Nene Leakes. The two peaches have been at odds with one another throughout season 12 and things don't seem to be getting better. Following the reunion, Leakes sent a text to her fellow cast members which only solidified what Moore had already thought of her.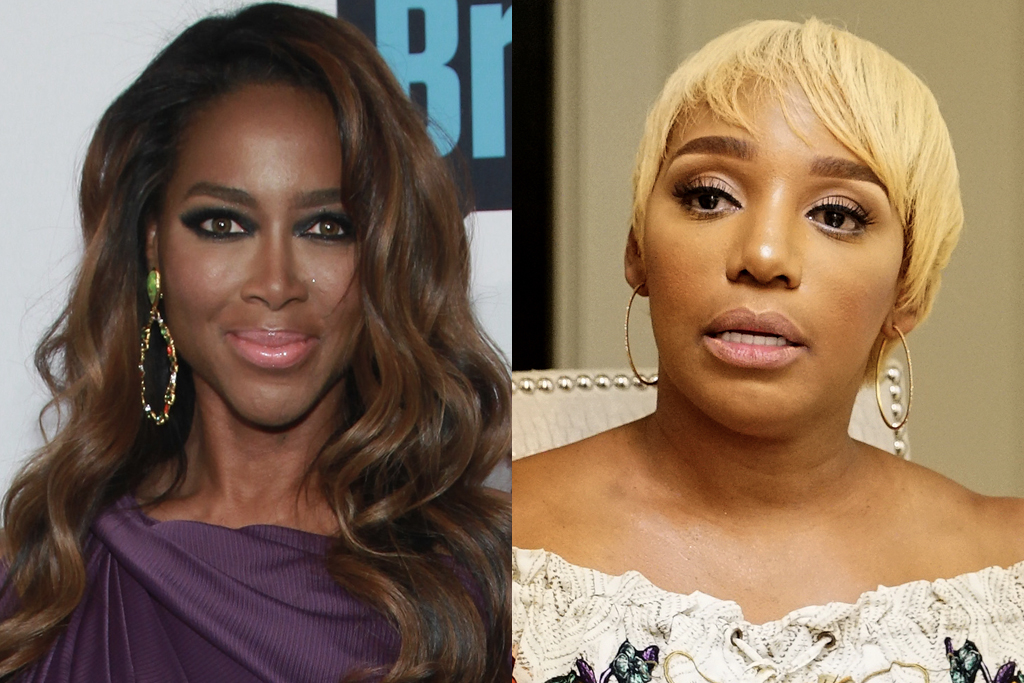 Why is Kenya Moore shading Nene Leakes?
One of the storylines for season 12 was labeled "Snake-gate" by fans. This involved Leakes as well as Yovanna Momplaisir. At the reunion, the latter said she was advised by Leakes to record their co-stars to expose them later.
The Glee alum didn't have much of a relationship with her fellow Housewives when the season started. One of her major breakups was with Cynthia Bailey, who allegedly said horrible things about Leakes. The latter claimed she had a recording for proof.
It was then revealed that Momplaisir was the "snake" in the group who had secretly recorded Bailey. Ultimately, Momplaisir said she lied about the audio and she had nothing.
RELATED: 'RHOA' Fans Slam Report Yovanna Momplaisir Is Joining Season 13 Cast
After Momplaisir put the blame on Leakes, the latter sent her text exchange with her co-stars. According to Moore, the receipts only furthered the idea she thought Leakes was behind all of the drama.
"It was just a fake and sauce narrative to make it seem as though her hands were clean in Snakegate," Moore told Hollywood Life. "And in fact, they were covered with scales because she is in fact a snake."
Leakes has denied being involved and claims she was lied to by Momplaisir.
Does Nene Leakes want Kenya Moore off the show?
With the animosity between Leakes and Moore, many fans would think that the former would want to have the latter fired. However, viewers are surprised to know that the Fashion Police alum actually thinks Moore is great for the show.
"Whether I like her or not … she's controversial, she's the craziest person I know — that girl ain't got no sense," Leakes said on The Breakfast Club, via Reality Blurb. "[But] she's perfect for the show. She'll do things and say things that nobody else will do or say. She needs to be here."
For Leakes to recognize that Moore is an integral part of RHOA is incredibly big of her. The OG of Atlanta doesn't cave in easily, especially not about her adversaries. Even though Leakes might know Moore's worth on the reality series, a reconciliation between the two is not close.
"I don't see us ever resolving anything. Listen, when you're on a show like this there are several different personalities. There're six girls. Everyone needs to play their position and ride in their lane," Leakes explained. "The problem is, people want to crossover into your lane. This is my lane. You can't get over here! Stay over there. Be good at what you're good at. Don't worry about what I'm doing over here."
Furthermore, Leakes' tune changes when asked about Momplaisir's future on the show.
"I feel sorry for her," she told ET. "She will never be a castmate over here and that's so sad, because she has been used and abused. Bye, girl! She should feel very used. I can't imagine Bravo hiring her to do anything. If so, they dropped down 10 levels."
RELATED: 'RHOA': Nene Leakes' Season 13 Future Depends on 3 Things