'RHOA': Kenya Moore's Marriage to Marc Daly Is Not the First Time She Has Been Accused of Faking a Relationship
Real Housewives of Atlanta star Kenya Moore took a lot of heat over allegedly faking her marriage to Marc Daly. Turns out, this is not the first time she has faced accusations of faking a relationship. Here is a quick look at all the times Moore has raised suspicions in the relationship department and what her costars think of her secret wedding to Daly.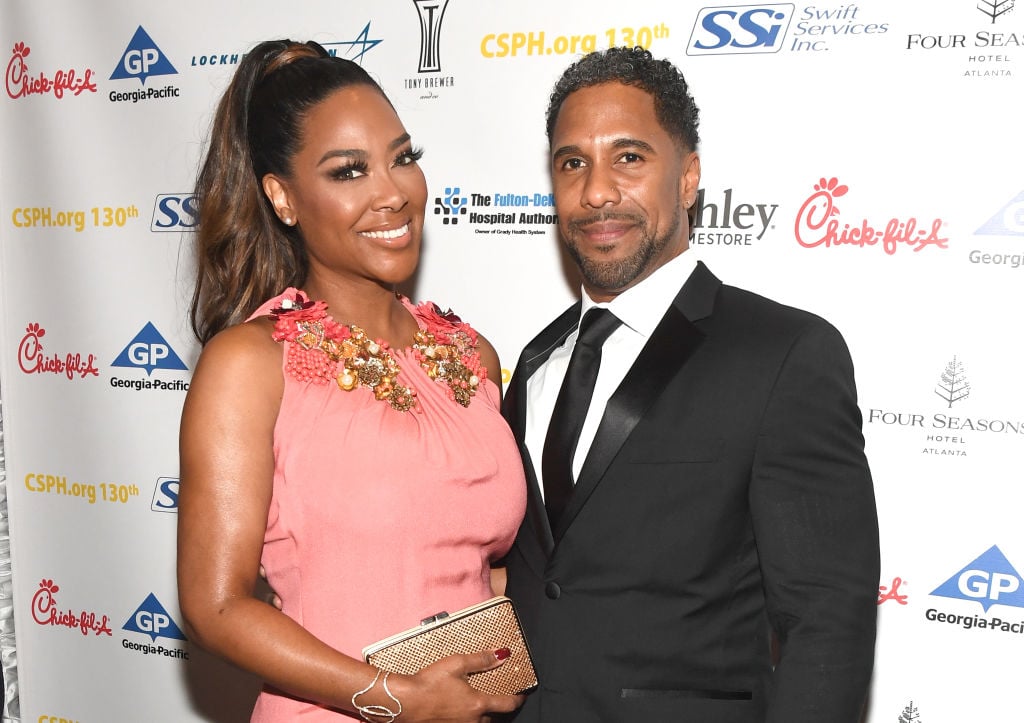 Kenya Moore and Walter Jackson
When Moore first appeared on the RHOA she was dating a man named Walter Jackson. Moore's boyfriend owned a car towing business and the pair were fully expected to tie the knot before the season ended.
That, of course, never happened and the pair broke up before getting engaged. The couple split because they could not take the pressures of living in the public eye, though fans were convinced there was another reason why the relationship did not work out.
According to Madame Noire, there was talk that Kenya Moore hired Jackson to be her boyfriend so that she could have a more interesting storyline on the show. While Moore denied the rumors, Jackson opened up about the idea in an interview in 2014.
"I'm not a hater," he stated, "I think she is a great actress and great entertainment, but people need to open their eyes a bit if they think what they see from her is reality."
Fortunately, things worked out for Jackson. He is now a happily married man and shares one daughter with his wife, Lana Lee. For Moore, Jackson is not the only man she has been accused of faking a relationship with.
What about Matt Jordan?
Before dating and tying the knot with Daly, Kenya Moore was in a rollercoaster relationship with a guy by the name of Matt Jordan. Moore and Jordan experienced their share of fights in 2016, and a few of their bouts ended up on the RHOA.
But after their explosive relationship ended, Jordan slammed Moore on social media and hinted that their romance was a fraud from the very beginning.
"Please stop lying!!!" Jordan shared. "The whole abusive boyfriend thing I'll let it play out even though I was totally against the whole idea in the first place."
Jordan went on to bash Kenya Moore for lying about their relationship and claimed that she never paid him for agreeing to be a part of her storyline. He even compared himself to Jackson, which raised further questions about the legitimacy of their relationship.
Once again, Moore denied that she lied about their romance and quickly moved on to Daly. But fans did not forget about her history of faking relationships.
Fans react to Jordan's comments
Although fans believed that Jordan and Kenya Moore faked their relationship to stir up drama on the RHOA, viewers slammed him for being so upset with how things turned out.
Several fans criticized Jordan for complaining about how the show portrayed him when he agreed to be a part of it in the first place. They also blasted him for using Moore to boost his own popularity.
In response, Jordan backtracked a bit and told his followers that he never received any money for appearing on the show. While he maintained that the entire relationship was fabricated, he says that Bravo failed to write him a check for his performance.
Kenya Moore did not respond to Jordan's comments, and it did not take long before she found herself in another relationship. The RHOA star exchanged vows with Daly in a secret ceremony in 2017. The two welcomed a daughter last year and divorced back in September.
Nene Leakes lashes out
In light of all of Moore's questionable relationships, her RHOA co-star NeNe Leakes has had enough.
In the current season of the show, Leakes has openly questioned Kenya Moore's marriage to Daly and fully believes the entire relationship is a sham. Moore has not responded well to the accusations, and it sounds like they are in for the feud of a lifetime.
"She called her out on her shady marriage and divorce, and Kenya lost her mind," a source dished. "Nene has absolutely nothing to say to Kenya anymore."
The insider noted that Moore and Leakes got into several blowout fights this season. This includes an argument in which Leakes told Moore that she cannot divorce someone that is not her real husband.
Moore has denied the allegations that her marriage was a fraud. We may never know which side is telling the truth, but there is no denying that Kenya Moore's antics make her a fan favorite.
New episodes of the Real Housewives of Atlanta air Monday nights on Bravo.