Marlo Hampton Shades 'RHOA' Star Eva Marcille for Being a Diva: 'You're Not Kandi Burruss or Nene Leakes'
Marlo Hampton from 'RHOA' doubled down on her comments about Eva Marcille for calling her a "diva." The "friend of" made more allegations on 'Watch What Happens Live.'
Marlo Hampton, the eternal friend on The Real Housewives of Atlanta, is stirring things up with Eva Marcille. The "friend of" called out the model for her diva behavior behind-the-scenes and made some pretty shocking allegations. Hampton claimed that Marcille is making less money than her and she's not even a full-time housewife.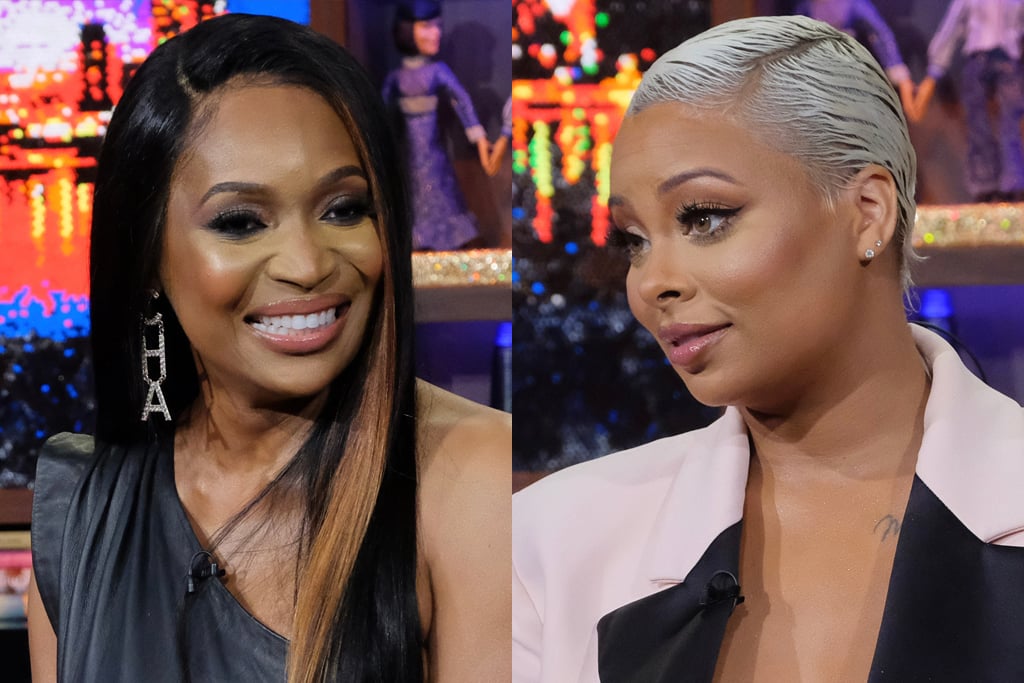 Hampton made an appearance on Watch What Happens Live on the RHOA Season 12 finale night. The fashionista was asked about recent allegations against Marcille about her being a diva with producers of the Bravo show.
"I wasn't saying 'diva' like 'me' diva, I'm saying diva like a b-i-t-c-h diva," she told Cohen. "She's just so mean to [producers]. It's like girl, who are you? You can't even… you're struggling, calm down."
The fashion label expert advised Marcille not to act out as she hasn't been on the show for long. Hampton also alleged that although she's not an official housewife, she makes more money than Marcille.
"You're not Kandi [Burruss] or Nene [Leakes]. You haven't been here that long making that check. Relax. Calm down. You're not even me, OK? You're barely making my coin and you have a peach," she added.
Marlo Hampton wants Eva Marcille's peach
Leakes recently said in an interview that Marcille hasn't brought in her weight to the show. Although the OG star thinks the RHOA cast is perfect, she feels that Marcille doesn't bring too much to the table.
"I don't feel like Eva brings that much to the cast," Leakes told Entertainment Tonight. "I'm just being honest. It's really like, when you look at a show like, everybody — like the whole cast — is away, and you don't miss the person at all, it's sort of like, we didn't even know you were here, you know? And all season, doing a lot of scenes from FaceTime, that's been the last couple of seasons … So, If I had to change, I would change her."
One of the names that Leakes mentioned to replace Marcille was Hampton. The latter has been a friend since the early seasons but has never been promoted to a full-time housewife even though she brings a lot of drama. Hampton likes the idea of holding a peach but not if it represented getting someone fired.
"Listen, I don't like for anyone not to have a job but, I'm not gonna lie, I would love to take her position," Hampton told Entertainment Tonight. "I would definitely — my fans would be so excited, they would love it. But I don't want Eva to lose her job. I don't want her to have financial hardships again, and I'm glad that she has her position."
It was during this same interview that Hampton said that Marcille was a diva with producers.
"But, yeah, NeNe definitely feels that way," she added. "She just feels that she doesn't bring it like the rest of us bring it. Eva is more of a diva with the producers. As in, 'I'm doing this…' or 'I'm not doing that…' or, 'No.' She's just… it's like, girl, this isn't L.A. this is ATL, you know? We got a little hood in us, a little bit. We bring it."
The Real Housewives of Atlanta Season 12 reunion is to be aired in the following weeks on Bravo.