'RHOA:' Nene Leakes Admits That She Considered an Open Marriage and Says She's Allowed to Flirt With Other Men
Nene Leakes and Gregg Leakes have been married the longest on The Real Housewives of Atlanta. The couple were married from 1997-2010 before divorcing during season 3 of the show. They reconciled almost immediately after the divorced and remarried in 2013. Since then, they've had a relatively happy marriage until their world was rocked when Gregg was diagnosed with cancer.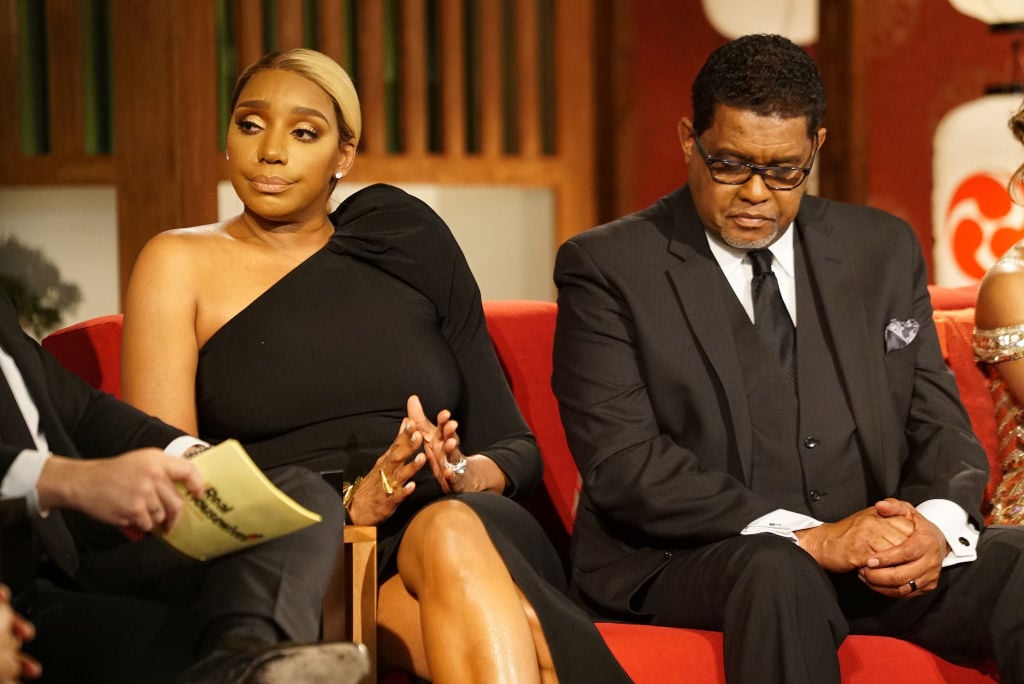 Nene says that Gregg's illness was the hardest thing they'd ever experienced and divorce was an option during the time. She also revealed that she considered an open marriage.
Nene Leakes admitted that she and Gregg Leakes were considering separation before he was diagnosed with cancer
Gregg was diagnosed with stage 3 colon cancer and Nene said it took a toll on not only Gregg physically and emotionally – but it also tested their marriage. Viewers watched Nene's emotional rollercoaster during season 11. She opened up about the change in Gregg's attitude, saying that cancer made him "mean."
Nene received backlash from some of her cast members, as well as many viewers who felt she was not supportive of Gregg at his most vulnerable. Nene shot back and reminded fans that this was her first time going through any type of serious health battle in her marriage. She also explained that being Gregg's primary caregiver during his illness proved to be difficult when his mood constantly changed.
During the season 11 reunion, Nene admitted that her and Gregg's relationship was strained prior to his diagnosis and they were considering separation. When he was diagnosed, things between them went from bad to worse and she even considered divorce. They eventually began marital counseling as Gregg's health improved. 
Rumors spread that Nene Leakes had a secret boyfriend
As things between Nene and Gregg grew tenser, rumors spread that Nene was dating another man. A source told to Page Six that NeNe started seeing a man named Rodney that she met while launching her Swagg Boutique in D.C.
"She spends a lot of time in Maryland not only because of this boutique, but also because of her side guy," the source said. "She flaunts her relationship with him around openly like they're together." The source claimed that NeNe's alleged boyfriend often picked her up from the store, took her to nice dinners and they were spotted dancing at the night club inside of the casino. 
Nene denied the rumors in her interview with Extra and said that she believes it stemmed from her and Gregg's age difference. She did admit that she likes to flirt. "I am a flirt and my husband knows that. I like to flirt, I like men, but I'm not sleeping with these men, and my husband is very much okay with that," she said. 
Nene also admitted to Angela Yee on her podcast Lip Service that she discovered Gregg was communicating with one of her Swagg Boutique employees. The woman was fired after Nene confronted her and Gregg denied anything inappropriate ever happened. Nene says that even if Gregg cheated, it would not be a dealbreaker. They've experienced infidelity in the past.
Nene Leakes denies that she and Gregg Leakes are in an open marriage but admits she considered it
During Gregg's cancer treatments, he and Nene lived in separate rooms in their home, something she said they'd never done before throughout their relationship. She said that Gregg slept in a downstairs bedroom because it was difficult for him to move around often when he was not feeling well. After a year of sleeping in different rooms, Gregg moved back into their master bedroom on their 23 year wedding anniversary.
Nene revealed in a confessional that during their rough patch, an open marriage was something she considered. 
"His health was down and we couldn't be intimate so Gregg and I actually talked about an open marriage. I brought the conversation up because I knew with him having cancer, it wasn't a time to divorce. He's a man and as he says, he doesn't want anyone eating out of his garden."
She confirmed that an open marriage is not something that she and Gregg will participate in, though she admitted during the Real Housewives of Atlanta After Show, they may separate one day but divorce is never an option. "He's not going anywhere and I'm not going anywhere, but our understanding — we see each other," she told Marlo Hampton.
"We're never going to be apart. I can tell you that. I doubt that we will ever divorce. I doubt that. We may not be together, but we ain't gone divorce," she said.
Nene and Gregg have an understanding that others may find odd but it clearly works for them.