'RHOA:' Nene Leakes Allegedly Wanted Eva Marcille and Kenya Moore Fired
Nene Leakes has reportedly been fired from 'RHOA' but before getting her pink slip, she allegedly tried to have Eva Marcille and Kenya Moore fired.
Nene Leakes has given herself the title of HBIC on RHOA. As the only original cast member currently on the show's roster, Leakes has made it a habit to tout that her co-stars are threatened and intimated by her position. But, her time on the show may have come to an end, after reports surfaced that she's been fired from the series. The network is said to be fed up with Leakes' behavior, as well as her reported threats that they need to fire certain co-stars. Leakes reportedly tried to have Kenya Moore and Eva Marcille dropped from the show before being given her own pink slip.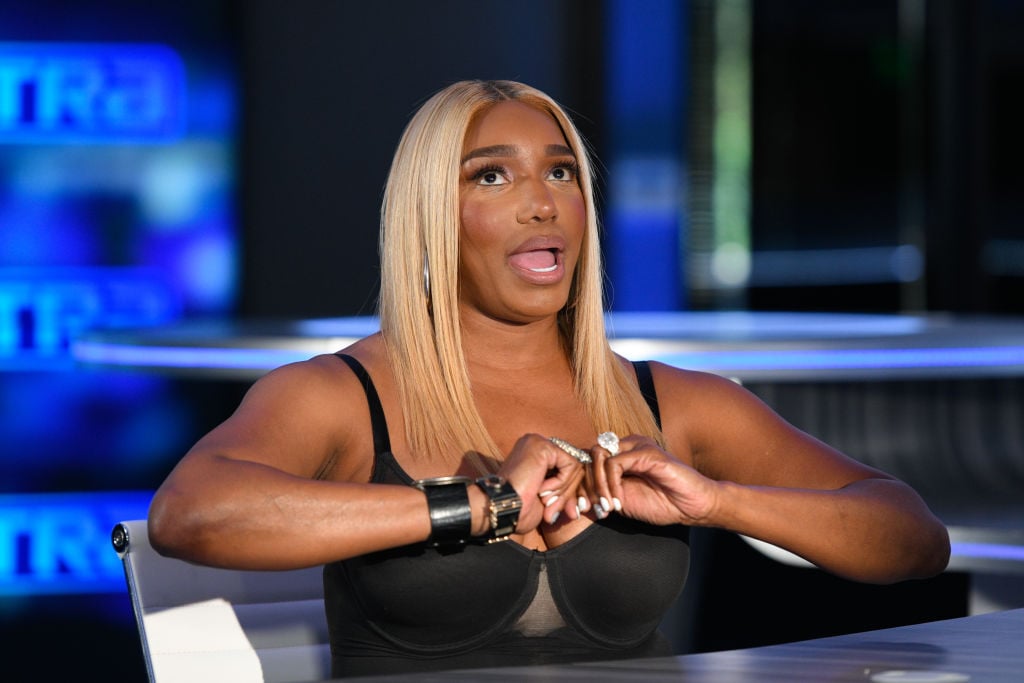 Nene Leakes reportedly tried to get Eva Marcille and Kenya Moore fired following season 12
Marcille announced that she opted not to renew her contract, explaining that she'd rather focus on her family and being on the frontlines of the conversation of race relations and Black culture through her platform on The Rickey Smiley Morning Show.
But according to a report from Media Takeout, and credible YouTube vlogger Tasha K, Leakes put the pressure on Bravo to fire Marcille – as well as Moore. An insider told Media Takeout, "Nene basically told Bravo that if they don't fire Kenya and Eva, she would quit."
Related: Eva Marcille Admits She Was Unhappy On 'RHOA' and Stayed For The Money
Leakes had the most conflict with Marcille and Moore during season 12. She threatened Moore on several occasions to "beat her a**" and also motioned to spit on Moore during a heated argument on a cast trip to Greece. 
Her once close relationship with Marcille fizzled after cameras caught Leakes agreeing to have her microphone on during a private conversation with Marcille – after she promised Marcille that she would not have her microphone enabled.
Nene Leakes has been accused of trying to have past 'RHOA' cast members fired 
This isn't the first time Leakes has been accused of pulling the power card at Bravo. It was widely speculated that she had Claudia Jordan fired after Jordan appeared as a full-time cast member of season 7. Jordan later admitted that she was offered a lesser role on the show and felt that Leakes had a hand in her being demoted. Jordan declined Bravo's offer but later regretted it.
Leakes also reportedly had a hand in having Sheree Whitfield fired. Whitfield has since explained that she decided on her own not to return to the show.
But, Leakes did publicly vie to have Cynthia Bailey and Porsha Williams fired at separate times, telling Andy Cohen on air during Watch What Happens Live that she did not think either woman brought anything to the show. Leakes was not friends with Bailey nor Williams when she made the public suggestion.
Rumors spread that Nene Leakes was not asked to return to 'RHOA' next season – Leakes denies rumors
The past two seasons of RHOA have been tumultuous for Leakes. She dealt with her husband's cancer diagnosis and battled it out with her co-stars, specifically losing her longtime BFF Cynthia Bailey. She also faced consequences following an altercation with a producer, resulting in her filming fewer episodes in season 12. After leaving the virtual reunion early, Bravo executives apparently had enough.
Rumors have been circulating for some time that Leakes was on the chopping block. Love B. Scott exclusively reported on June 17 that Leakes was not given an option to return to the show. Leakes in a response posted a series of cryptic tweets, promising to have certain people "pay" for what they've done to her. The tweets have since been deleted.
Leakes is denying that she was not asked to return. Her manager released a statement to PEOPLE Magazine, saying, "It is absolutely not true that Nene has been fired from RHOA. Furthermore, it was made abundantly clear prior that she will always be welcome on the series as long as she wants to be."
Fans will have to wait until the trailer for season 13 is released to know a definitive answer.