'RHOA': Nene Leakes Says Eva Marcille Fired up Attacks at Reunion to 'Survive'
Nene Leakes is a big personality on The Real Housewives of Atlanta and the last original cast member. Although during season 12 the "tastiest peach" did not have any issues with co-star Eva Marcille, Leakes quickly made an enemy of her recently. They have both been bickering back and forth and their disdain for each other is evident in the virtual reunion.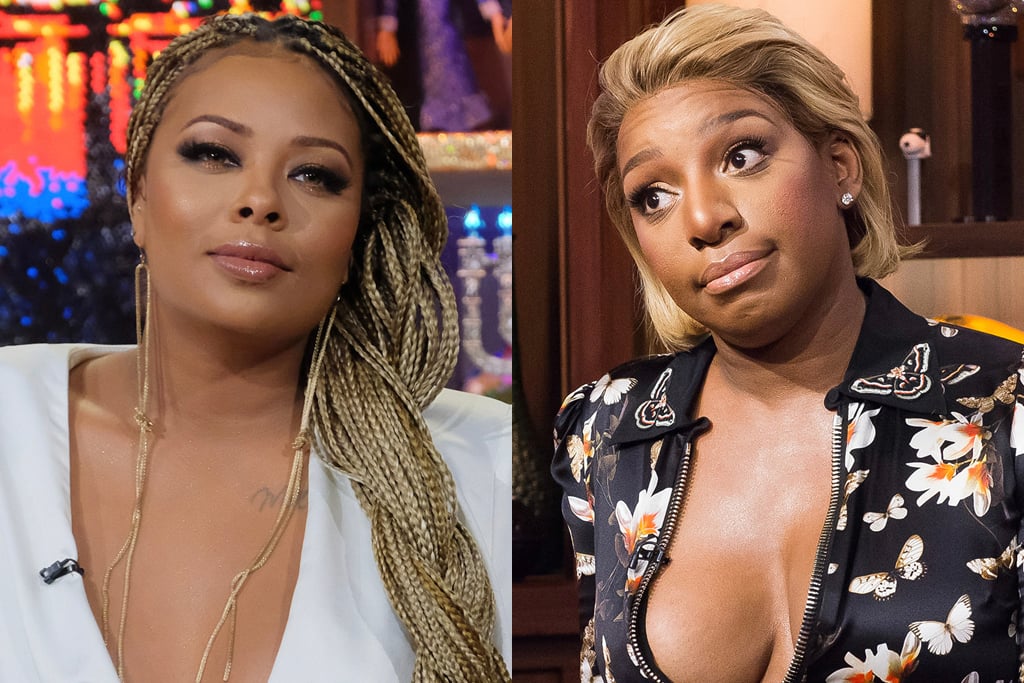 How did the feud between Nene Leakes and Eva Marcille start?
The drama between Marcille and Leakes started when the latter was interviewed and asked about the cast. Leakes was very honest in answering the question of which housewife had brought the least to the show.
"We have a great cast right now except for one person, I think," Leakes told Entertainment Tonight. "I think only one person on this cast doesn't seem to have carried any weight this season. And I think that's very obvious who that person is, and I don't think they actually sit in the cast that well."
Although at first, Leakes didn't reveal which co-star she was talking about, she eventually named Marcille.
"I don't feel like Eva brings that much to the cast," Leakes added. "I'm just being honest. It's really like, when you look at a show like, everybody — like the whole cast — is away, and you don't miss the person at all, it's sort of like, we didn't even know you were here, you know? And all season, doing a lot of scenes from FaceTime, that's been the last couple of seasons … So, If I had to change, I would change her."
Eva Marcille explodes
Marcille was not happy that Leakes called her out and said she should be dropped from the show. The former model said she is not "ratchet" on the show as "there is already enough ratchet," referring to Leakes.
"If I'm that boring and you spent time in your interview talking about me because your storyline is the fact that you have no storyline," Marcille said on Instagram Live. "If I do remember correctly, even though I wasn't in Greece, I was on FaceTime and I still got a check unlike you who missed seven episodes this entire season. This reunion is going to be lit. Glue your wig all the way down sweetheart because it is going down."
Nene Leakes says Eva Marcille wants to survive
Marcille went after Leakes for missing out on the first episodes of RHOA and the latter recently brought the subject back up in an interview.
"I may have missed episodes, but I did not miss one check — and they teased me [in] every episode until I showed up," she told ET. "So, for anybody that has anything to say about me not being in an episode, Nene, don't forget to let them know, honey, you never missed a check and you were teased until you showed up. And if I wasn't needed, they wouldn't have had to tease me, honey. They couldn't have teased Eva and everybody tuned in. Who would have tuned in for that?"
Leakes also made an observation about Marcille and feels that she amped up her attacks at the reunion to make herself relevant.
"I felt like Eva was, you know, scratching to survive," Leakes said. "It was like they told her in [a] meeting, like, I can see them now, sitting in the meeting with her and telling her, 'You've got to step it up, Eva! You need to step it up! I mean, you're on thin ice over here!' And I think she went in, like, 'OK, I'm gonna step it up! Every time somebody says something, I'm gonna jump in!' So, she jumped in every single time."
Leakes low-key shaded Marcille acknowledging "she did her best to set up," but was "slapped down so many times" during the reunion.
The Real Housewives of Atlanta Season 12 reunion continues on Sunday at 8 p.m. ET on Bravo.