'RHOA': Nene Leakes Retweets Fans Shading Kenya Moore After Season 12, Episode 19 Feud
Nene Leakes and Kenya Moore from The Real Housewives of Atlanta are not in good terms. The Bravo stars have been feuding throughout season 12 and things heightened in the latest episode. Their differences stem back from a season ago and have been persistent ever since. Although the rest of the ladies tried to get them to hash things out, a resolution wasn't possible during their trip to Greece. Now Leakes is going in hard on the former beauty queen on social media.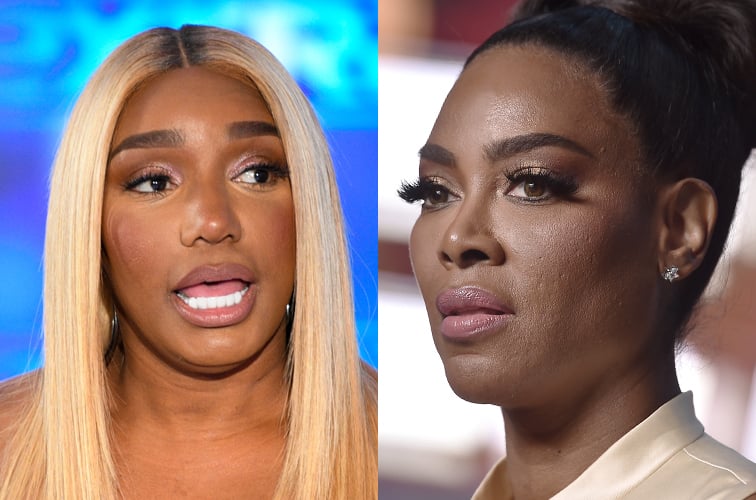 Why are Nene Leakes and Kenya Moore feuding?
On Sunday night's episode, Moore finally revealed what made her angry at Leakes. She said that Leakes insulted her baby by calling her a buffalo. Leakes clarified that the insult was directed at Moore and not her unborn baby.
"If we're trying to have a conversation where we are trying to clear the air, [Leakes] can't keep apologizing for the same thing," Kandi Burruss told Moore during a reconciliation effort. "If you said that's the thing that made you so upset, are you going to accept the apology about Brooklyn or not? We shouldn't have to keep going on about that point."
Leakes then told Moore: "I would never say anything where her child is concerned. When you beef, you start saying all kinds of stuff to each other. I didn't even realize I had said that."
Nene Leakes retweets fans
During the episode airing on Bravo, Leakes started retweeting fans that were mostly shading Moore.
"The way Kenya acts toward Nene Leakes, why she ain't do that to her own husband. He the one she should be this upset with," a fan tweeted.
"Nene, you look amazing in that bathing suit girl. You and Porsha got me cracking up. I can see Kenya's booty implants," a viewer threw shade.
"The last few episodes definitely solidify what I've been saying all season: Kandi, Kenya, and Cynthia all have an alliance against Nene Leakes," a Twitter user added.
"Bottom line, if Kenya didn't have this so-called beef with Nene Leakes, she would have no storyline. That's why she can't and won't let it go," another fan said.
"Kenya is vulgar all the time. Now everyone [is] coming down on Nene Leakes. Goodbye," another viewer mentioned.
"Cynthia Bailey, how dare you feel any way about Nene Leakes saying anything about her saying anything about Kenya Moore when you sat there while she called Tanya Sam a cu**," another Twitter user recalled.
Nene Leakes and Kenya Moore continue to feud
Throughout the season 12 airing on TV, Leakes and Moore have taken jabs at each other. The former Miss USA titleholder has an issue with Leakes calling herself the queen of the show. Moore even said that Leakes was getting cut out of episodes because she wasn't that impactful anymore.
"She tries so hard to tell people she's the HBIC," Moore said in an interview with Entertainment Tonight. "She's the this, she's the that. She's the originator. 'Oh, the real premiere just starts…' And in fact, her presence now is not impactful at all. She's missed out on at least four to five episodes this season, so that clearly means the network is sending you a message. You're not as important as you think you are."
Leakes denied being cut out of RHOA and clarified that she was in the amount of episodes she negotiated in her contract.
"I have not been cut out of any episodes," Leakes clarified. "I negotiated my episodes just like everyone else did. I'm getting every dime I asked for. Thank you for asking and clearing that up Andy, that means a lot to me."
The Real Housewives of Atlanta airs Sunday nights at 8 p.m. ET on Bravo.