'RHOA': Nene Leakes Says Kenya Moore and Marc Daly's Split Is 'Karma'
Nene Leakes from The Real Housewives of Atlanta is firing up her feud with Kenya Moore to a whole new level. The Bravo stars have been at odds with each other and their drama has spilled over from the show to the press. They have both gone on interviews talking negatively of each other and Leakes just raised the bar. In a recent statement, the "tastiest peach in Atlanta" said that her co-star's split from her husband Marc Daly was a result of "karma."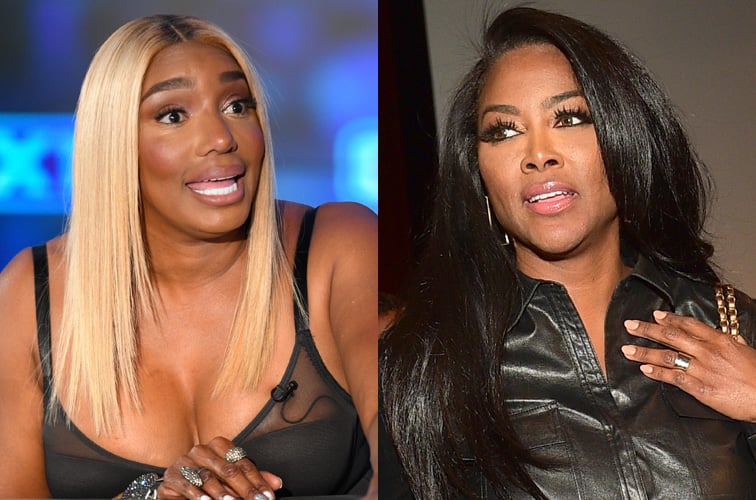 "It's karma," Leakes told People when asked about Moore and Daly's separation announcement back in September. "What goes around, comes around, and Kenya had this coming."
Leakes brought up all the mess Moore has created for the other Housewives, meddling in their marriages and bring rumors up in front of cameras.
"She has interfered with other girls on this show's relationships," Leakes added. "Years ago, when [Phaedra Parks] was married to [Apollo Nida], Kenya was playing around with the whole situation. And then this year, she brings another woman in front of [Tanya Sam], saying that Tanya's man [Paul Judge] cheated, trying to do something to their relationship. Plus, she had discussed me and my relationship in the past. So now that your relationship has crumbled? Good. You deserved it."
The Glee alum is not "sorry for [Moore] at all."
"When you did things like that, it's very difficult for someone to feel anything but happy. You got yours," she ended.
Is Kenya Moore threatened by Nene Leakes?
Moore has been saying that Leakes is being phased out of RHOA because she seems to not be interesting to producers anymore. The previous claim is something Leakes completely rebukes and had a theory as to why Moore would like her off the show.
"I think sometimes when you're that personality, that's powerful — like me, you've been there since day one — I feel like I'm a threat to certain girls," Leakes explained to Entertainment Tonight. "I don't know why, because I personally think that everybody has their own lane. The problem is, don't you cross over in my lane. Stay over there. We don't want to have a car crash! Stay in your lane, girl."
Leakes believes that Moore wants to be the "queen of the show."
"I think that she would love for me to be gone, so she could be, in her mind, the head of the show, or the queen of the show, or the one that everyone is talking about," Leakes added. "With me there, it's very difficult for her to have that kind of thing. So, I also think that, if I leave the show and Kenya stays on the show, she will be the demise of the show."
In a tweet, Leakes explained that she has not been cut out of any episodes.
"I have not been cut out of any episodes," Leakes tweeted. "I negotiated my episodes just like everyone else did. I'm getting every dime I asked for. Thank you for asking and clearing that up Andy, that means a lot to me."
The Real Housewives of Atlanta airs Sunday nights at 8 p.m. ET on Bravo.