'RHOA': Nene Leakes Shades Kandi Burruss and Calls Her 'Fake A**'
Nene Leakes from The Real Housewives of Atlanta was ready to play when she was invited to Andy Cohen's clubhouse. The "tastiest peach in Atlanta" was a guest on Bravo's late-night show Watch What Happens Live where she didn't miss an opportunity to throw shade. Leakes was ready to spill the tea and took jabs at her co-stars, mainly Kenya Moore and Kandi Burruss.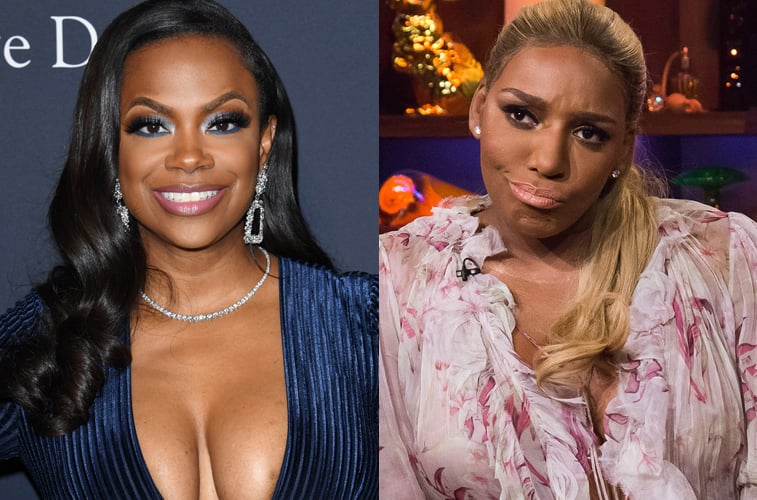 On the WWHL: After Show, Leakes was asked by a caller what her thoughts on Burruss's comments about the former's friends. The fan was referencing the ladies' brunch Leakes organized where she invited businesswomen to network. Burruss attended the event and although she was nice to everyone in person, she made shady remarks during her interview for the show.
"Kandi wouldn't know who my friends are because she's never around me with my friends," Leakes replied to the caller. "No shade, but shade at the same time. I have lots of great friends and I don't share them with her just like she doesn't share her personal friends with me."
Leakes went on to say that she was surprised by her co-star's comments when watching the episode.
"In fact, when she was at that brunch she was very nice to everybody. I was really surprised to see her get in her interview and say those things… fake a**," Leakes added before being cut off by Cohen.
Nene Leakes reacts to Kenya Moore and Marc Daly's split
On Sunday night's episode of RHOA, viewers witness the relationship meltdown Moore had with her husband Marc Daly. Cohen asked Leakes for her opinion about the drama her co-star is facing but she didn't seem to care.
"I guess it was sad," Leakes replied mockingly.
When Cohen asked to discuss the Daly incident where he said he would not be seen on the show again, Leakes gave a deeper answer as to how she feels about Moore.
"It's really hard to feel sorry for someone that does things to other people's marriages and relationships. She's done it to Phaedra [Parks], she's done it to Tanya [Sam], she's done it to me… so it's really hard to feel sorry. It's almost like, well karma is a bit**," Leakes said,
Nene Leakes' apology tour
This season on RHOA, Leakes has been going on an apology tour. After seemingly offending a major part of the cast, Leakes has sat down with the ladies individually to hash things out. Some believe that the OG of the ATL is not sincere in her apologies, but she explains why she is.
"Very sincere," Leakes said on WWHL. "I'm the type of girl that if I don't want to talk to you, I'm not. And if I don't want to apologize, you're not getting it. "
After Cohen showed a clip of all the apologies Leakes had made on the show, the last one was with Cynthia Bailey. In her confessional, the latter said that Leakes never took accountability for what she had done. When the clip ended, Leakes had her two cents to add.
"She's so hilarious," Leakes quipped. "She buried herself, she didn't take any accountability. Bye girl."
The Real Housewives of Atlanta airs Sunday nights at 8 p.m. ET on Bravo.