'RHOA': Nene Leakes Shuts Down Kandi Burruss for Interjecting in Kenya Moore Drama
Nene Leakes and the rest of The Real Housewives of Atlanta are on the cast trip to Greece. In the latest episode of the Bravo show, the ladies found out that Kenya Moore has just announced her split from Marc Daly. When the girls arrived at the airport, Kandi Burruss warned all of them not to try and start drama by bringing up the subject.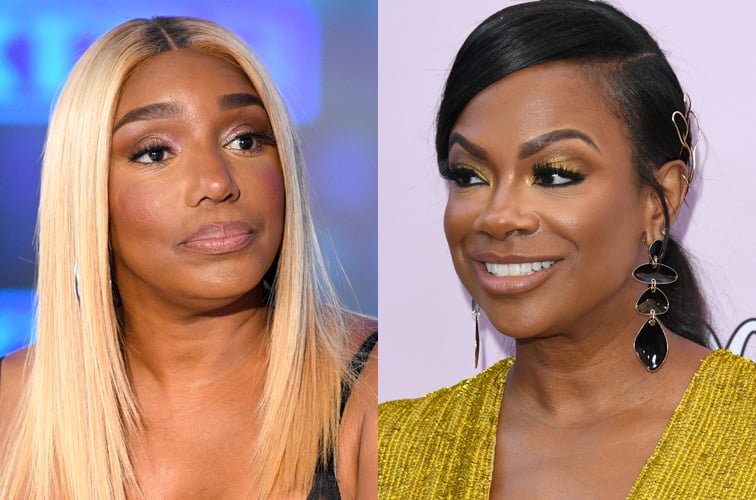 How did the drama start?
When they all arrived in Greece, Cynthia Bailey approached Leakes about the possibility of talking to Moore about her divorce. Both Leakes and Bailey have gone through that process and Moore could use some words of advice. Keep in mind, Leakes and Moore are not in a good place and have been at odds with each other throughout season 12. Nevertheless, Leakes tried to put the drama to the side and obliged to Bailey's request.
At dinner, Leakes tried to have small talk with Moore but she was not having it at all. When the OG of the ATL brought up the subject of her divorce during dinner, she did it from a place of sympathy and used her words properly. Moore opened up about her situation and thanked everyone at the table, blatantly ignoring Leakes.
When Bailey asked Moore and Leakes to stay back to have a conversation, the former Miss USA said she wanted to go to sleep and rest. This is when Leakes completely changed as she was taking punches from Moore left and right.
At the kitchen, Burruss and Tanya Sam tried to talk sense into Moore. They conveyed that Leakes was trying really hard to make mends with her.
Moore had a change of heart and brought Leakes a "peace offering" in the form of a pie to tell her that she wanted to talk, but it wasn't the right time yet. By this time, Leakes was over the situation and said she was going to her room.
Nene Leakes calls out Kandi Burruss
When Leakes was heading to her room, Burruss caught up to her to explain the situation and try to mend things between the ladies. Burruss explained that Moore didn't think it was the right time to talk but Leakes was not having any of it.
"Well, you don't have to speak on it, let her speak it," Leakes said.
"She wanted to speak it but it seemed you were already…," Burruss said before being interrupted by Leakes.
"Of course, I've approached her. I'm not in a bad mood, she's in the bad mood," Leakes said annoyed. "I've approached her eight times already."
"See, this is the problem Kandi. I don't get ready when she's ready," Leakes added.
Leakes was over it and left no doors open to clear things up.
"We're not going to eventually have anything, my door is closed," Leakes told Burruss.
"Well, we don't have to talk ever, I'm done," Leakes said while walking away from Burruss.
The Kandi Factory owner tried to convince Leakes that it was all a misunderstanding. She wanted to calm Leakes down so she would be cool with having a conversation with Moore later on, but it was too late.
"She's right, I'm wrong. I f***ed her man and stole her baby. So goodnight, honey," Leakes said before walking away from Burruss and leaving her speechless. "Have a goodnight Kandi, we love you dearly darling. Keep it a thousand with your friend. Have a goodnight everyone. Thank you. I have to talk to my man, honey. I can keep my marriage together, honey."
What does Cynthia Bailey think?
After the episode aired on Bravo, Bailey was a guest on Watch What Happens Live. She was asked about the incident in Greece and gave Leakes credit for initially being open to conversing with Moore.
"I will say in Nene's defense, she really tried to be kind to Kenya in that moment," Bailey said. "She really, truly did, and Kandi [Burruss] and I had a whole thing with the ladies about like, 'Please show compassion to Kenya. You guys might not be in the best place.' But this had just happened, and she was really in a lot of pain."
"So once we had that talk and everybody kind of agreed to be OK, for it to go to the left was like, 'Come on, Kenya, can you just let Nene be nice to you?'"
The Real Housewives of Atlanta airs Sunday nights at 8 p.m. ET on Bravo.