'RHOA' Nene Leakes Son Bryson Blasted By Baby Mama For Being a Deadbeat With a Drug Problem
Real Housewives of Atlanta star Nene Leakes is having more family troubles. Leakes' son, Bryson Bryant, is under fire yet again for allegedly being a deadbeat dad – and that's just the start of it. Bryant's baby mama, Symone Davis, recently blasted him for not paying child support and being strung out on drugs in a move that could cost him any type of custody he may have.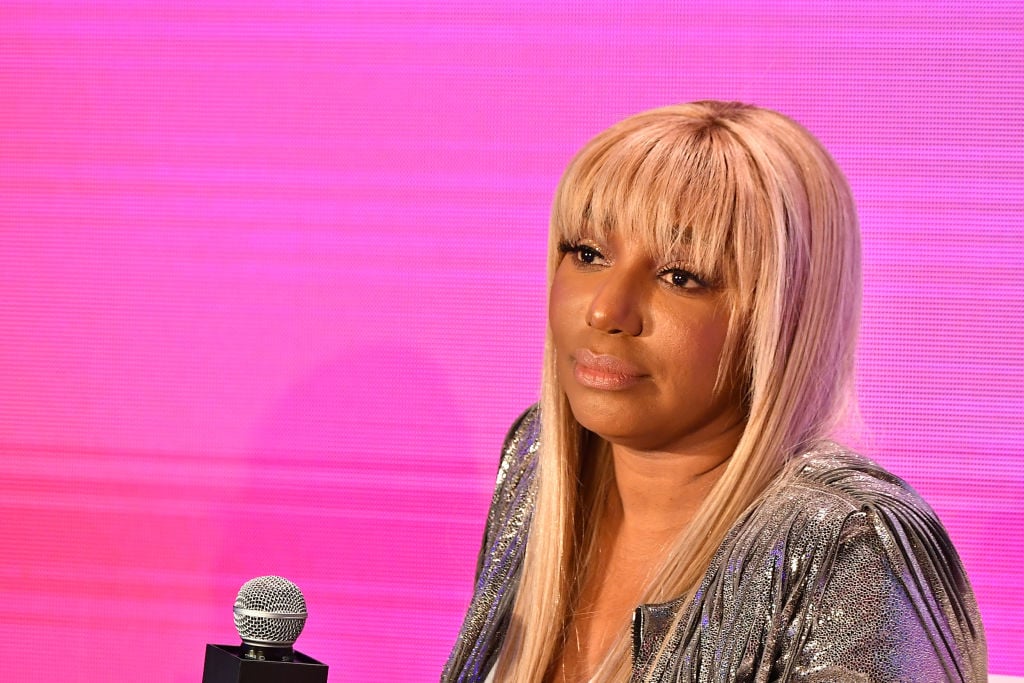 Davis slams Bryant for being a deadbeat dad
Taking to Instagram, Davis voiced all of her frustration about Bryant's lack of parenting skills. She shared her thoughts alongside a photo of Bryant sleeping on her couch and did not pull any punches in the caption.
"Let me tell y'all somethin about this bucket head bi**h that's laid out on my (old) couch," she wrote.
Davis then admitted that Bryant tried to make amends with her but then refused to change his ways. She then said that she doesn't care what he does in his free time as long as he is there for their son, Blaze Kai Davis.
She also revealed that the RHOA star's son has been talking about doing a television show with her because he knows she would be great in front of the cameras. While we would love to see a spin-off featuring Nene Leakes and her family, Davis is having none of it.
Not only did she call Bryant a "bum" for lounging around her house, but she also blasted him for doing drugs and neglecting his fatherly duties.
"Then I get messages from all type of bitches saying they seen him doing cocaine & in motels," she stated.
Davis then revealed that Bryant failed to come to his son's birthday party for the second year in a row. She also claims that he has not bought anything for the child and is constantly asking her for money.
And she didn't stop there.
Davis calls out Nene Leakes
In the closing moments of her rant, Davis told Leakes that she needs to come down and remove her son from her house. She then backtracked a little and acknowledged that she now understands why the RHOA star does not allow Bryant to live with her.
After calling Bryant a "bum," Davis assured her followers that there is a lot more to the story than she has the time to tell. She also said that she is done messing with her baby daddy and will not be doing any reality projects with him.
Two years ago, Davis says that she and Bryant enjoyed a brief fling that produced their baby boy. She also claims that Leakes refuses to acknowledge that the child is her grandson. Talk about a mess. Last year, Davis slammed the RHOA star for not giving her any money for child support and said she needs to learn how to be more humble now that she is rich.
Although Nene Leakes does not recognize Davis's son as her own grandchild, she has claimed her son's other children.
Inside Bryant's baby drama
If the recent accusations are true, then there is a chance that Bryant will lose custody of his son. But based on his behavior, it doesn't seem like he cares.
In addition to the drug claims, Bryant was previously arrested on the suspicions of writing forged checks. Police officers did not charge Bryant with forging checks because he never tried to cash the check that was faked. They did, however, arrest him for giving them a fake name, which is a misdemeanor.
Bryant became a suspect after his friend, Inginac Walter Theodore, was caught making fake Taco Bell payroll checks. Police charged Theodore with five different felonies, and Bryant was present at the time of the arrest.
Last year, meanwhile, Davis attempted to force Bryant to pay for child support. She even filed official paperwork with the Division of Child Support Services in Georgia.
As far as Nene Leakes is concerned, the RHOA star kicked her son out of her house last year. She also has no interest in anything Davis says and will likely not comment on the issue. But given her status as one of the most popular reality stars on Bravo, her son's drama isn't going away anytime soon.
Catch Nene Leakes when the new season of the Real Housewives of Atlanta kicks off November 3rd on Bravo.