'RHOA:' Phaedra Parks Reportedly In Talks To Return; Kandi Burruss Said To Be Furious
One of Real Housewives of Atlanta's most beloved cast members of fans is the witty Phaedra Parks. The lawyer turned reality star kept fans entertained with her ability to shade her co-stars without warning and her knack for lavish living. But Parks's time on the show came to an abrupt end after she was found guilty of spreading a vicious rumor about her former BFF, Kandi Burruss.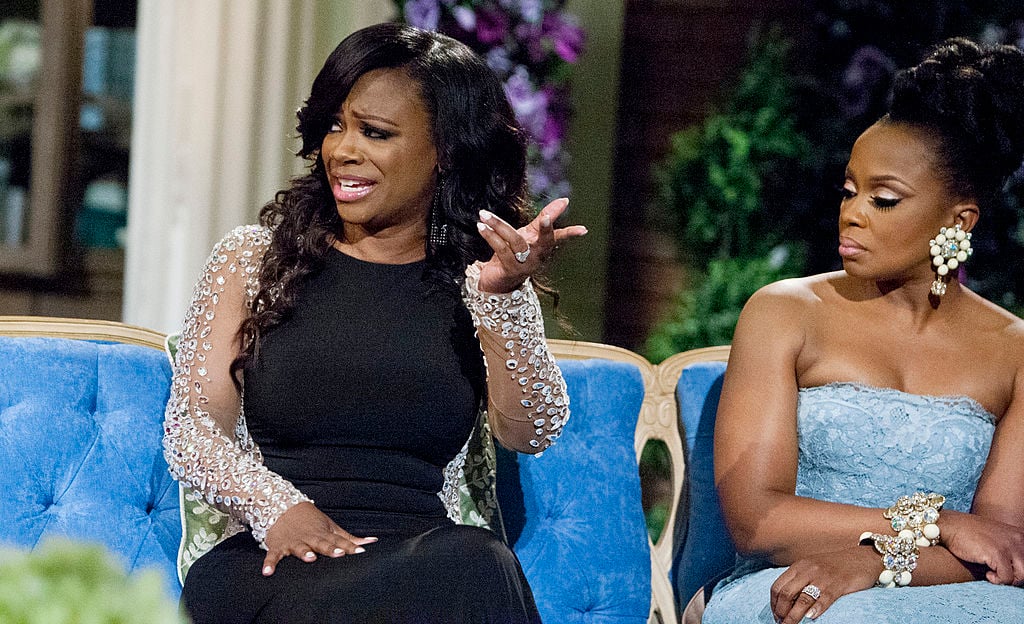 Burruss vowed to leave the show if Parks was ever asked to return and according to reports, the network is in talks with Parks about including her in the upcoming season. Burruss is said to be furious.
Phaedra Parks was fired from 'RHOA' after it was discovered that she spread a damaging rumor about Kandi Burruss
The season 9 reunion of RHOA revealed the bombshell that Parks was behind the spread of a rumor regarding Burruss planning to drug and sexually assault Porsha Williams. Parks and Burruss were previously close friends, both on and off the show, but their friendship deteriorated after Parks felt betrayed by Buruss after her husband was sent to prison. Parks did not feel that Burruss was supportive of her and Burruss shot back with claims that Parks never voiced her concerns.
Their fallout played throughout the season and came to a head after Williams revealed the rumor but never told Burruss of the source. It wasn't until Burruss hit Williams with a cease and desist that Williams dropped the bomb that Parks was the culprit. 
Parks apologized but denied that she heard Burruss's alleged plan. Instead, Parks claimed that she herself repeated a rumor she'd heard from someone else. Parks was not asked to return to the series as a result.
Andy Cohen later explained by Parks was given the ax. "The question that we look at now with Phaedra is, when the reunion ended, none of the other women wanted to have anything to do with her. So that's what you have to look at," he said as reported by E! News. "How do you shoot a show about a group of friends when no one is speaking to one of the friends?" 
Reports surface that Phaedra Parks is in talks of returning to 'RHOA' and Kandi Burruss is not happy
Burruss has said before that she will quit the show if Parks returns. When asked during an interview with The Breakfast Club if rumors were true that she'd leave the franchise over Parks returning, Burruss confirmed that she would. 
"Well, technically, yeah," she said about the rumors. "At the end of the day, they said I called Bravo and said that. No, I did not call Bravo and tell them that. Did I say that to anybody? Yes, I did."
It looks like Burruss may have to prove that she'll give up her peach for good if Parks is back in the picture as reports have surfaced that Bravo is in talks to bring Parks back after missing in action for three seasons.
The Sun is reporting that with RHOA being the highest-rated housewives franchise, they are contemplating bringing Parks back and she is interested. Burruss is said to be pissed about the decision.
Burruss told People Magazine in 2019 that her remaining on the franchise would be jeopardized by Parks's return. 
"You know, for me it's like if that's what they wanna do I'm fine, I'm cool but I just won't be a part of that," she said at the time.
Previous reports surfaced that Cynthia Bailey was being demoted to a B type cast member and now it's assumed that Parks is taking Bailey's full-time position. 
Parks has expressed that she's happy with her life off of the show but is open to returning. She was a full-time cast member from seasons 3-9.
The Sun reported that they reached out to Bravo for comment but had not heard back from the network regarding the news.