'RHOA': Porsha Williams Exposes Kenya Moore's Lie About Shamea Morton
Porsha Williams from The Real Housewives of Atlanta is ready to spill the tea about Kenya Moore. On Episode 20, the former Miss USA titleholder made a revelation that took Williams by surprise in regard to her pregnant friend Shamea Morton. Moore claimed that the latter called her after her water broke, which surprised Williams as she didn't know Mortin and her were close.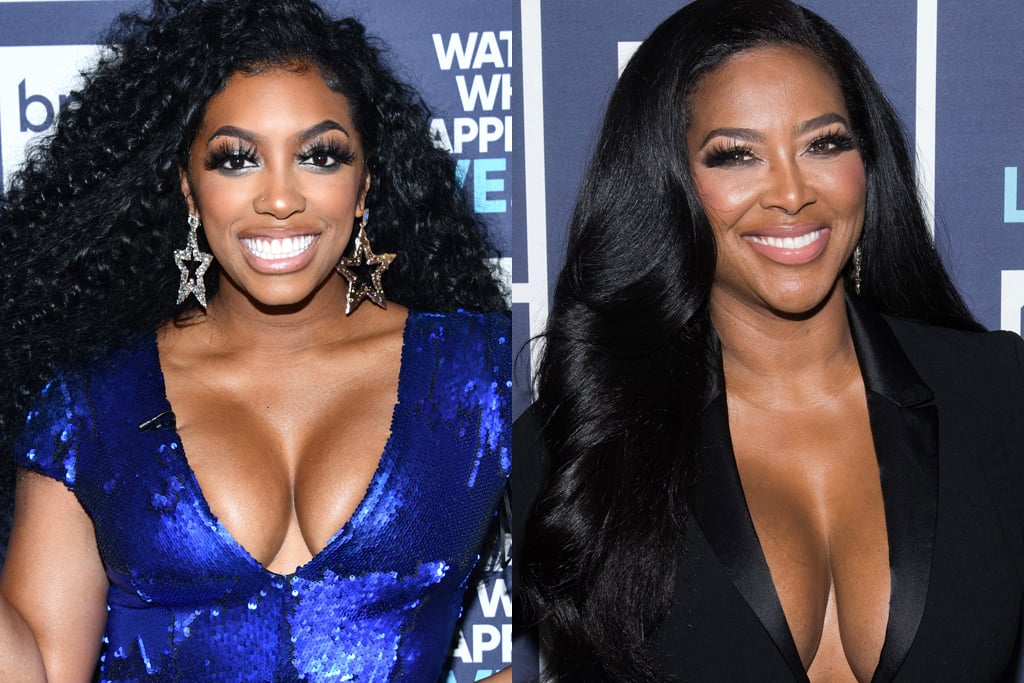 At a March of Dimes event that Williams hosted, Moore made the revelation that Morton had called her during a time of need.
"I remember you texted me," Moore said at the table. "You were like, 'I think my water broke.' And I said, 'you need me to come to the hospital?' I don't know where Porsha was… I think Porsha was doing something else, working that day."
Fans online felt that Moore was trying to shade Williams in front of everyone. Moore fired back saying that she was not being shady.
"She called me, so that's a question for Shamea," Moore tweeted back at a fan. "I have nothing to do with their relationship, clearly, they love each other. To infer that means, 'I don't care for her,' that's such a reach sweetie. Thanks for your input."
Porsha Williams drops a bombshell
In a preview to the next RHOA episode, Williams drops another bombshell while talking to Nene Leakes. The mother of Pilar Jhena said that Moore was lying about the dates of interaction.
"I was like, 'damn, why would Shamea call her?' So I'm really feelin' a little way, but I kept my [straight] face," Williams told Leakes. "Later on, Shamea walked up to me, pissed. She said, 'I did not call that girl when my water broke."
Leakes reacted by acknowledging that Morton and Moore must have had "some sort of conversation."
Williams then said that Morton sent her the text exchange between her and Moore exposing the real timeline of their conversation.
Morton is also backing up Williams' version on social media. After a fan asked her to clarify why she would call Moore first, Morton replied: "Now, why would I do that? I've got a husband, parents, sisters, and BFFs. Just keep watching."
'RHOA' Season 12 reunion is going virtual
The season finale of RHOA is upon fans and this year, the reunion will be a little different. Due to the coronavirus outbreak and the social distancing orders, the ladies will not reunite in a conventional way. Andy Cohen confirmed that the season 12 reunion will be virtual.
"We are going to be shooting the Housewives of Atlanta Reunion virtually," Cohen confirmed on Andy Cohen Live. "This is obviously not how we prefer to do it, but life is not how we prefer it right now."
Although Cohen would've preferred to have everyone in the same room, this year that would not be possible.
"We want to be in the same room, but we cannot risk the health and safety of the Housewives or the incredible crew in Georgia," he added. "[RHOA] is regarded by many as the Super Bowl of reunion shows, and it is truly one of my favorite reunions to shoot, I look forward to it, and the fact of the matter is it's either we do it this way or there's no Super Bowl this year."
The Real Housewives of Atlanta airs Sunday nights at 8 p.m. ET on Bravo.