'RHOA': Porsha Williams Seemingly Confirms Threesome With Co-Star and Stripper – 'It Was What It Was'
Season 13 of RHOA premieres in just days and fans are anticipating all of the drama. In addition to newcomers Drew Sidora and Latoya Ali, fans are waiting to see what exactly went down at Cynthia Bailey's bachelorette party prior to her wedding to Mike Hill.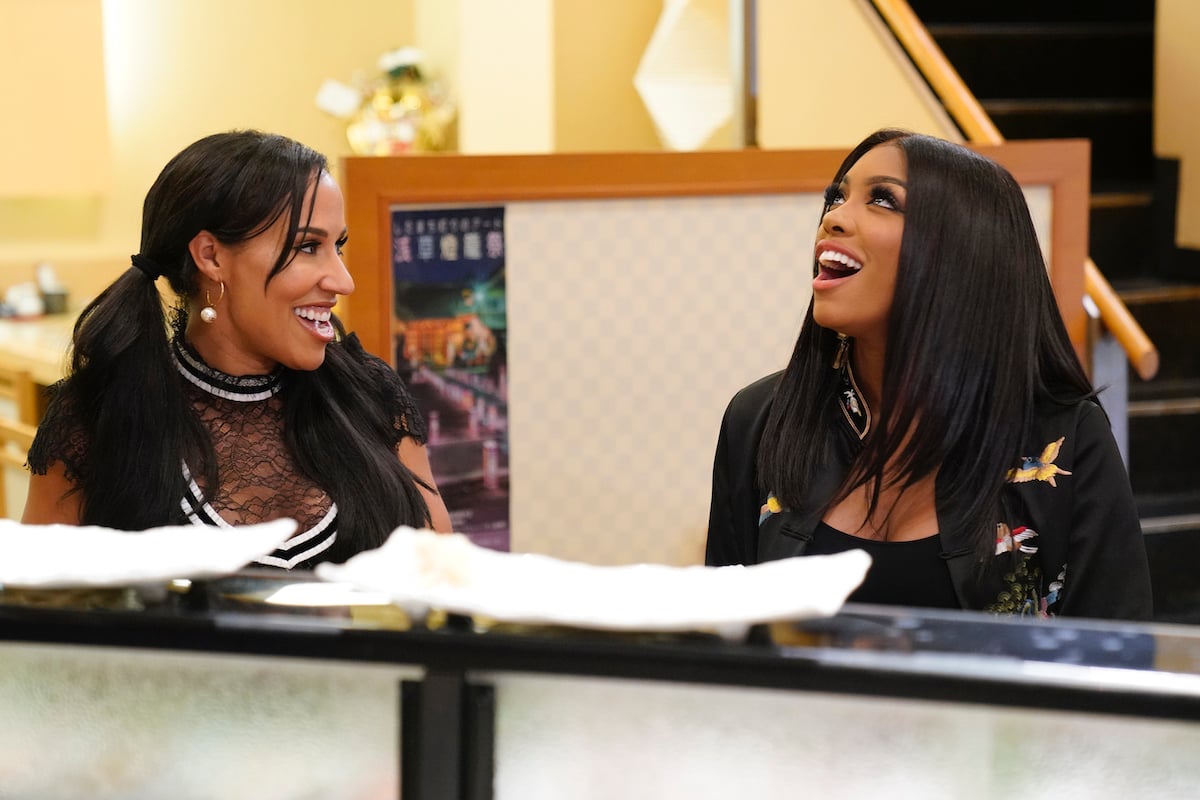 Porsha Williams and Tanya Sam reportedly engaged in a threesome with a male stripper. Sam is denying any involvement but Williams is playing coy to the rumors.
Porsha Williams and Tanya Sam's alleged threesome with a stripper at Cynthia Bailey's bachelorette party
Reports began surfacing in October 2020 that two of the housewives were caught in a sexual escapade with a male stripper. According to Page Six, multiple attendees began making out with each other in the living room of the rental house they were staying in.
"There were multiple people that had girl-on-girl," a source claims. They also allege that fellatio was involved between the women and that the alcohol was flowing heavily the evening of the party.
Related: Who is 'Real Housewives Of Atlanta' Friend To The Show, Tanya Sam?
Cameras were rolling and captured the actions that allegedly took place in the living room. Two of the women involved were allegedly caught off-camera with their microphones still in tow with a male stripper during an alleged threesome.
It was later alleged that Williams and Sam were the participants. The trailer for the upcoming season shows Kenya Moore revealing she heard "sex noises" nearby. Sam is later seen crying over the allegations of her involvement.
Sam denied any involvement and has reportedly quit filming as a result of the ordeal. In her only public statement regarding the incident, Sam writes, "I will address this topic now and will not entertain this absurdity further. The rumor circulating about me is NOT TRUE."
Porsha Williams speaks on 'fun' night at Cynthia Bailey's bachelorette party and alleged threesome
While Sam is taking the allegations against her seriously and is doing what's possible to separate herself from the group, Williams is laughing it off. In a recent interview with Entertainment Tonight, Williams shoots back at skeptics and critics who want to know more about what happened.
She neither confirms nor denies anything inappropriate took place, but hints that something may have happened.
"To me, it was a good time," she said. "It was what it was. I don't really understand why it had to turn so negative. Maybe we'll kiki about it at the reunion. I'm still ready to have fun!"
Related: 'RHOA': What Porsha Williams' Storyline Will Be in Season 13
According to the rumor mill, Sam is afraid of confirming her involvement out of fear of her longtime fiance, Paul Judge, ending their relationship. Last season on RHOA, Judge was accused of cheating on Sam with an Atlanta business owner.
Sam stood by Judge's side. But reports reveal that more cheating allegations against Paul come forward on the upcoming season, furthering Sam's desire to quit the show.
If the rumors are true, it won't be the first time Williams has been accused of girl-on-girl action. Kandi Burruss alleges that Williams came onto her during the season 9 reunion, admitting the two kissed in a nightclub.
Season 13 of RHOA premieres on Bravo on Sunday, Dec. 6 at 8 pm EST.