'RHOA' News: Was Shamari DeVoe Fired From 'The Real Housewives of Atlanta' Season 12?
Shamari DeVoe is notably absent from The Real Housewives of Atlanta Season 12 trailer. The preview was released by Bravo and the R&B star was nowhere to be found. DeVoe had just joined the reality show last year and fans started to question if she was fired after only one season.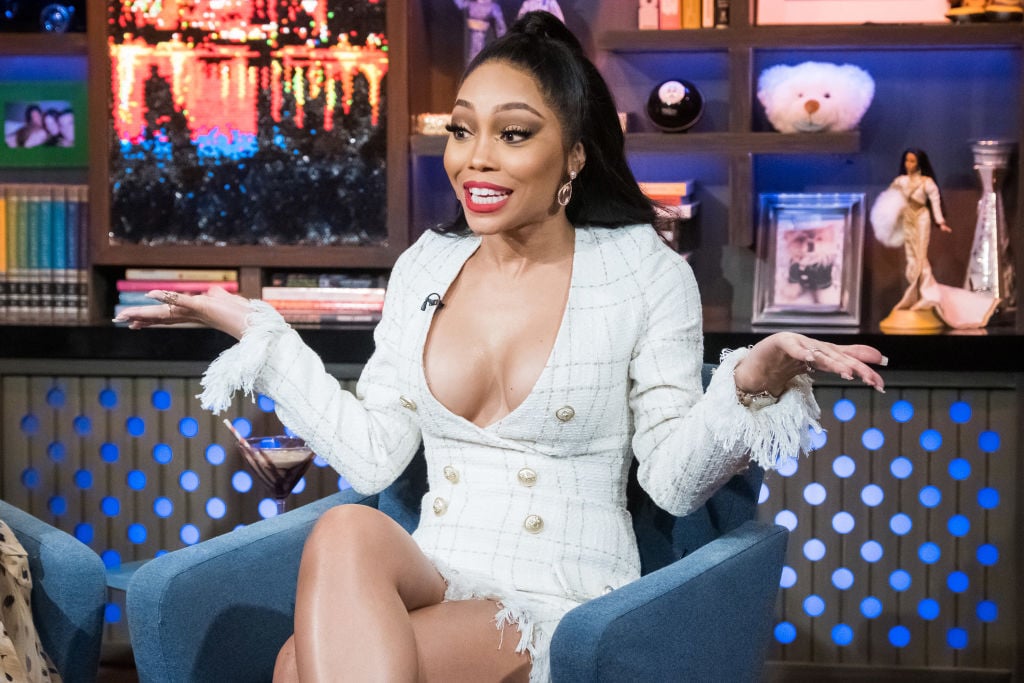 Who is in the 'RHOA' cast for Season 12?
Bravo confirmed that RHOA would make its triumphant return on Sunday, November 3 at 8 p.m. ET. The cast for season 12 will be rounded up by Nene Leakes, Cynthia Bailey, Eva Marcille, Kandi Burruss, Porsha Williams, and the return of Kenya Moore. The latter is coming back after taking a season off.
Absent from the group is DeVoe, which fans noticed and questioned on Twitter.
"Why did you get fired," a fan asked.
"I was not 'fired,' sweet face. I chose not to return due to personal reasons. 'The sun sets and rises when it's ready…,'" DeVoe replied.
Another DeVoe fan commented that RHOA was not going to be the same without her. The former Bravo star replied to her follower and expressed she had no hard feelings.
"Won't be the same at all," she quoted the tweet. "These ladies still won't disappoint. Just a new flavor. Make sure to keep supporting them."
Kenya Moore returns
Moore will be returning to the reality series after taking a season off. The Michigan-born star will showcase her life on television once again and all the drama around it. There have been reports that state that the Celebrity Apprentice alum recorded an intense fight with her husband Marc Daly.
"Kenya aggressively confronted Marc at an event he was hosting, and Bravo was filming," an insider told Radar Online.
Cameras caught all the action and it will most likely make the cut as shortly after Moore announced she was splitting from Daly.
"It is with profound sadness that I regret to inform my fans that I am divorcing my husband Marc Daly," Moore told People. "Due to recent and ongoing circumstances, I can no longer continue in the marriage. My sole concern and focus is and will always be my daughter, Brooklyn, my miracle baby. She was made in love and true commitment. I ask for our privacy to be respected moving forward."
Daly also released a statement following the break-up saying: "I have come to the difficult decision to separate from Kenya at this time. Our daughter has two parents that love her very much and in her best interests, this situation should remain as private as possible. I cherish our family's good times together and will continue to co-parent in a loving way. Rumors, innuendo or false accusations only serve to hurt our family and will be addressed through counsel as the law permits. Please respect our privacy during this challenging period."
Marlo Hampton shades Shamari DeVoe
One of DeVoe's biggest foes was Marlo Hampton who has appeared on RHOA since season 4 but has never held a peach. Following the season 11 finale, Hampton took to Instagram Live to send a little shade to her nemesis.
"Shamari, come on now you're peachless," Hampton side during the live broadcast. "You're really still up here tweeting tonight? Peachless Shamari still tweeting. Hey girl. Stay a fan, just be a fan now. Be sweet. You're peachless now. They'll give you a peach and snatch it right back won't they?"
Both women were at odds after Hampton gave DeVoe unsolicited advice during one of their first encounters. Since then, both ladies had been clashing and never made up. Hampton is expected to return as a friend for season 12 and she's most likely read to stir up the drama.