'RHOA': Tanya Sam Stops Filming Over Sex Scandal With Porsha Williams and a Stripper
RHOA season 13 has a ton of new cast members, but also more drama than ever before. Viewers can look forward to an alleged sex scandal involving Porsha Williams and Tanya Sam that took place during Cynthia Bailey's bachelorette weekend ahead of Bailey's wedding to Mike Hill. Sam is reportedly so upset that she is no longer filming the current season.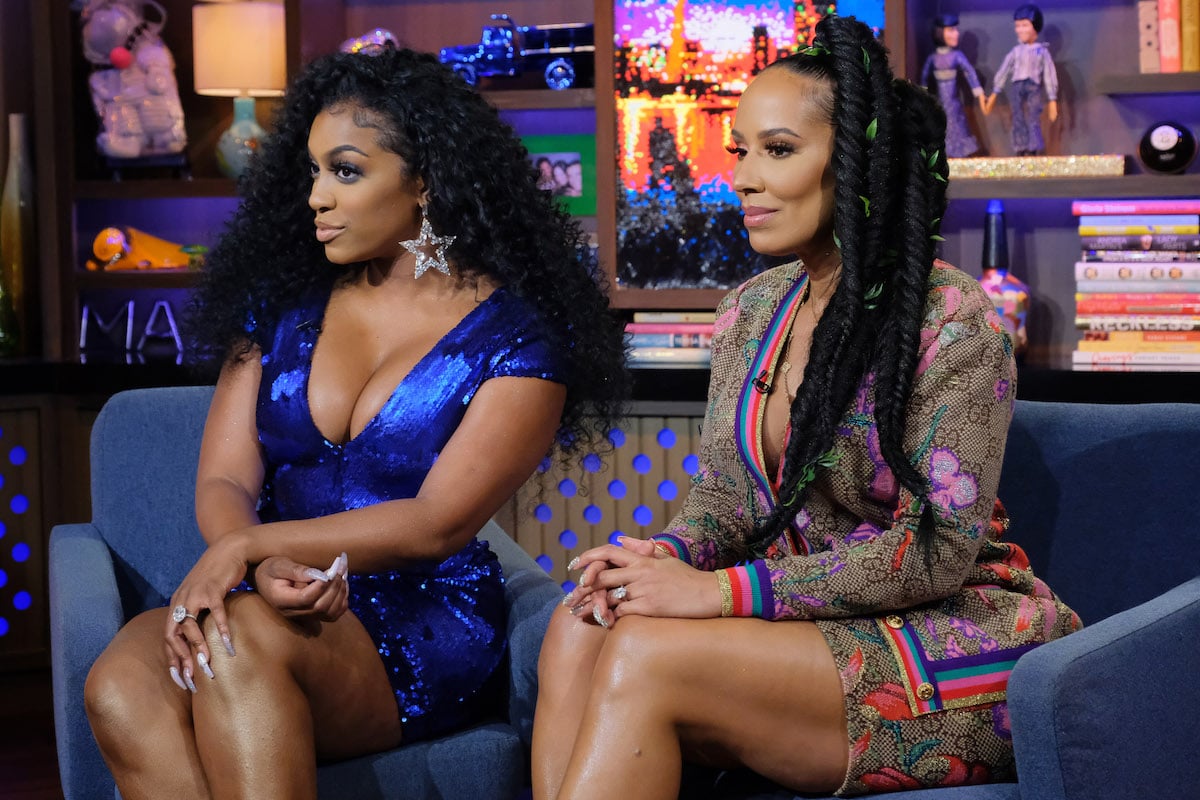 An alleged threesome between Tanya Sam, Porsha Williams, and a stripper took place during filming
In October, reports began surfacing that two of the housewives were caught in a sexual escapade with a male stripper following Bailey's bachelorette party. According to Page Six, multiple female attendees began hooking up with each other in the living room of the house they were staying in.
"There were multiple people that had girl-on-girl," a source alleged. They also claimed that fellatio was involved between the women and that the women were severely intoxicated.
Related: 'RHOA': Tanya Sam Finally Breaks Silence on Rumors She Hooked up With Porsha Williams and a Stripper
Cameras were rolling and captured the living room action. Two of the women involved were caught off-camera via microphones with the male stripper during an alleged rendezvous. 
It was later alleged that Williams and Sam were the participants. The two women were close friends prior to the sexual incident, hanging out one-on-one, as well as going on double dates often with their respective partners.
If the rumors are true, it won't be the first time Williams has been accused of girl-on-girl action. Kandi Burruss alleges that Williams came onto her during season 9. Burruss admits that she and Williams kissed during a drunken night at an Atlanta nightclub.
Tanya Sam quits filming early this season due to stripper sex scandal
The trailer for season 13 of RHOA has already been released and stripper-gate is a major part of this season's storyline. In the trailer, Kenya Moore reveals during a cast dinner that she overheard "sex noises" from a nearby room following Bailey's bachelorette celebration.
The camera pans to Sam, who appears nervous, and Williams, who acts as if she's unaware of the accusations. During her confessional, Williams is mute on whether or not she was a participant. The trailer also shows Sam vehemently deny any involvement. 
Apparently, stripper-gate became too much of a hot topic this season for Sam, and the assumption that she was involved. TMZ reports that Sam has ceased filming midway through the production season as a result.
Related: 'RHOA:' Tanya Sam Does Not Want To Be a Full-Time Housewife
According to the media outlet, Sam is also upset over allegations that her long-term fiance, Paul Judge, is cheating on her. Viewers remember last season a woman referred to as "the cookie lady" confronting Sam about Judge allegedly hitting on her at an Atlanta lounge. 
Sam is said to be so upset that she's also considering not attending the reunion for this season. Filming is still underway and Sam will be featured but TMZ reports that as the season progresses, she'll be featured in fewer scenes.
RHOA returns on Dec. 6 on Bravo at 9 pm EST.