'RHOA:' Todd Tucker Calls Kandi Burruss "Selfish" In New YouTube Video
It's been widely speculated that Kandi Burruss is the wealthiest cast member of Real Housewives of Atlanta. Given her resume, it would be hard not to agree. In addition to her musical success, Burruss is a mogul with several businesses across various industries, including several restaurants and an adult toy line. But her success has come at a price. Burruss has been open that due to working so much, she often misses out on special moments with her family.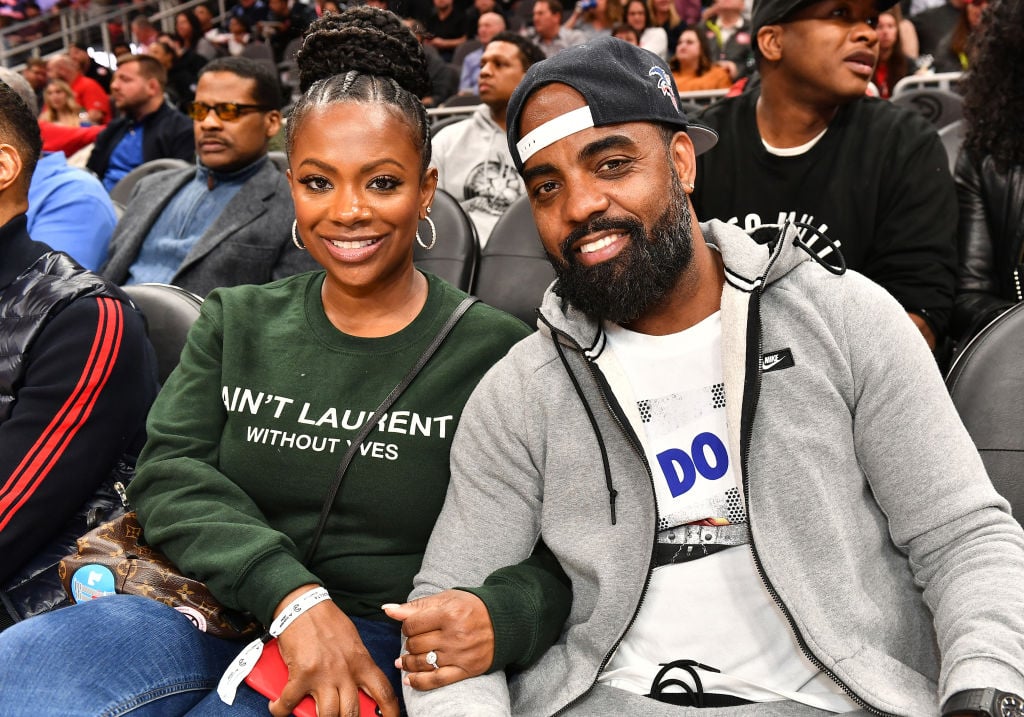 In the latest episode of RHOA, Burruss's husband, Todd Tucker, voiced his frustrations with her hectic work schedule. He elaborated on the subject in a new YouTube video with his wife.
Todd Tucker and Kandi Burruss argue over her hectic work schedule on 'RHOA'
Burruss has been open with fans of the show about her desire to get into acting. In the early episodes of the show, she documented her audition process for the hit Showtime drama The Chi. She eventually landed a recurring role on the series, scheduled to air its third season this summer.
Burruss was scheduled to film on location in Chicago for 10 weeks. While away, Tucker would handle their household responsibilities with their children. Along with work and their three-year-old son, the couple were anticipating the arrival of their daughter via a surrogate. The baby was due in the middle of Burruss's filming schedule.
She flew home for two days and while Tucker was anticipating that she'd spend time with her family, he was surprised and aggravated to learn that Burruss had multiple events scheduled on her calendar. He voiced his concerns with her focusing too much on work and not putting in equal time with their family. 
Burruss became emotional and promised to do better but because she'd already committed to the events, she kept her word and worked. Tucker warned that if things didn't change with her work schedule that more problems would arise. 
Todd Tucker and Kandi Burruss open up about the 'RHOA' scene – Tucker calls her selfish
Burruss and Tucker addressed the tense moment between the two of them on the Apr. 5 episode of RHOA on her popular YouTube show, Speak On It.
"You're the worst," he joked. "After watching that, you were the worst in that moment. You were bad, you were very selfish. It took me back to when we first got together and how you were acting, it reminded me of that. It was like, 'I gotta do what I gotta do.'"
Tucker explained that his frustration with Burruss came from her not understanding his point of view. While Burruss felt that Tucker was reneging on his support of her acting, Tucker insisted that was not the case. He says he supports her in chasing her dream of acting but became annoyed due to her continuing to schedule appearances, unrelated to acting, on her days off.
I just said that when you come home for those two days to prioritize your family, not luncheons and things that don't make you money. You're gone, but when you come [home] you're not going to be here. That makes it the worst. Even in the scene, [you said], 'Oh you're gonna make me cry, I'm going to mess up my makeup because I have to go to this luncheon,' – and for me I get it but if you want to do your acting thing and all the other stuff then you shouldn't have a family. You can't do it all.
Tucker gave Burruss suggestions on how to better balance her work and home life. He supports any event or gig she wants to be part of that may lead to her landing another acting role, but anything else he says should not be at the top of her list. He believes her downtime should be spent catching up on family time that she missed from work and she agrees.