'RHOA': Why Porsha Williams Says She's 'Not as Close' To Tanya Sam Anymore
Porsha Williams is staying mum on what allegedly went down between her, Tanya Sam, and a hired stripper. Sam did not return for filming of The Real Housewives of Atlanta following an alleged threesome. Her friendship with Porsha Williams was said to be in limbo. But Williams says the two remain in contact, just not as frequently as before.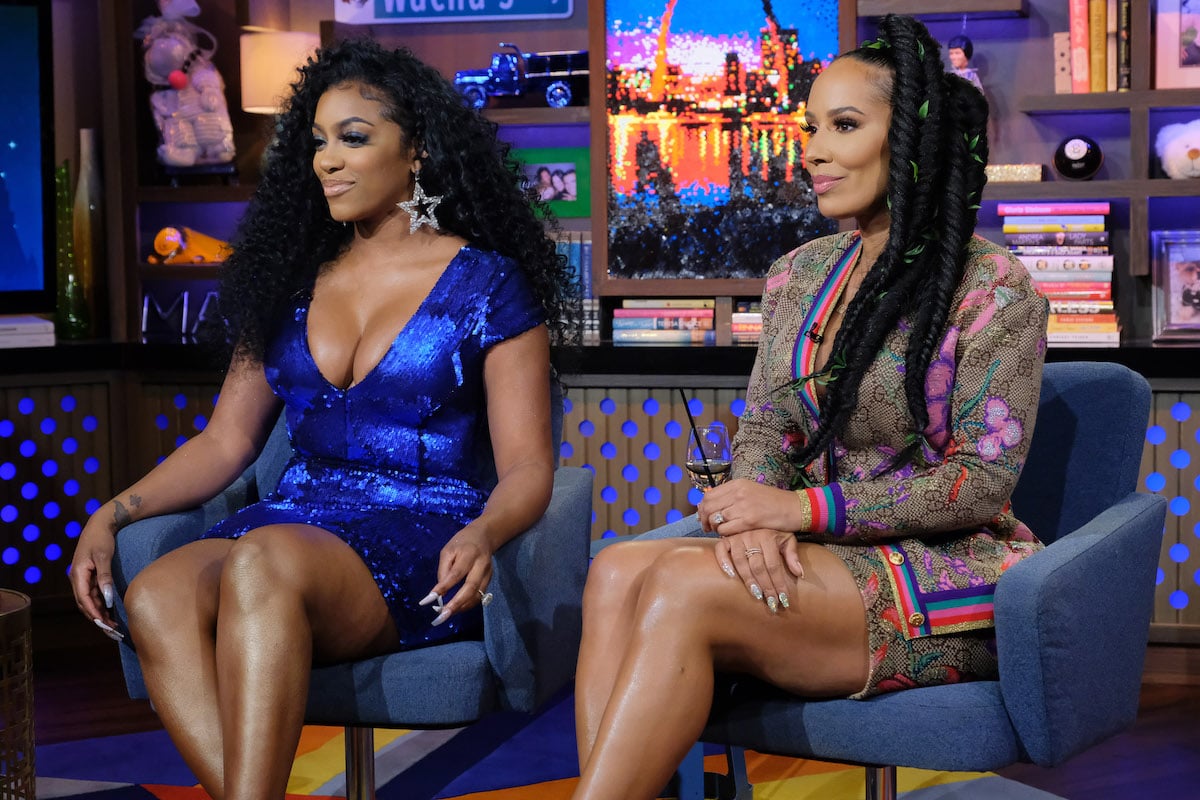 Porsha Williams and Tanya Sam's alleged threesome
Strippergate went down post-Cynthia Bailey's dungeon-themed bachelorette party in October 2020. Viewers watched as the cast requested production leave the rental home in South Carolina. However, various cameras were set up throughout the rental home, catching the ladies in action.
Williams was seen kissing newcomer LaToya Ali. Sam was overheard allegedly telling the hired stripper that Williams was a good lover.
Related: Who is 'Real Housewives Of Atlanta' Friend To The Show, Tanya Sam?
Per Moore, she heard various "sex noises" coming from Williams' room and indicated that she heard two women's voices. Production caught the stripper leaving the rental home after 7 am the following day.
When confronted by Moore, Williams denied that the noises were coming from her room. Sam implicated herself by trying to defend Williams, stating that she was in Williams' room with her.
Williams said of the alleged threesome, "It was what it was," during an interview with Entertainment Tonight. She also said that due to being single, she has no shame over any decisions she makes. 
Tanya Sam quits 'RHOA'
The heat from strippergate apparently became too much for Sam. A November 2020 report from TMZ that Sam has ceased filming midway through the production season as a result. 
Related: 'RHOA': Tanya Sam Stops Filming Over Sex Scandal With Porsha Williams and a Stripper
According to the media outlet, Sam also became upset over allegations that her long-term fiance, Paul Judge, is cheating on her. During season 12, a woman known as "the cookie lady" confronted Sam about Judge allegedly hitting on her at an Atlanta lounge. The scene was orchestrated by Kenya Moore, who was upset with Sam at the time.
Producers initially believed that Sam would return after things cooled down. But, Sam proved otherwise. Filming continued in her absence. She was set to appear in other scenes filmed and as the season progressed.
Porsha Williams says her and Tanya Sam's busy schedules causes distance
Sam hasn't made any additional appearances on the show. She has however begun doing voiceover work for other television projects, as well as hosting webinars on various entrepreneurship subjects.
According to reports, as well as Williams' RHOA co-stars including Moore, Sam and Williams are no longer friends due to strippergate. But during a recent appearance on Watch What Happens Live, Williams denies such.
Related: 'RHOA:' Tanya Sam Does Not Want To Be a Full-Time Housewife
"I just spoke to her the other day," Williams told Andy Cohen when questioned on the status of her friendship with Sam. "She was doing a project with Da Brat, and we're supposed to be getting together. She's busy. She has a lot of different things and shows that she's doing right now."
"Yeah, we're still very cool," Williams continued. "But she's very busy, so we're not as close as we used to be."
RHOA airs every Sunday on Bravo at 8 pm EST.