'RHOBH': Andy Cohen Gets Messy, Asks Kyle Richards If She's Sold Stories to Radar
Kyle Richards from The Real Housewives of Beverly Hills was already a star before joining the show. The Bravo TV personality was a child actress and co-starred with legends like Bette Davis and Jamie Lee Curtis. Richards has been in Hollywood forever and has seen many things. Is she capable of selling a story to a tabloid? Andy Cohen went there and Richards had no choice but to answer.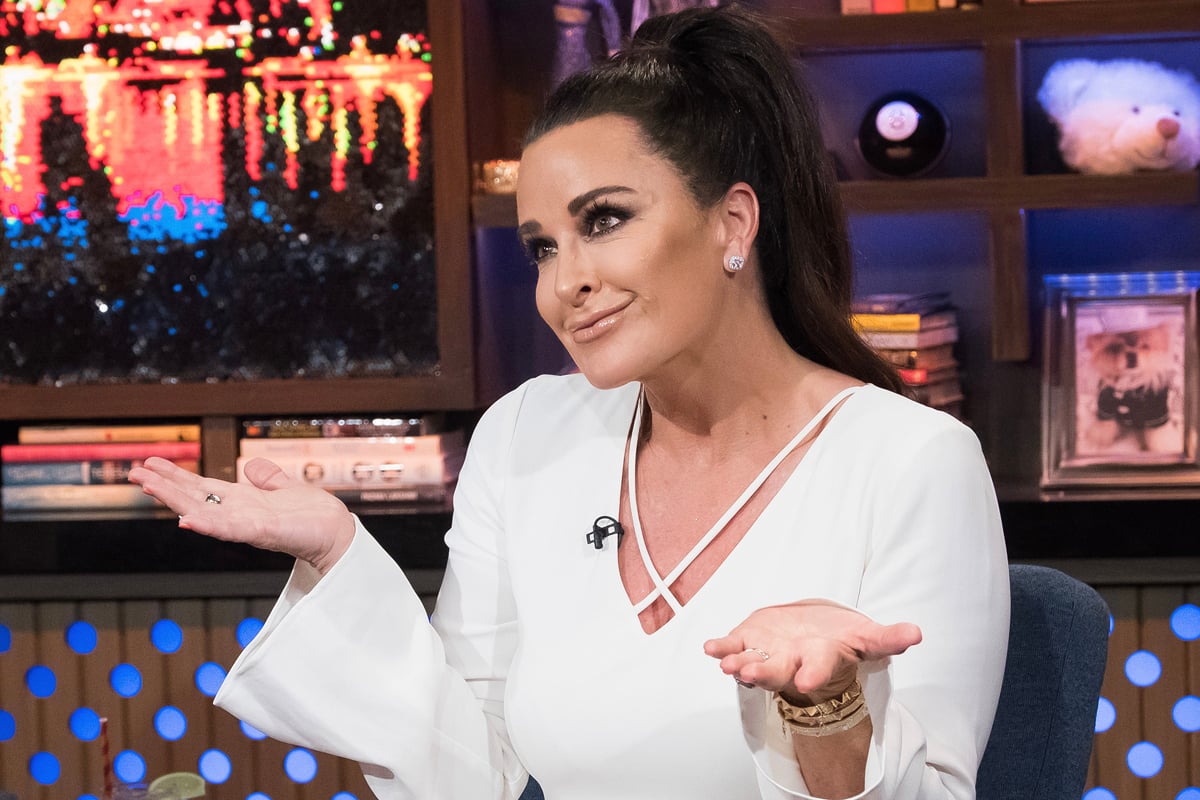 Why did Andy Cohen ask Kyle Richards if she's sold stories?
Richards was put in quite a predicament when she joined the Watch What Happens Live host for his late-night show. Cohen loves to dig deep into the lives of his guests with tidbits of information that fans live for. When Richards was a guest on his show he got a little messy and asked her if she's ever sold a story to Radar Online.
Fans can quickly make the connection back to Lisa Vanderpump, who was accused of leaking information to the blog. It was in season 9 when Richards didn't back down when Vanderpump asked her if she thought she was capable of selling a story. When Richards said she believed so, their friendship was lost forever.
"Not only have I never sold stories, I've never given them away freely to try to hurt somebody," Richards answered.
Kyle Richards vs. Tamra Judge
One piece of news that made the tabloids was a feud between Richards and Tamra Judge, the former star of The Real Housewives of Orange County. Judge and Vicki Gunvalson shared an Instagram Live session where they freely spoke about other franchises. Things heated up after Gunvalson said Richards was not messy enough on the show.
"Kind of vanilla," Gunvalson said about Richards. "I don't see any conflict. I just see her like, playing the safe lane always."
Judge didn't directly say anything but seemingly agreed to what Gunvalson said about Richards.
"Well, she's still got her million-dollar paycheck," Judge added, reminding everyone they are not Housewives anymore unlike Richards, who still is.
Kyle Richards strikes back
It wasn't long before this got back to Richards who fired back creating a RHOBH and RHOC crossover of fans' dreams.
"Well, A) they don't know how much money I make. B) Like I say, I don't play it safe," Richards told Us Weekly. "I've had a lot of issues over these years, 10 years, a lot of them."
Richards took a swipe at some of the antics the girls of RHOC get into.
"That does not include getting drunk and putting my tongue in another married woman's mouth," Richards said referencing what Judge has done on the show.
Judge was later interviewed to get a reaction out of what Richards had said. The former RHOC star revealed that they had talked things out and were in good terms.
"I talked to Kyle and things are fine," Judge told The Daily Mail. "It was a misunderstanding. I didn't say she was vanilla – those were not my words! I've always loved and adored Kyle and I think she is the staple that holds RHOBH together. I have nothing but love and respect for her."
The Real Housewives of Beverly Hills is airing every Wednesday at 9 p.m. ET on Bravo.