'RHOBH': Andy Cohen Reacts To Rumors Teddi Mellencamp Was Fired After Business Backlash
Teddi Mellencamp confirmed she was leaving 'RHOBH' after three seasons. Rumors started swirling that the reason she was let go was do to her business backlash.
Teddi Mellencamp announced she was leaving The Real Housewives of Beverly Hills after three seasons. The accountability coach confirmed the news herself on Instagram with a straight to the point message. Her departure coincided with backlash over her business venture that alleged she put people's lives at risk. Rumors started swirling that Bravo axed her from the reality series due to the controversy and Andy Cohen is now reacting.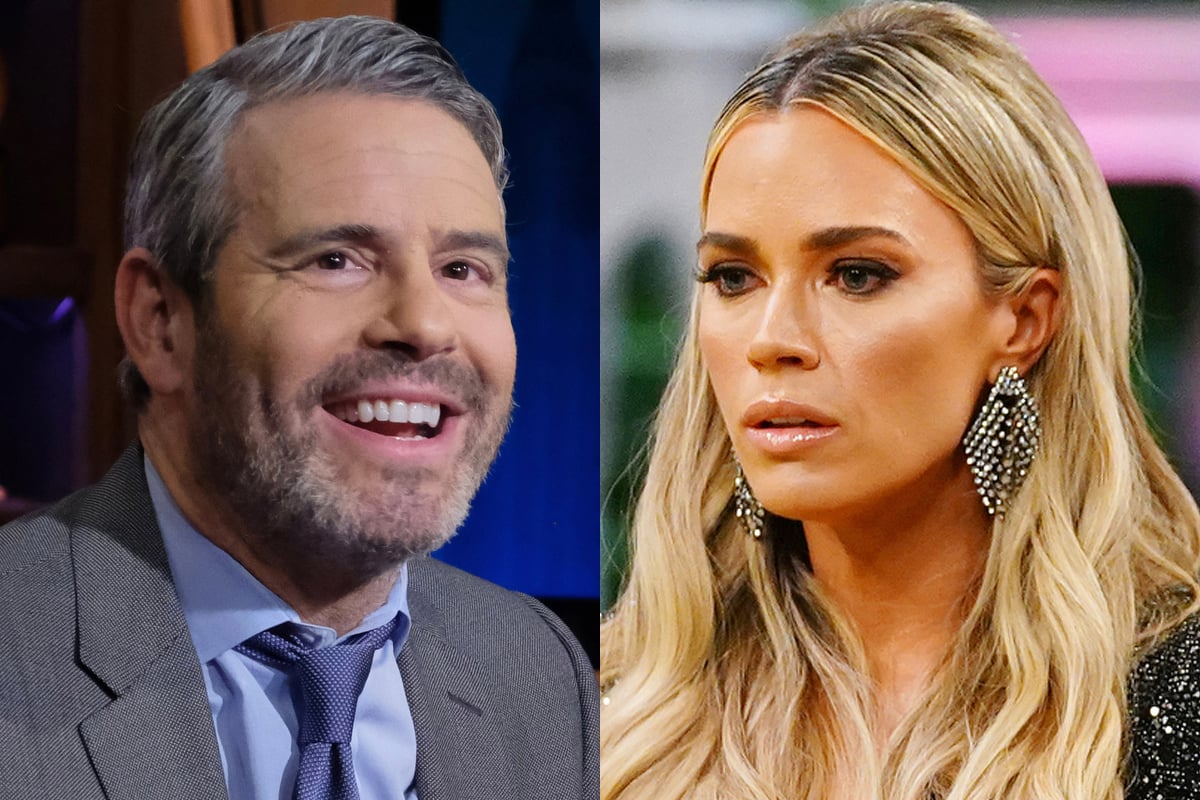 "Now there's a whole controversy online about her business," Cohen said on his SiriusXM show Radio Andy. "That's going on now. I do want to say, people are speculating that the online chatter about her business led to her dismissal. I just want to say because I think it's important that one had absolutely nothing to do with the other."
The Watch What Happens Live host explained that he would've "liked to see her respond to her critics on the show." However, that will not be possible now since Mellencamp received the axed from the show.
Why did Teddi Mellencamp leave?
Mellencamp shared the news with her fans on Tuesday that her contract had not been renewed for RHOBH Season 11.
"I don't want to bore you but I'd figure I could give you a little update on what's going on," Mellencamp posted on her Instagram Stories. "Recently found out that my contract as a housewife is not being renewed."
The accountability coach joined the show in season 8 and made it through three seasons. Over the course of her time as a housewife, Mellencamp developed a strong relationship with Kyle Richards, the last OG of RHOBH. Mellencamp equated her dismissal from the reality series like a breakup.
"When I got the news I was sad, it feels like a breakup because you develop such strong relationships with the cast, the crew and you get to do things that you'd probably never get to experience without the show," she added. "I'm really looking forward to the future and being able to focus on my family, my friends, All In… I really feel like I have exciting things ahead."
Andy Cohen complimented Mellencamp's announcement
One thing that the Bravo TV host liked about Mellencamp's goodbye message, was that she was genuine with the reasons she was leaving. Mellencamp didn't go around the bush and said that her contract wasn't picked up.
"Teddi Mellencamp released what I thought was one of the most, no BS, 'I'm leaving' announcements on record," Cohen said on Radio Andy. "I thought that was really good. She's an accountability coach. So she checked herself."
Cohen also mentioned that many Housewives have been through a lot in 2020, particularly Mellencamp.
"I have to say, everyone has just been through it. The year, like it's not many people for whom this year has been good for. She had some major health stuff with her kids," Cohen added. "I was watching that, thinking, wow, she's been through it health-wise with her kids."
Bravo is expected to start filming the new season of The Real Housewives of Beverly Hills in the coming weeks. There's no word on when season 11 would start airing on TV.