'RHOBH': Andy Cohen Recently Compared Erika Jayne's Legal Trouble to Another Infamous Housewife
Andy Cohen is not holding back when it comes to Erika Jayne's legal woes on the 'Real Housewives of Beverly Hills' season 11 reunion. Despite her openness about her legal and money troubles on the 4-part reunion, some fans are still demanding Bravo give her a pink slip. But Cohen is not having it.
ARTICLE HIGHLIGHTS
Andy Cohen made it clear he was not backing down when it came to asking Erika Jayne difficult questions on the Real Housewives of Beverly Hills reunion.
Some RHOBH fans are demanding Bravo give Jayne her pink slip.
Andy Cohen has been down this road before with another infamous housewife.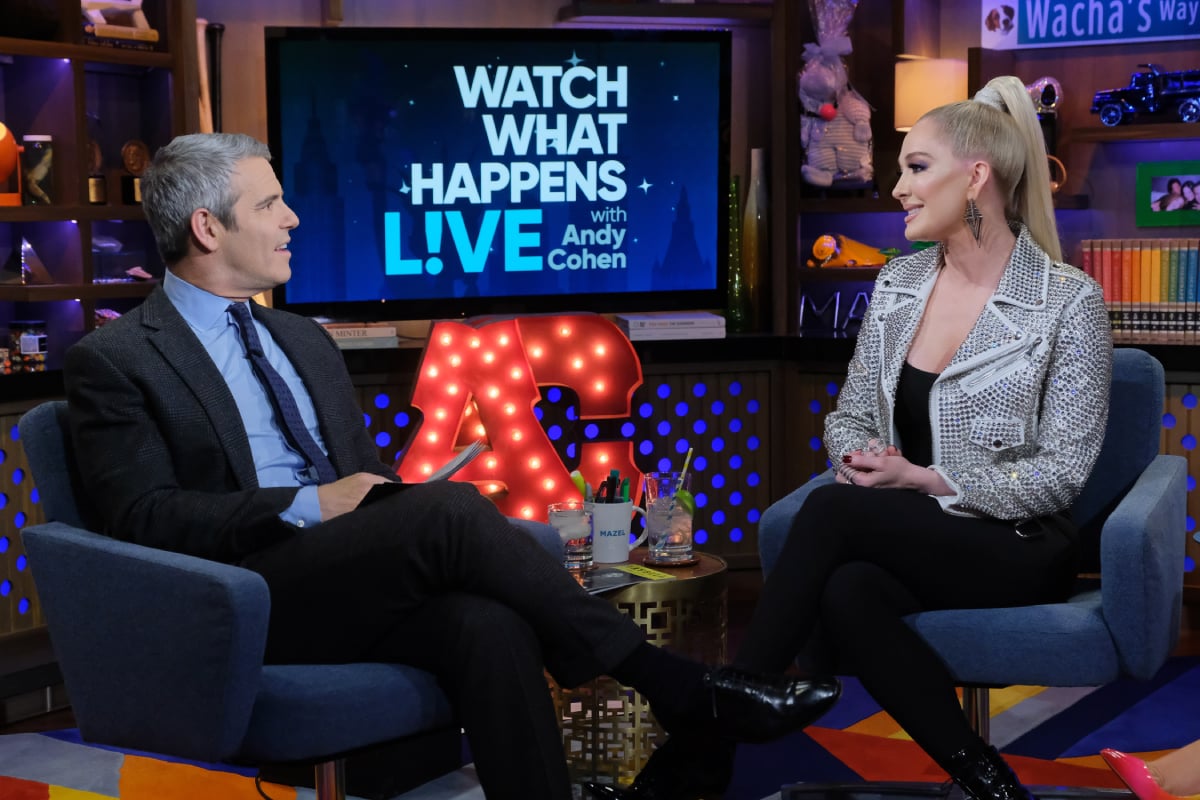 Andy Cohen has asked Erika Jayne some difficult questions during the Real Housewives of Beverly Hills season 11 reunion. But many fans aren't interested in hearing what she has to say. At the end of a season dominated by Erika's high-profile divorce and legal woes, many fans are demanding she be fired. But Cohen's not having it.
He recently compared Erika's trouble to another infamous housewife, who has remained a popular part of the franchise for more than a decade despite her own legal trouble.
Andy Cohen says Erika Jayne had an answer for every question
Because of all the juicy details and drama surrounding Erika's divorce from former high-powered California attorney Tom Girardi — not to mention his embezzlement scandal — Bravo expanded the season 11 RHOBH reunion into four parts. Ahead of the airing of part one, Cohen told Entertainment Tonight that he didn't want to give anything away. But he did reveal what shocked him the most about the taping.
"I will say what shocked me was that she had an answer for every question," Cohen said. "I think there was only one question that she didn't answer and it was a rollercoaster of emotion."
The stars of 'Real Housewives of Beverly Hills' were 'surprised'
Cohen says that during the reunion taping, the Pretty Little Mess author was laughing, screaming, and crying. The Bravo boss admitted he was surprised by Erika's delivery when answering many of the questions, and he thinks the other women were, too.
As Erika's drama continues to play out, Cohen says he's not paying attention to viewers' criticism. And, he's not listening to those who are calling for Erika to be fired. In fact, he wants everyone back for season 12.
"I will say that it was such a blockbuster season that it would be my hope that it would remain, somehow, some way, intact…I hope everybody's back," Cohen said.
The Watch What Happens Live host also pointed to another Housewife who got herself into some serious legal trouble. But, she was able to get through it and remain part of the long-running Bravo franchise.
Andy Cohen compares Erika Jayne's legal trouble to Teresa Giudice's bankruptcy fraud case
While attending the release party for Dave Quinn's book Not All Diamonds and Rosé: The Inside Story of The Real Housewives from the People Who Lived It, Cohen explained why he doesn't have any interest in firing Erika from Real Housewives of Beverly Hills.
"She has not been charged with a crime, as you may or may not know, and the story is unfolding as we watch," Andy said. "And I think it's an interesting story that we've seen. Our mutual friend, Teresa [Giudice], was involved in some bad business and we kept cameras going to see how that unfolded, I think, because so many viewers were invested in Teresa."
Teresa Giudice spent nearly a year in prison
Fans will recall that Teresa and her ex-husband, Joe Giudice, were convicted of bankruptcy fraud back in 2014. As a result, Teresa served almost an entire year in federal prison. While Joe did nearly four years behind bars and ultimately was deported back to Italy.
However, fans have pointed out one major difference between Teresa and Erika's cases. Which could explain the different fan reactions between the two Housewives stars. Unlike Erika and her estranged husband, Teresa wasn't accused of stealing money from airplane crash victims to fund her luxurious lifestyle she flaunts on TV.
Erika Jayne told Andy Cohen she has nothing to hide
During season 11 of RHOBH, Erika has faced a number of allegations relating to shady financial dealings. She's also facing several lawsuits, but she's still "happy" to talk about it so she can "close this chapter" in her life.
Erika admitted that her attorneys advised her to quit the Bravo reality series. But, she didn't because she has "nothing to hide."
"Why should I be fired?" Erika asked Cohen. "Why are you presuming that I've done something? Why aren't we letting the legal process play out? You've heard one side – and a lot of bulls–t on that side. Give me a chance to defend myself. Watch me. I'm ready for the challenge. Watch me do it."
Part four of the season 11 Real Housewives of Beverly Hills reunion airs Wednesday, November 3 on Bravo.