'RHOBH': Andy Cohen's Buddy Surprised by Gossip About Erika Jayne's Finances at Baby Shower (and Why She Scares Him)
Andy Cohen's close friend Bruce Bozzi seemed surprised when he learned that some of The Real Housewives of Beverly Hills cast claimed they heard that people were gossiping about Erika Jayne's financial woes at Cohen's baby shower.
Camille Grammer initially made the gossip claim, hinting it was Kyle Richards who was dished about Jayne at the shower. Richards has flatly denied the accusation. Bozzi, who is close to Cohen and involved in throwing the shower, said he can't confirm the gossip either.
Bruce Bozzi was surprised by 'RHOBH' Erika Jayne gossip
Grammer stirred the pot when she teased on Twitter that cast members were buzzing about Tom Girardi and Jayne's financial hardships at the baby shower. The shower was held several months prior to the couple's divorce and legal troubles, which made the dish especially intriguing.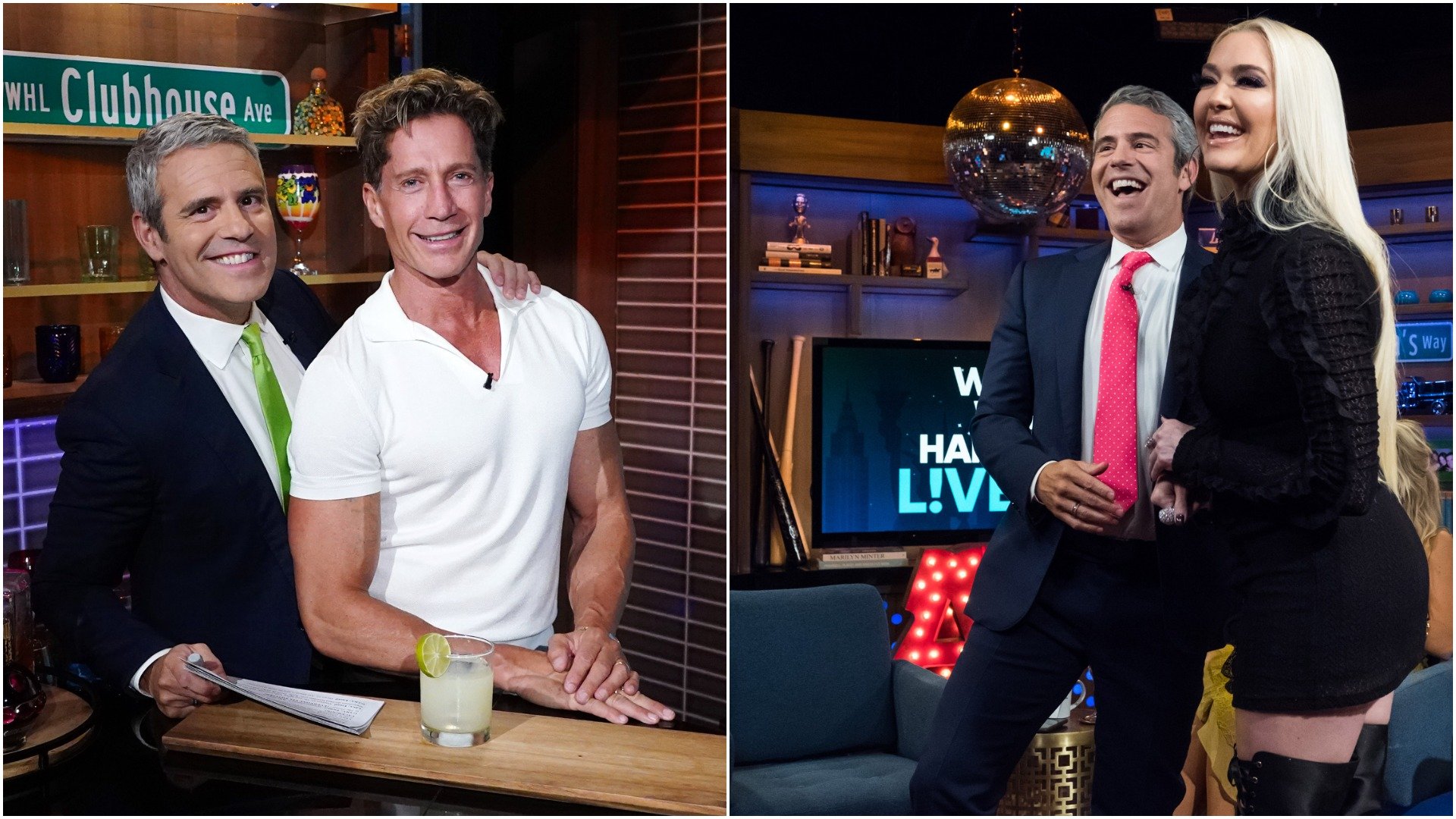 Bozzi was asked about the gossip when he appeared on the Behind the Velvet Rope with David Yontef podcast. "Isn't that interesting cause that traces it back to a different origin than we know as the people who are watching this season," he replied. Grammer didn't specifically name Richards as being the cast member who spread the gossip. But then Lisa Vanderpump got involved in the drama adding another layer to the rumor.
"It didn't surprise me when Camille told me that it was Kyle that had told her the gossip about her supposed friend Erika Jayne," Vanderpump told Daily Mail TV (via ET). "That's how Kyle works."
What does Bruce Bozzi remember from Andy Cohen's shower?
For his part, Bozzi only remembers that Richards was busy throwing a baby shower. Plus he recalled how the lovely lunch turned into a dance party when Lisa Rinna got on top of a table.
"It was epic," he recounted. "So Kyle Richards really was the force behind that though she co-hosted with a number of people. But she was really the force."
"It became, it was so funny because it was just like a nice group," he reflected. "It was like people would walk in and was like, woo, then the lunch. And then it felt like, oh, OK, like this might be wrapping up. And then it was like, no Rinna was like get the 'f' up. So I had women on these tables that are, you know, if you put too much weight on the front of the table, it's just going to flip. And I was like, I got very stressed. I was holding, you know, tables up. I was like, these faces are going to be smashed. And, but it's the gift that keeps giving. It broke the Internet." 
Why is Bruce Bozzi too nervous to interview Erika Jayne?
While Bozzi knows many of the Housewives, he admitted that Jayne "scares me a little bit." He's interviewed and rubbed elbows with A-list stars like Madonna, Daniel Craig, and Jennifer Aniston. But admitted to being nervous if he was able to interview Jayne.
"That's a tough one for me to answer because she scares me a little bit," he admitted. "So yes, from a, like a conversational point, I would. I think, you know, my heart kind of breaks for that, this woman and what was actually happening behind the curtain in her life."
"And I truly believe you can be married to someone and not know who they are, a 100%," he continued. "And you can judge how she lived her life and you can judge how she spent their money and her money and blah, blah, blah. So yes. Short answer is yes. The answer why behind it is I'd be sweating a little bit because I think she's, she's tough." 
"But I think I could create a space that hopefully she'd be comfortable in talking about it when she's ready to talk," he added.