'RHOBH': Brandi Glanville Shares Denise Richards Receipts, Fans Fight Back
Brandi Glanville from The Real Housewives of Beverly Hills is fighting back. Although Denise Richards is claiming the allegations Glanville raised about hooking up are not true, the latter is not giving up that easily. The former housewife continues to say she had an affair with the Wild Things actress and is now showing receipts.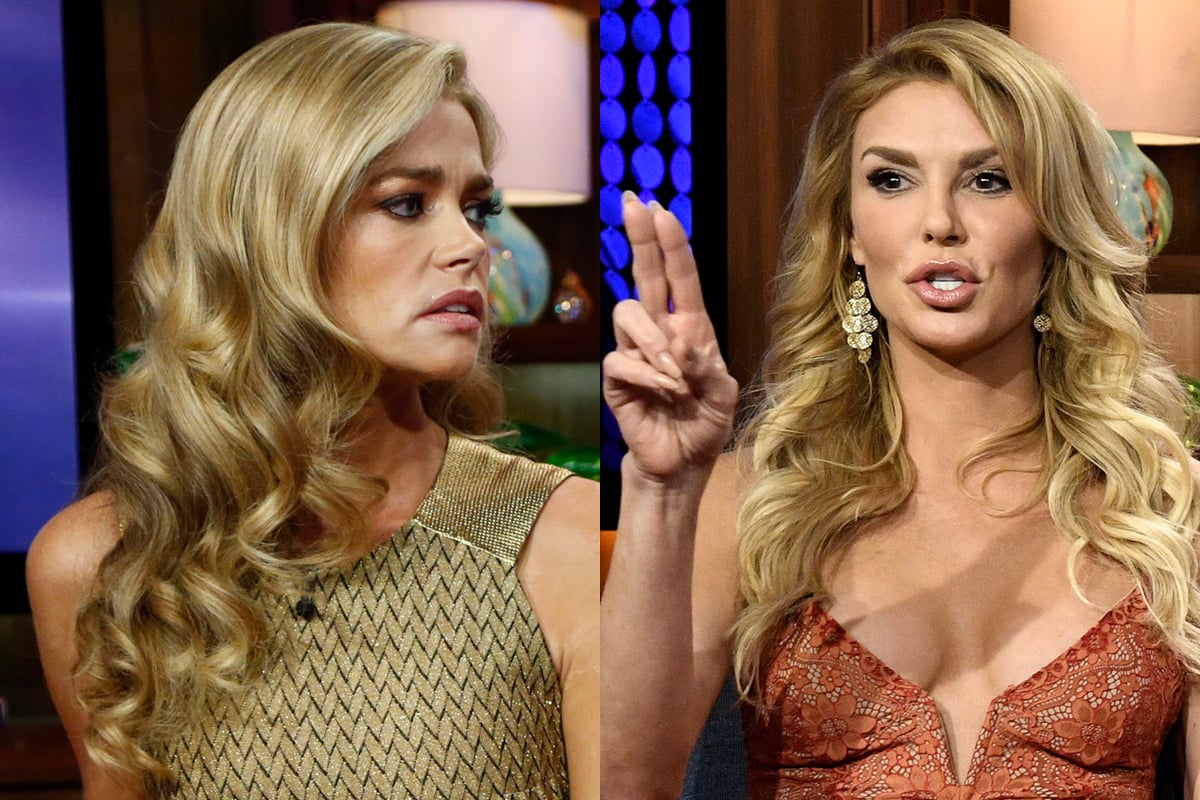 What is Brandi Glanville saying now?
Glanville revealed to Kyle Richards and Teddi Mellencamp that she had a sexual encounter with Richards. The news came right before the RHOBH cast is getting ready to go on a trip to Italy. One of the Housewives will be dropping the bombshell and causing major rifts amongst the group.
Tension between Richards and the rest of the ladies was already strong and the latest allegations will not ease anything up.
"I did not have an affair," Richards told The Washington Post. "If I had an open marriage, I would be open about it."
To counter Richards's denial, Glanville posted a text conversation between the two. In the exchange, Richards suggests Glanville stay in her cottage to save money. This is the night the alleged hookup happened.
Fans are hesitant
RHOBH fans are always ready for the tea and many believed Glanville posted these "receipts" to reveal the smoking fun. However, not all of the Bravo viewers following the drama believed this was strong evidence they hooked up.
"How is that receipts? I could change a name of one of my friends to Denise and get them to text me this too," a fan noted.
"OK but this doesn't prove anything happened," a viewer added. "Do you have anything else? I am not doubting it happened necessarily but we need strong, concrete evidence here."
"I always loved your directness and strength but now you've taken an alleged private encounter and are using it to hurt another woman," a Twitter user mentioned. "You're damaging a marriage, a family, and children. I thought you had better character than that."
"This tracks what you have said about the timeline of events but not the actual act itself," another fan said. "Honestly, it's really none of our business."
"So what is the point of this? Even if you're trying to prove you're not a liar I think it's irrelevant at this point," another viewer commented. "It's the fact you decided to tell the world and the nasty, ugly, messy way you did it."
"How is that a receipt? I can show you text threads like this with my friend," another Twitter user noted.
Brandi Glanville cut from the reunion
Although Glanville was supposed to make an appearance at the RHOBH Season 10 reunion, she was ultimately cut out. The Celebrity Big Brother alum was to confront Richards on the allegations but producers ultimately decided against that idea.
"I was set to do the [RHOBH] reunion yesterday with all the ladies," Glanville said on Brandi Glanville Unfiltered. "I had the tech rehearsal and everything. You all know that I don't cancel, I don't run away. I'm not a coward and I'm happy to get in there and fight."
"We honestly came to a mutual decision that instead of going to the reunion, as I was set to do, that I would sit down separately with Andy [Cohen] and do a one-on-one," Glanville explained. "[Producers] didn't want what happened last year where Camille [Grammer] came on in the end and everyone piled on Camille and Camille went crazy. Ultimately let these bi***es earn their paycheck."
Bravo has not confirmed when RHOBH will air the season 10 reunion nor when Glanville's special would be broadcasted on TV.
The Real Housewives of Beverly Hills airs every Wednesday at 9 p.m. ET on Bravo.