'RHOBH': Brandi Glanville Spills On the Latest With Denise Richards and Dating One of the Stars of 'Friends'
Real Housewives of Beverly Hills star Brandi Glanville just spilled some more secrets about her secret relationship with Denise Richards. The two were allegedly together for around six months in 2019 in an affair that took Richards' husband by surprise. While we cannot wait to see the drama unfold in season 10 of RHOBH, Glanville just offered a glimpse at what's to come.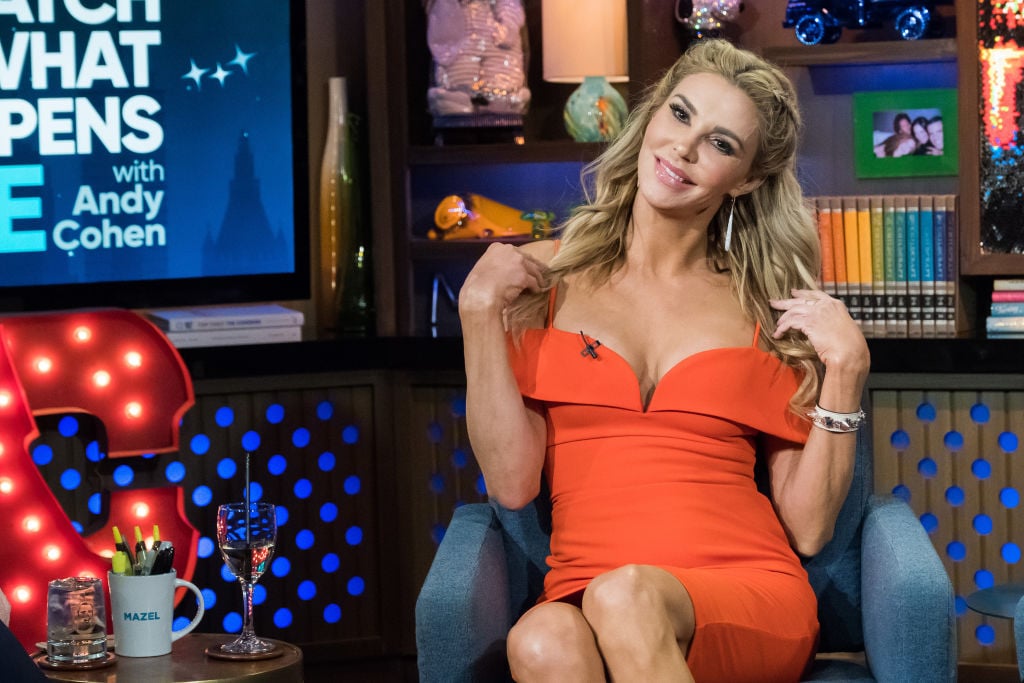 A look at Glanville and Richards' alleged relationship
A few months ago, Glanville revealed that she and Richards were romantically involved starting at the beginning of 2019. She says that the relationship lasted around six months until Richards ultimately broke it off.
When they first started seeing each other, Glanville says that Richards told her she has an open relationship with her husband, Aaron. As Brandi Glanville found out the hard way, Richards and her husband are not in an open relationship, and he was very hurt by the affair.
Once the cast of RHOBH started talking about the allegations on the show, Richards reportedly refused to continue filming.
The reports have led to a slew of speculation about Richards, all of which her rep says are completely untrue. Richards has also denied the rumors about her open marriage, though that has not stopped Glanville from telling her side of the story.
Brandi Glanville spills on the latest with Richards
During an appearance on Danny Pellegrino's podcast, Everything Iconic, Glanville was asked about where things stand between her and Richards. Pellegrino failed to get Glanville to fully open up about her romance with Richards, but he did tease some information out of her.
Glanville revealed that she is no longer romantically involved with Richards and that she hopes to rekindle their friendship at some point.
"Let's just say we're standing and not laying down anywhere," Glanville shared. "We don't have a relationship, unfortunately. I would love to be her friend. All I can tell you is I don't lie."
Glanville added that one of her favorite performances of Richards was in Wild Things. She also noted that one of the reasons she cannot say much is because she was given a cease and desist, which prohibits her from saying anything about the drama.
This means fans will have to wait and see how things unfold when the new season of RHOBH airs on Bravo. Luckily, it sounds like most of our questions will be answered, including what really went down between Glanville and Richards.
What about Glanville's relationship with a 'Friends' star?
Aside from all the drama with Richards, Glanville also opened up about the time she dated a cast member of the popular sitcom Friends. Glanville claims that she dated David Schwimmer, though she was really annoyed by the fact that he wore makeup outside of work.
"He wore makeup, he wore concealer out during the day and it really annoyed me," she stated. "I understand you're on set, you're used to wearing makeup, but I wasn't used to a man wearing makeup. In the moment, it bothered me."
Despite his shortcomings, Brandi Glanville and Schwimmer went out for a few months before calling things off. She also says that she first had her eyes set on Matt LeBlanc. But after a disastrous first date, she turned her attention to Schwimmer.
When LeBlanc took Glanville back to his apartment, she was grossed out by the fact that he let his dog lick his ice cream cone. Glanville completely freaked out when LeBlanc kept eating the ice cream even after his dog had a taste.
"I was totally gonna have sex with him, then the dog licked the ice cream and he licked the ice cream and I was like, I can't. I was very f–k that, very picky," she revealed.
Who does Brandi Glanville consider the meanest Housewife?
While fans have mixed feelings about Glanville, there is no denying that she has some of the best takes in the business. She is also never afraid to share her opinion about the world of reality TV.
During her interview with Pellegrino, Glanville was asked which Housewife was the meanest. After thinking about it for a bit, Glanville revealed that Real Housewives of Atlanta star Kenya Moore takes the cake as the meanest Bravolebrity.
When it comes to the nicest reality star on the network, Glanville told Pellegrino that he would be hard-pressed to find a nicer person than Luann de Lesseps. This is actually pretty surprising considering everything that happened in season 11 of the Real Housewives of New York.
Richards, meanwhile, has yet to respond to Glanville's latest comments.
Brandi Glanville is back for season 10 of the Real Housewives of Beverly Hills which is rumored to premiere April 15 on Bravo.