'RHOBH': Brandi Glanville Tweets Photo Kissing Denise Richards on the Lips? Fans Think So
Brandi Glanville is one of the most controversial figures from The Real Housewives of Beverly Hills. The reality star is returning to the Bravo series in season 10 and bringing in major drama. She reveals that she hooked up with Denise Richards and it unleashes a set of events that make the latter want to quit. Glanville stirred the pot over the weekend with possibly possibly "receipts" of an intimate moment.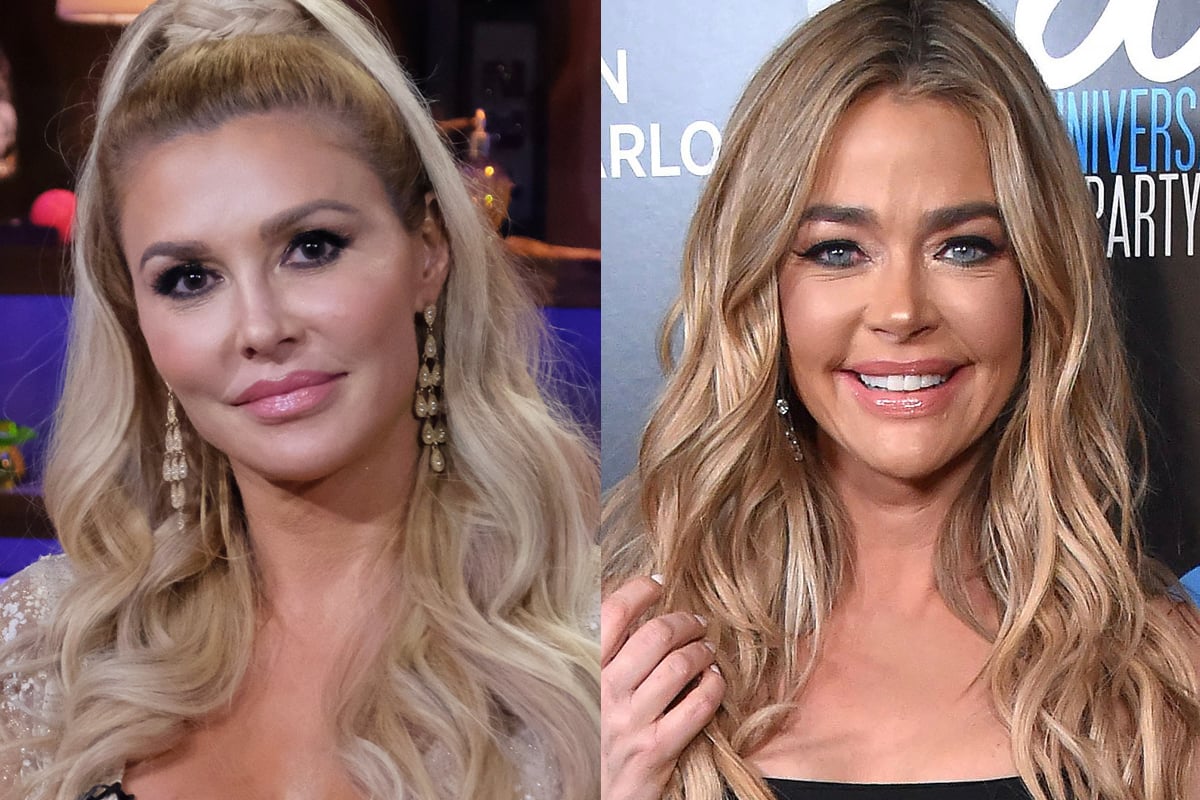 Brandi Glanville shocks fans with a photo
Glanville never stops shocking her fans and on Saturday night, she did so once again. The Celebrity Big Brother alum shared a photo of herself kissing another woman. Although the photo was grainy and in low light, many believed it was Glanville kissing Richards.
The outspoken TV personality has sustained that she hooked up with Richards multiple times even though the latter has denied it completely.
"Making dinner for my fam/neighbors – #snack on this," Glanville tweeted.
When a fan replied asking Glanville to kiss her, the former RHOBH star said, "Kissing is my love language. I don't like hugs to be honest but I'm gonna feed my family-neighbors right now, I love them. They are taking care of me, she is a single mom to two boys. We are fu**ing crushing this game."
Glanville's message made no sense to her followers. However, one fan posted a screenshot of Glanville and Richards from season 9. In the photos, Glanville is seen wearing the netted top she has in the picture she shared recently. Her hair is styled similarly and the other woman is also wearing black just like Richards is.
Fans believe these are Glanville's receipts showing off that she was rather intimate with Richards at one point.
Brandi Glanville teases her 'RHOBH' drama
Glanville is expected to make an appearance in the upcoming episodes of RHOBH when it returns to Bravo. The photo she shared on Twitter comes right after she made an appearance on a podcast where she shared details about her drama.
"It's gonna take a left real quick," she said on The Rumour Mill podcast. "I'm honestly nervous just because you never know what they're gonna show and I did say a couple [of] really stupid things. I'm not in any hurry to see that part."
Glanville even joked about all the orders she has for being so outspoken.
"I have so many cease and desists, I joke I can make a coffee table book out of all of them," she added. "We're on TV, we said we're going share everything and now you're going to try and shut me up? Don't do a reality show."
However, Glanville reiterated that she is not being sued and only being warned not to continue talking about her situation with Richards.
"I'm not gagged. It's a cease and desist, it doesn't mean I have to follow it," she noted. "But after being sued by another Housewife, I'm just choosing to figure out when and where and how I can talk. I'm not gonna talk about it if she's gonna sue me. It is what it is."
The Real Housewives of Beverly Hills returns July 8 at 9 p.m. ET on Bravo.