'RHOBH': Camille Grammer Agrees That Brandi Glanville Used Denise Richards To Return To the Show
Camille Grammer from The Real Housewives of Beverly Hills believes that Brandi Glanville used Denise Richards to get back on the series.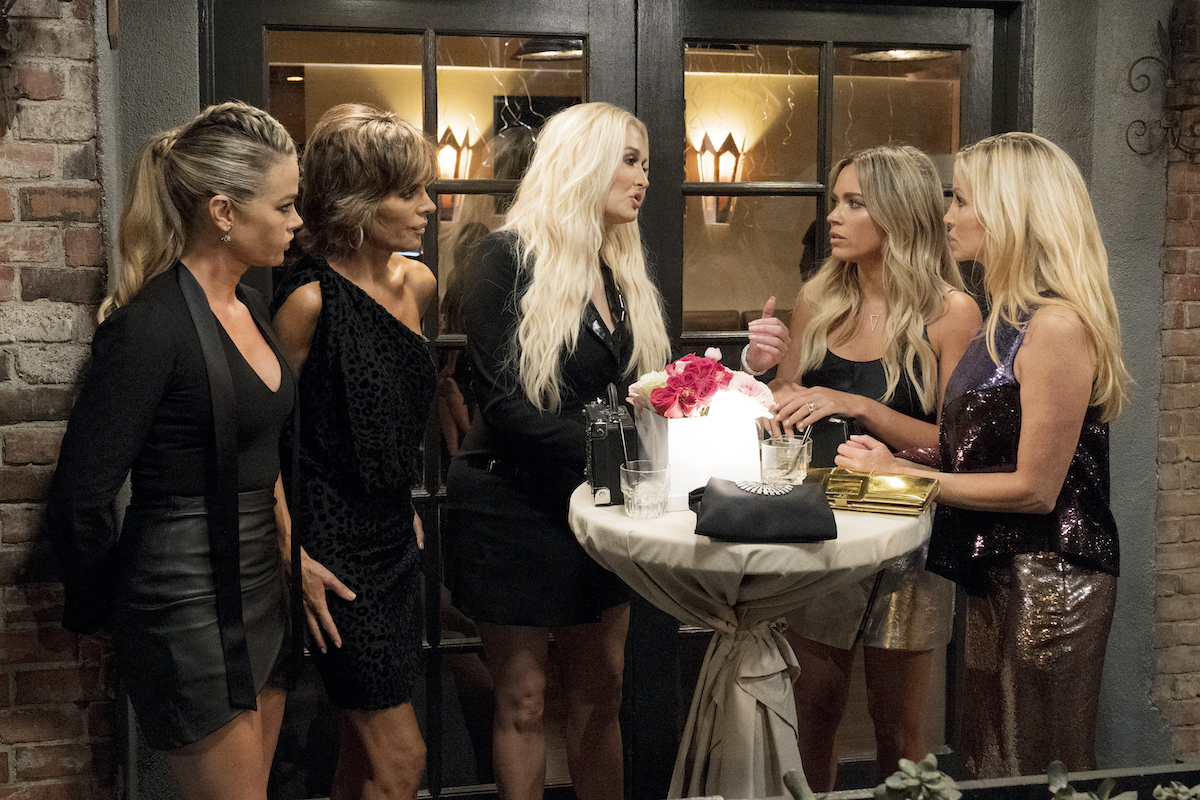 Grammer responded to an article that recounted Luann de Lesseps' July interview with Heather McDonald. De Lesseps wondered if Glanville used a romantic affair with Richards as a hook to return. "I mean, listen, Brandi has not been on the show for years, right?" she said. "I mean, and what a comeback. Let's talk about that. I guess that, obviously, Brandi needs a hook. This is a great hook to get back into the Housewives at Denise's expenses."
"She's correct," Grammer tweeted. Richards and Grammer reconciled this season after experiencing turmoil in the relationship during the previous season.
Camille Grammer thinks Denise Richards carried the season
Grammer tweeted that she thinks the season was built on the Richards and Glanville storyline. "As I said before Denise is carrying this season. Even though I have no problem with EJ I would like to see Erika bring something more [than] self-promotion," Grammer tweeted in June before the episode when Erika Jayne confronted Richard's husband.
Grammer also shot back at Lisa Rinna after Rinna made a snarky comment on Richards' Instagram post about hernia surgery. Rinna responded, "Is everything ok? Is everyone ok?" She then added, "Denise are you ok? You never showed up to Dorit [Kemsley]'s Sat night we were all so worried about you. What happened?! You said you were coming, you were meeting Garcelle [Beauvais], We never heard from you. What happened?"
"Denise did not quit #rhobh and Rinna you throw your friend under a bus," Grammer tweeted. "How about calling her to see how she's Doing and stop tweeting about it."
Grammer also tweeted about Kyle Richards being more in control of production than viewers may realize. "[Richards] always had production and Andy's support," she replied to a question about season 1. "I was never allowed to get my truth out there. S1."
Brandi Glanville doesn't think she'll be back on the show
Glanville almost admitted she wanted to return in a recent interview about the alleged affair. "Denise, I think, ultimately wins again," Glanville told Daily Mail TV. "Because she's not coming back, which means there's really no reason to bring me back. So once again she f**ked me."
Glanville also said she was surprised to learn that Richards was leaving the show. "I was super shocked when Denise said she was leaving the show," she said. "She's a strong woman. She said she wanted closure all year so sit down with me and get closure."
"I think she just needs more of a narrative that she can control," Glanville added. "And you know what? Maybe she's just not built for reality television. I just want to know why she made up all the lies."