'RHOBH': Camille Grammer Calls Out Erika Jayne for Yelling at 'Housewives' Crew
Camille Grammer from The Real Housewives of Beverly Hills has had it with her former co-stars and taking serious digs at them. The reality TV personality has taken to Twitter to drop some truth bombs about Erika Jayne. She alleges that the "XXpen$ive" hitmaker is not as nice as she tries to come off as on the show.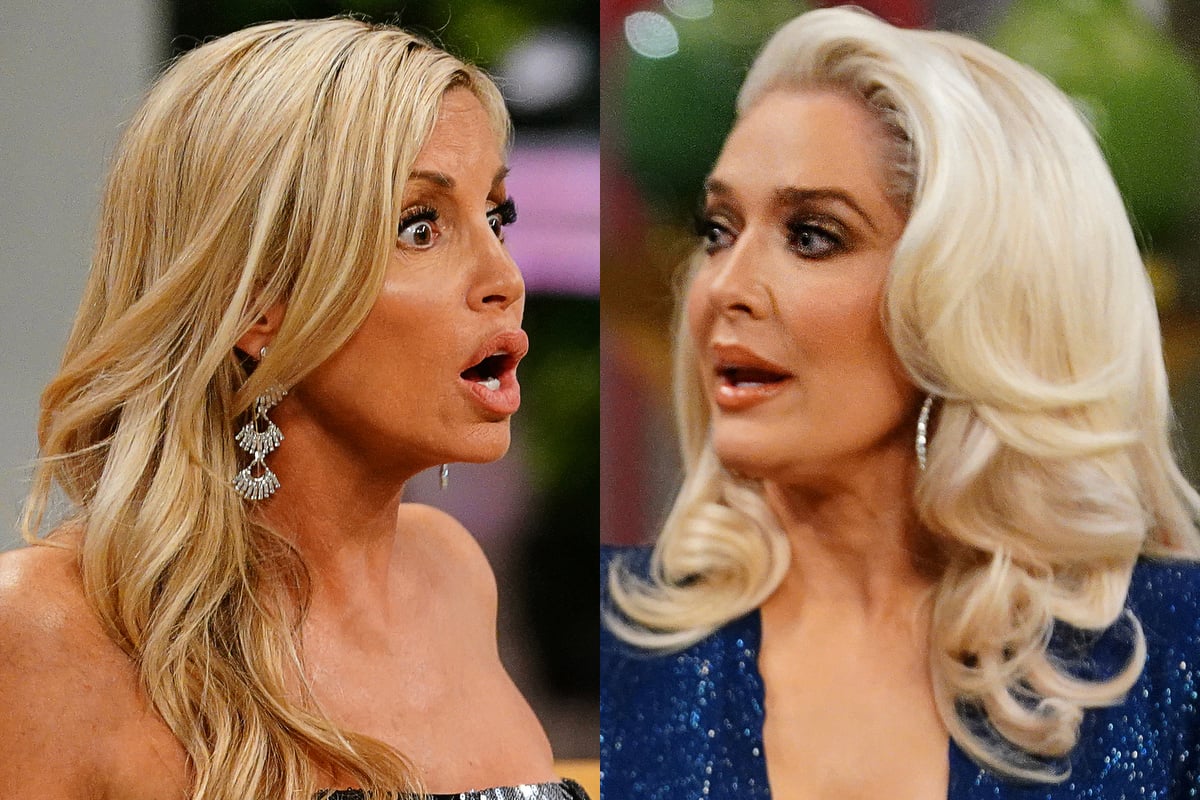 What did Camille Grammer say?
Grammer has an off and on again relationship with RHOBH since she left the show completely after season 3. The former housewife has made regular appearances since season 6 up until season 10. For season 8 and 9, she was an official "friend of," which meant she got more camera time.
However, she had a major fallout with most of the cast in season 9 and was not asked to come back for season 10. This decision was later reverted when producers asked her to return as a guest to make amends with some of the ladies. She was able to talk things out with Kyle Richards, but hit a brick wall with Lisa Rinna and Teddi Mellencamp.
With season 10 wrapped up, Grammer is not holding back her opinions on the ladies and her latest jab was toward Jayne. Grammer reacted to a story where former housewife Kathryn Edwards accused the Chicago star of talking "down to people" and not being a "caring person."
"She does… I have witnessed it myself," Grammer tweeted about Jayne mistreating RHOBH crew. "If a scene doesn't suit her, she yells at the crew and producers. It doesn't happen all the time but she did this in the Bahamas."
Grammer's message has not gotten a public response from Jayne as of this writing, but the drama between these two could be something to look forward to if they both return for season 11.
Camille Grammer also calls out Kyle Richards
Grammer was feeling extra saucy on Twitter and she also had many things to tell Richards. When Grammer was not asked back as a "friend of" for season 10, she took to the micro-blogging social network to say Richards was the culprit.
The interaction between Grammer and Richards started when a fan asked her about the latest controversy around Mellencamp.
"Your girl Teddi is getting exposed on Instagram for her scam starvation company," the fan tweeted at Grammer.
The accountability coach is being accused of promoting a diet and exercise regime that can put people's health at risk. When Grammer quoted the fan's tweet and added, "It's suspect," Richards jumped in to defend her friend.
"Camille, you really need to move on and get a life," Richards tweeted. "Teddi has helped so many people and changed their lives. What are you doing everyday? Tweeting about RHOBH? You befriend whoever you think will get you a [diamond]. Talk about a mean girl."
The American Woman producer was making reference to Grammer befriending Denise Richards to go against them. Denise was accused of having an affair with Brandi Glanville and felt severely attacked by the majority of the cast.
"Brandi never lies Kyle?" Grammer fired back alluding to Richards's defense on the former.
"Camille, why are you so angry? You weren't even involved with this," Richards replied.
The Real Housewives of Beverly Hills season 10 wrapped on-air with the final part of the reunion airing on Wednesday, September 16. Bravo has not confirmed when the new season would started shooting or who will be returning.