'RHOBH': Chaz Dean Dishes About Giving Lisa Rinna Her Iconic Haircut and How He Lost Her as a Client Thanks To Nicollette Sheridan
Everyone knows the best gossip and drama happens at the hair salon. This is why celebrity stylist, Chaz Dean, often seen on Bravo's Flipping Out, had some serious juice about a slew of celebrities like Lisa Rinna from The Real Housewives of Beverly Hills.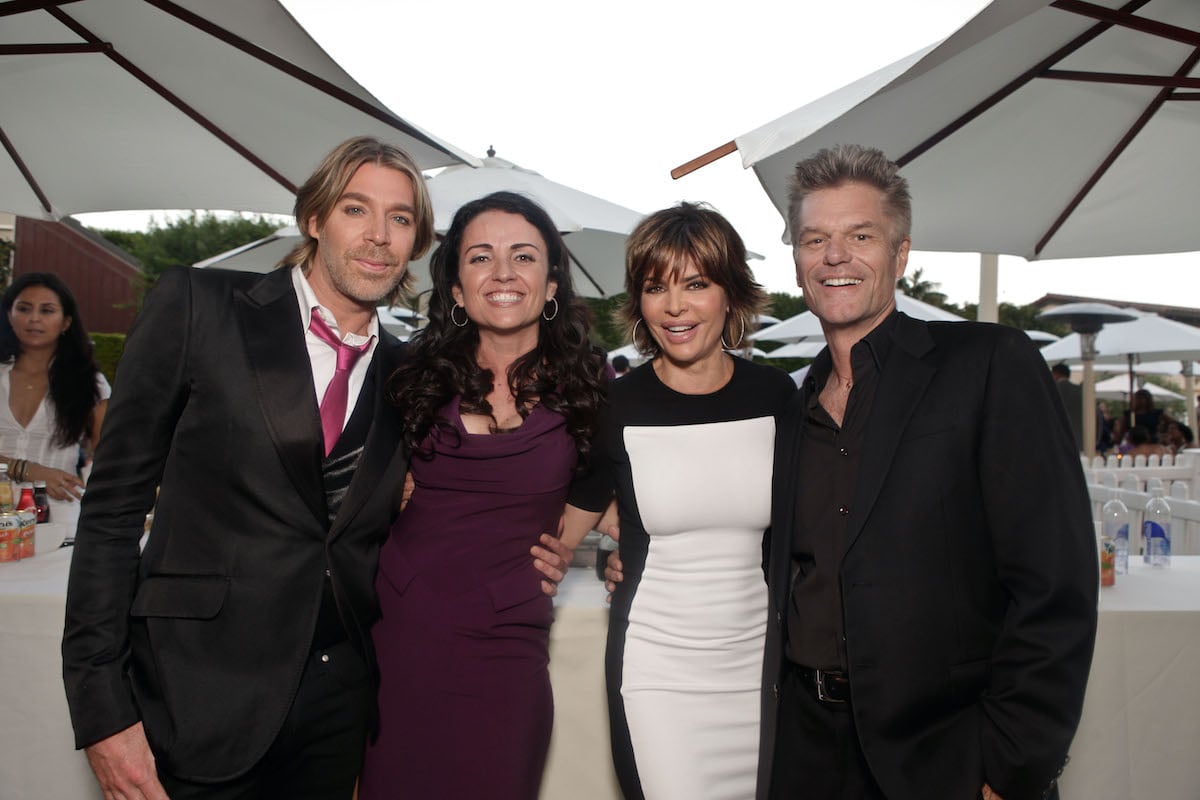 He's known Rinna for 26 years and revealed he is the stylist who created the haircut she's known for today. "I started the original short hair on her," he said on the Behind the Velvet Rope with David Yontef podcast. He also said the drama between Rinna, Harry Hamlin, and Nicollette Sheridan caused him to lose them as clients.
Lisa Rinna had another stylist cut her hair according to Chaz Dean's design
Dean is the designer of Rinna's iconic haircut. "The original one, yeah," he said. "And I'm going to tell you how that happened. I worked at the salon. I was the manager [and] I own the salon. And when she worked at an eyeglass store next door, it was Clayton Franklin. And it was a great store. Amazing. It was a celebrity haven up there at the time because it was out of nowhere. It's in the middle of nowhere. Celebrities could go up there away from paparazzi and it was really safe."
"She came into me one night like her hair was long and she's like, 'I'm thinking of cutting my hair," he recounted Rinna telling him. "What would you do if I said, do whatever you want to."
RELATED: 'Flipping Out': Megan Weaver Reveals What It Was Really Like To Work for Jeff Lewis and Which Employee Took the Most 'Abuse'
"I said, here's what I would do. And I named it, it was like a shaggy cut, this, this and that," he described. "And this was probably on a Friday or Saturday. I came back to work the next week."
"She came in and she was, she was sporting hair probably about the length mine is now," he continued. "And says, what do you think? And I'm like, I was shocked. I'm like, wait, you went asked me what I would do. And then you went and did it? She goes, well, yeah, you're always busy. You're too busy. I don't want to bother you. I'm like, are you kidding me? I'm like sit down and I cut it to what I said I would do."  
Chaz Dean ended up losing 3 clients because of Nicollette Sheridan and Harry Hamlin's divorce
Dean described the tangled web of clients, which included Sheridan and then-husband Harry Hamlin. They broke up and Rinna became his client too. The mashup provided an opportunity for a serious run-in between Sheridan and Rinna at his studio.
"But when they broke up, it was this vicious cycle," Dean recounted. "But Lisa was my client. Harry was my client. And Nicollette was. When Lisa and Harry's started dating, it became too close for comfort because they started dating."
RELATED: Bravo's 'Flipping Out': Did Jeff Lewis End up Finishing 'The Queen of Versailles' Mansion?
"And Lisa was in my chair at the time and Nicollette walked in," he recalled. "That was when Real Housewives really started. I lost all of them because it was uncomfortable and none of them want that to happen. It works against you. So they all went somewhere else because they don't want to walk in and have an uncomfortable situation. So I lost all of them at the time."
"I'm friends with all of them," he continued. But added he did not want to be in the middle of their drama but they didn't have to drop him as their stylist either. "I can't disown you because of what happened here," he said about the trio. "And I can't disown you because of what happened there. When you guys have amongst each other is not fair but friends who do that to people, that's wrong."