'RHOBH': Denise Richards Fires Back at Teddi and John Mellencamp Shade
Denise Richards and Teddi Mellencamp from The Real Housewives of Beverly Hills are feuding on social media. The Bravo stars are shading each other and it all started with something the legend John Mellencamp texted his daughter. It wasn't long before the Wild Things actress called out her co-star publicly for all the fans to see.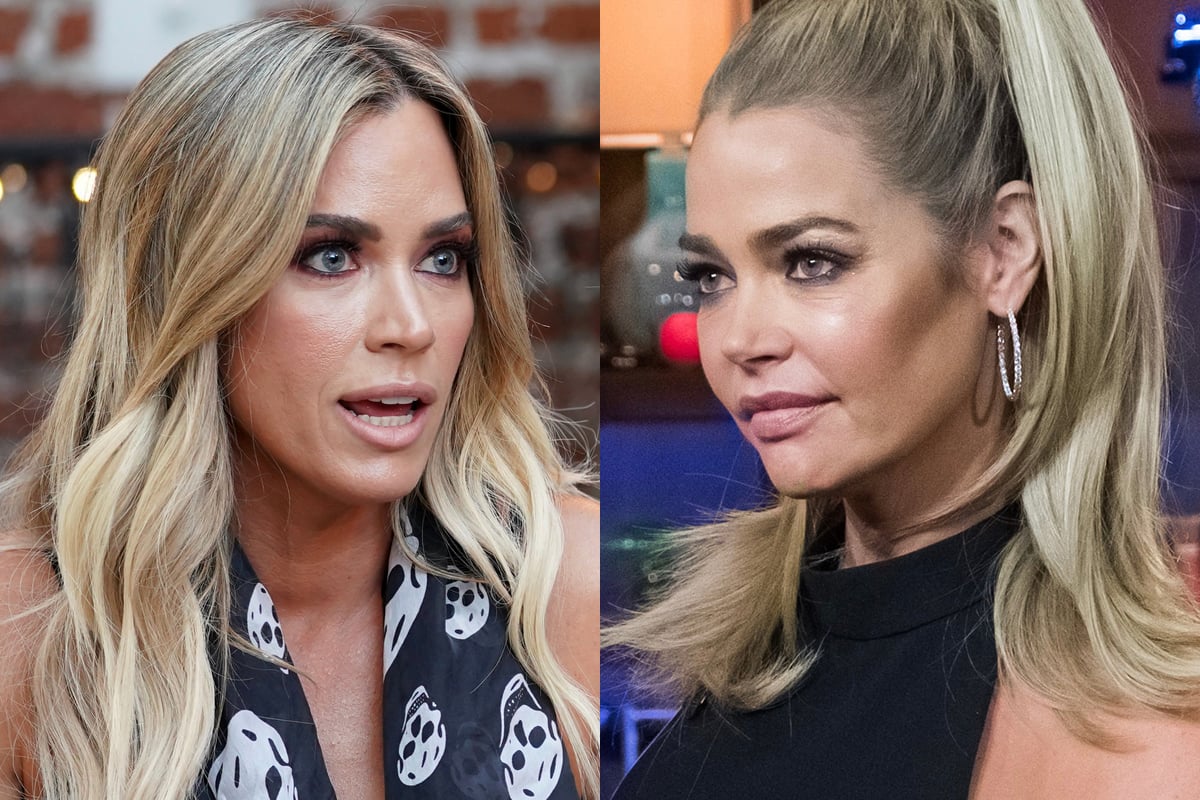 Why are Teddi Mellencamp and Denise Richards feuding?
The drama on RHOBH is heating up and it's going to be a sizzling season 10 until the end. Brand Glanville finally dropped the bombshell on the show where she claims to have hooked up with Richards. During the same episode, the Celebrity Big Brother alum revealed that Richards talks about Mellencamp and said she lives in her father's shadow.
After the episode ended on Bravo, Mellencamp took to Twitter to share a text exchange she had with her father.
"Got my sense of humor from my dad's shadow," Mellencamp tweeted along with a screenshot of the conversation.
"I know you are busy living in my shadow but…," the Grammy-award winner joked tagging along a picture with his daughter. Mr. Mellencamp proceeded to spell Richards's name wrong and writing on the photo, "Dennis Richards — never heard of him."
The Housewives star replied by writing, "You know who DENISE is dad. She is the girl who mentions Charlie Sheen every episode. Love you. Call you tomorrow."
Denise Richards claps back
Richards usually doesn't get embroiled in the pettiness of the reality series. This time, however, the soap star was not going to let Mellencamp's shade go unanswered and she clapped back.
"Grown a** woman stooping to that level… sorry," Richards started. "I never said you live in your dad's shadow. Ever. I don' care what you were told."
"I was hurt you felt the need to share a salacious untrue rumor about my marriage, especially given you are the daughter of a famous father and know what the potential impact could've been with my kids and family," Richards continued. "That is all I have ever said about your family. Aka (Dennis)."
Drama at the 'RHOBH' reunion
Richards and Mellencamp's exchange on social media comes after the RHOBH cast filmed the season 10 reunion. By the looks of it, things were fiery and there is more drama to come by the ladies.
Andy Cohen, who hosts the Housewives reunions, recently talked about how extensive filming was last week.
"We started filming at like 2 something on the East Coast," Cohen said on his SiriusXM show Andy Cohen Live. "I was kind of annoyed, I was the only one on the East Coast. We wrapped about 11:15 or 11:30 on the East Coast. I came home and poured myself a big cup of tequila."
The Bravo personality also talked about why Glanville, who was supposed to make an appearance at the reunion ultimately didn't show up.
"We were going back and forth about whether she should come, spoke to Brandi about it," Cohen continued. "I think when you see the finale you will see… The bottom line is, we will all hear from Brandi."
The Real Housewives of Beverly Hills airs Wednesday nights at 9 p.m. ET on Bravo.