'RHOBH': Denise Richards Mourns the Loss of Her Beloved Rescue Dog
Denise Richards from 'RHOBH' returned home from Spain only to have to say goodbye to her beloved dog Louie.
Denise Richards from The Real Housewives of Beverly Hills shared that her beloved rescue dog Louie has died. The actress returned home from a trip to Spain only to learn that he was gravely ill.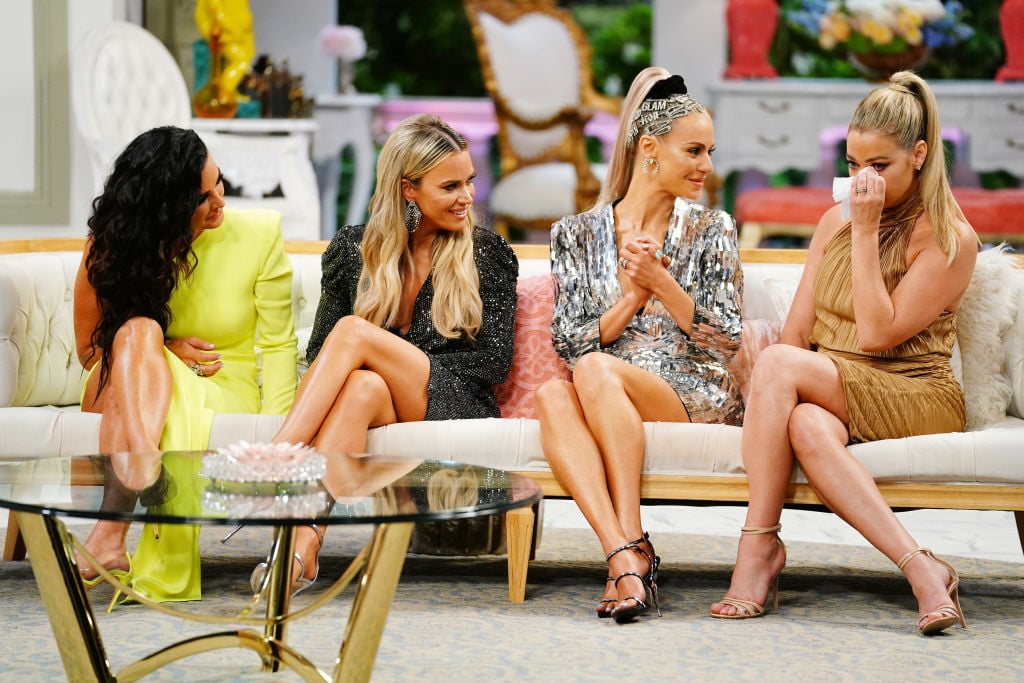 She shared a heartfelt tribute to him to Instagram, along with photos. Condolences from friends and fans poured in only hours after the share as many can relate to the pain associated with the loss of a pet. Richards also shared that Louie was apart of her family for nearly a decade, adding he was "one of the funniest & most animated furry babies."
Richards adds this loss to the relentless rumors that she had a romantic affair with RHOBH cast member Brandi Glanville. She's also rumored to be feuding with the cast and (possibly) her husband. She traveled to Spain earlier this month but knew Louie was ill.
She knew something was wrong with Louie
Richards shared that she was concerned about Louie before she left for Spain. "Praying for our #louie I love this guy so much," she posted, along with a photo. "He had a rough life when he was younger.. we rescued him 9 yrs ago & he's just one of the funniest dogs we've ever adopted. It's so hard when they enter their senior years. He's so loved by all of us & hopefully he'll make a positive recovery."
But she managed to make it out and traveled to Europe. "Lax ✈️ Europe…… on a plane. Exciting project. My lovely airport wardrobe: #gunsnroses t-shirt , jeans (always), silly boots of some sort…and of course a filter cuz I look like 💩…. ❤️all of you.. long flight, but lovely fun passengers next to me..," she shared.
Unfortunately, by the time Richards returned home, Louie was ready to cross the "rainbow bridge." She shared a photo as her plane landed. "Home sweet home… this mama needs a filter after 13 hrs of flying…. @iberia you're amazing. Great crew & pilots you took very good care of us. #spain I will see you soon🙏🏻."
The cast remains tight-lipped about the rumors (except one person)
Although rumors about the alleged affair from anonymous sources permeate the upcoming season of RHOBH, the cast has remained relatively unresponsive … except Camille Grammer. Grammer was originally not asked back for next season, but reportedly returned.
She tweeted that the rumors are not true when a fan wondered if the rumors were fabricated. "It's BS. It didn't happen. Somebody is desperate for a diamond." She added, "The story isn't true. It may play out this season.. I don't know? She didn't do anything with BG."
Grammer reiterated several times that "someone" was desperate for a diamond, likely referring to Glanville. Glanville had plenty to say to Grammer during her recent podcast. "I didn't realize all of this was going to be coming out so soon. I'm not saying whether it's true or not, but we're still shooting a little bit so I'm just feeling like wow," Glanville said. "I thought I had a couple of months. I had a little panic attack yesterday. I'm not allowed to talk about whether it's true or not, like my part of it." But Glanville added, "I will say, f**k you! Stop tweeting. If you're going to be tweeting about me, put my name in it. I will f**king come for you bitch!"